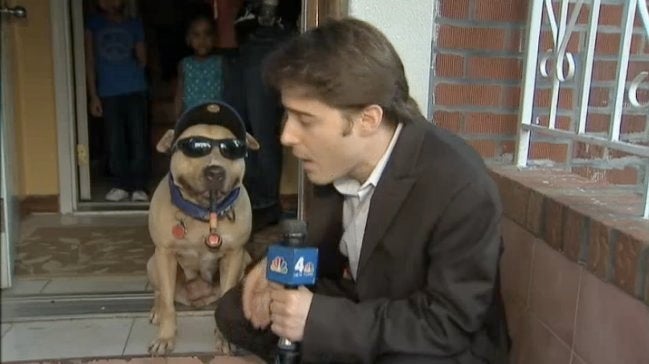 The dog, who is often seen outside Yankee Stadium or Citi Field wearing a Groucho Marx disguise, a pipe dangling from her mouth and sporting a Yankees or Mets jersey, has been the source of anger for those who claim the lady canine is being treated cruelly by her owner, Norberto Fernandez.
The outcry was enough for Mets fans Jason Long and Belkis Cardona-Rivera to start the Facebook group, "Stop Abusing Coffee", that has nearly 8,000 fans and claims:
"Coffee the dog that is forced to sit outside of Citi Field before, during & after EVERY Mets home game needs to stop being abused.

This dirtbag of an owner has abused this dog non stop for years & uses the dog to make money. HORRIBLE.

WE ALSO HAVE CONCRETE PROOF THAT COFFEE IS FORCED TO WEAR A SHOCK COLLAR during her time at Citi Field & Yankees Stadium with no water or rest."
A tipster sent Gothamist this photo of Fernandez holding what they claim is a remote for a shock collar.
The ASPCA sent a team of agents from its Humane Law Enforcement department to Yankee Stadium on Sunday--after receiving calls from the public over the weekend alerting us to this matter--in the event that Coffee and his owner would be on hand for the Subway Series. Both, however, were not present.

The ASPCA understands and appreciates that the public is concerned over the treatment of Coffee. And while there is no specific evidence indicating that any New York State animal cruelty laws have been violated, we will continue to monitor the situation and be prepared to take appropriate action, as warranted.
The New York Mets also responded, telling NBC News that they had alerted authorities.
When a NBC reporter caught up with Fernandez-- who makes $75 a game in tips from staging his pet outside the baseball games--he and his family denied any wrongdoing, claiming they rescued Coffee from the street, give her plenty of water and food, and that the alleged shock collar is actually where they put ice to keep the dog cool.
REAL LIFE. REAL NEWS. REAL VOICES.
Help us tell more of the stories that matter from voices that too often remain unheard.