At least three people are dead in New England following the storm.

Binghamton, New York, hit with a record-breaking 31 inches of snow.

Boston public schools remained closed on Wednesday.

Icy temperatures and powerful gusts continued to lash the Northeast.
At least three people in New England are dead Wednesday after a massive late-winter snow storm ripped through the northeastern United States. It dumped over 2 feet of snow in parts of Pennsylvania and New York and caused thousands of flights to be grounded and schools to close.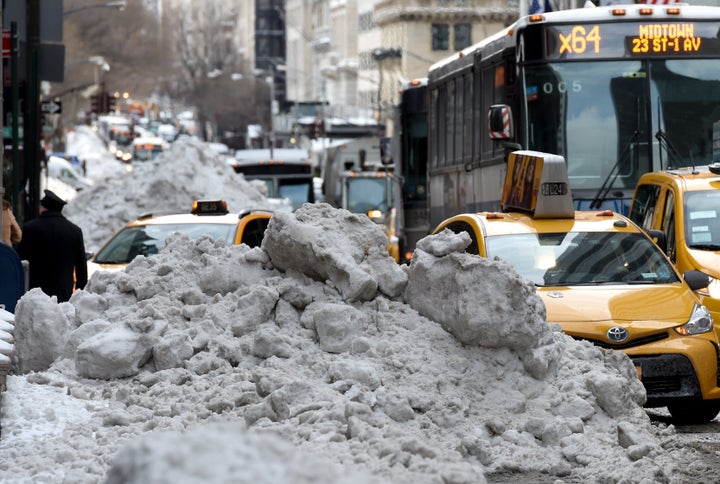 In Longmeadow, Massachusetts, an Amtrak train and a snow plow truck collided, killing a town public works employee who was clearing the tracks. The victim has not yet been identified.
Strong winds and frigid temperatures continued to lash the northeast on Wednesday, making shoveling and commuting into work especially difficult for many people.
Sarah Thomas, 23, said Wednesday that she was snowed in for the second day in a row at her home in Wilkes-Barre, Pennsylvania, roughly 20 miles southwest of Scranton. Thomas, who said she measured nearly 2 feet of snow Tuesday afternoon, spent the morning helping her father shovel since the learning center where she works was closed.
"I expected it to be a big storm, but I didn't expect it to have as huge of an impact as it did," Thomas told The Huffington Post.
Thomas said she spent the morning helping her father shovel since the learning center where she works was closed.
"I'm kind of concerned about driving conditions today," said Thomas, who had hoped to venture outside the neighborhood in the afternoon. "I've got cabin fever. I was actually going to try and make it to the gym for Zumba."
Though big cities like New York City and Philadelphia faced minimal impact compared to earlier forecasts, the fierce Nor'easter unloaded 1-2 feet of snow in some areas of the region.
Boston was hit with roughly 7 inches of snow Tuesday, despite earlier predictions estimating upward of 18 inches. Still, Boston public schools remained closed Wednesday.
The storm system cut power to nearly 250,000 customers from Virginia to New England, reported The Associated Press.  Airline-tracking service FlightAware told HuffPost on Wednesday that over 500,000 travelers have been impacted by the nearly 9,000 flights canceled since Monday. 
This is a developing story. Check back for updates.
REAL LIFE. REAL NEWS. REAL VOICES.
Help us tell more of the stories that matter from voices that too often remain unheard.
BEFORE YOU GO
PHOTO GALLERY
#SnowDayAMovie Kept Twitter Occupied During Snowmageddon 2017