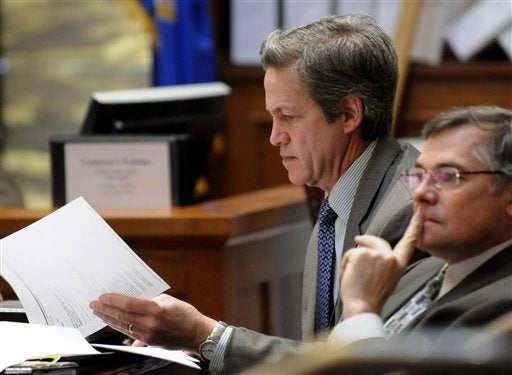 For the first time since the Minnesota Senate recount began, national Democrats are raising money off of Norm Coleman's numerous legal appeals and political obstinacy, urging people to donate a dollar a day until the former Senator concedes the election.
The "Dollar a Day to Make Norm Go Away" campaign is being launched by the Progressive Change Campaign Committee, a newly formed group designed to get progressive candidates into elected office. But it's getting a friendly push by Democracy for America, Howard Dean's political arm, which will blast the petition to its more than one million members (PCCC will send to an additional 23,000).
The goal is two-fold: capitalize off of the brewing anger among Democrats over what's happening in Minnesota while cleverly pushing up the incentives for the national Republican Party to abandon Coleman's appeal effort.
"Think about how this Dollar A Day will change the game," reads the email being sent to DFA and PCCC members. "If thousands of people sign up, and Republicans up for re-election in 2010 see the progressives who are out to defeat them get an infusion of donations each day that Coleman is obstinate, what do you think will happen?"
"Republicans in DC know Al Franken won," says the email. "But they are bankrolling Norm Coleman's continued court challenges in Minnesota and are encouraging him to drag this thing out forever. For them, it's worth it to keep shelling out money to block the seating of Senator Franken. Put simply, the incentives are all wrong. So let's set the incentives right."
The process by which the Dollar a Day campaign emerged is worth noting, and indicative of the diverse strategies Democrats have pursued in a recount that has largely been in the hands of the courts. Adam Green, co-founder of PCCC, had pitched the idea in an entry on the progressive website Open Left, primarily as a critique of the type of call to actions that were coming out of the Democratic Senatorial Campaign Committee. Officials at Democracy for America saw his complaint, Green said, and latched onto the campaign, not only offering their vast email list but agreeing to send the proceeds PCCC's way.
The outcome of the campaign is, of course, dependent on Coleman's internal political calculations. The former Senator is expected to appeal the latest three-judge-panel ruling that Al Franken won the most votes to the Minnesota State Supreme Court. From there he could take it to federal courts, in which case the process might drag out for weeks if not months.
So could the Dollar A Day campaign drive some Democratic donors into poverty? Not likely. The petition allows you to "limit the number of weeks you donate, in case you worry Norm is completely delusional."
Calling all HuffPost superfans!
Sign up for membership to become a founding member and help shape HuffPost's next chapter