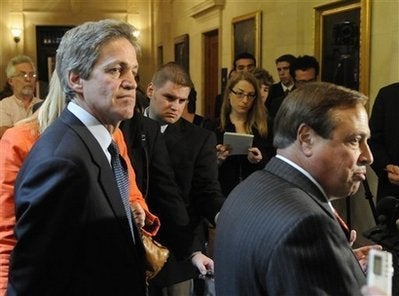 National Republican Senatorial Committee Chairman John Cornyn on Wednesday suggested that former Sen. Norm Coleman's long fight was almost over, saying that he'll support his old colleague "until he decides to hang it up one way or another."
TodayRoll Call has reported that Coleman himself appears ready to hang it up pretty soon. While party leaders are prepared to back him in a fight to the Supreme Court, sources close to Coleman say that if he loses in the Minnesota Supreme Court he will accept the result.
Sources close to Coleman say the former Senator would likely give up his legal battle and accept defeat if the Minnesota Supreme Court decides in Franken's favor. That's because Coleman anticipates that Gov. Tim Pawlenty (R) would ultimately sign Franken's certification papers. [...]

Coleman is said to view his case as a matter of fairness based on Minnesota election law, which is expansive. The Republican is said to believe so strongly that he is in the right -- and that the results so far have resulted in the disenfranchisement of millions of Minnesota voters -- that he was willing to risk his political standing over the long term in order to see it through.

"He will be done" if he loses at the state Supreme Court, one Republican predicted.
Minnesota Gov. Tim Pawlenty said this week that, if directed by the court, he will ratify Al Franken as the election winner. Asked if he would delay the signing under pressure from his party, he responded, "I think you guys have really overbaked that issue ... I'm going to do whatever the court says. If the court directs me to sign that certificate, I will." However, Rick Hasen at Election Law Blog has argued that Pawlenty could still delay the result if the court does not specifically direct him to sign the election certificate.
Calling all HuffPost superfans!
Sign up for membership to become a founding member and help shape HuffPost's next chapter