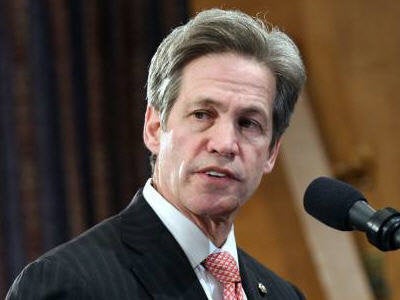 For more than a year, Minnesota Senator Norm Coleman lived in an apartment in Washington D.C. for $600 a month. The rent was cheap even though the property is not. And eyebrows were raised when the National Journal reported that the landowner cutting the deal was a big-time GOP operative and longtime Coleman confidant.
Coleman, when asked about his living situation, was forthcoming that it was even more of a sweetheart deal than previously believed. He admitted that two months of rent had not been paid and subsequently cut a check. Then he acknowledged that for one month's payment he had merely sold his landlord furniture -- which they mutually determined was of $600 in value.
All of which has left critics and observers asking the question: what else has Coleman failed to disclose?
In recent days and weeks the Democratic Party and the campaign of Coleman's opponent Al Franken have began questioning if there was an inherent quid-pro-quo to the arrangement (circumstantial evidence abounds) and whether the Senator was, in addition to the low rate, also given a free ride on his utilities bills.
"Minnesotans have long known that Norm Coleman isn't working for them in Washington," Andy Barr, Franken's Communications Director, said to the Huffington Post. "We're just now beginning to understand who he is working for -- and what he's getting in return."
The issue may seem like a small fish in an otherwise big electoral pond. But questions surrounding living arrangements have already played a significant role in the Minnesota Senate race. Franken himself was attacked for, and politically hurt by, revelations that he had not paid taxes in states in which he performed as a comedian (he had paid higher fees to his state of residence, but he is still charged with not being completely forthcoming).
As for Coleman, the optics of having a big-time GOP insider, in effect, providing roughly a few thousand dollars a month in free cable, electricity, and Internet could prove equally problematic. On a more serious level, a utilities subsidy may present an ethics violation.

"This is a legitimate question to be asking in light of the fact that he is apparently renting from someone with an interest in his official actions as a senator," said Mary Boyle of the good government group Common Cause. "It would be one thing if he was paying above market value and they could argue that it is included in his rent. But he is paying below market for this apartment. At a minimum [not paying utilities] would be a violation of the congressional gift ban. Certainly under no way is it okay for a member of Congress to be taking free or subsidized rent or benefits from anyone, particularly from someone you are working with."
Reaction from Coleman suggests that he too finds the utilities issue troubling. The Huffington Post placed more than two-dozen calls to his campaign spokesperson and Senate office over the course of several weeks. Despite leaving more than ten voice and email messages including the basic request to discuss the utilities bill, not one aide ever returned a request for comment. The Minnesota Democrat Party has, likewise, asked Coleman to provide a bill from the utility company Pepco to put the issue to rest. The Senator has not complied.
The Senator, when quizzed by the National Journal, defended his arrangement by noting that the D.C. apartment was only a part-time residence and nothing larger than a 10-foot-by-10-foot bedroom. But while Coleman spends only three nights a week in the nation's capitol, claims that it was a closet-sized dump are more than slightly overstated. Property values of other apartments on that block range from the lower $500,000 to more than $1 million. The street, meanwhile, is a safe and aesthetically pleasing row of townhouses, in what is considered one of D.C.'s more livable neighborhoods.
But the politically touchy aspect of Coleman's situation may be that landowner Jeff Larson, is a major player in Minnesota and D.C. politics. Larson's firm, FLS Connect, has been paid more than $1.5 million since mid-2001 by the Senator's political action committee and Senate campaigns. Coleman, meanwhile, has employed Larson's wife, Dorene, and he has benefited from fundraising and voter organizing efforts arranged by FLS.
"I am not trying to peddle influence or get more business out of him, curry favor with him," Larson told the National Journal. Coleman, in the same piece added: "Where's the benefit for me? ... What do I get out of this?"
Coleman was influential in helping Larson land a role on the host committee for the upcoming Republican National Convention. In addition, the Senator arranged a $50 million appropriation for security measures at the convention that effectively helped Larson skirt the bill. All of which has led Democrats both in Minnesota and D.C. to question whether a quid-pro-quo or other ethical issues are at play.
"This cozy relationship between a United States senator and one of the most high-powered, well-connected operatives in Washington raises serious questions," said Minnesota DFL Chair Brian Melendez in a press conference in late June, "not only about Norm Coleman's ethics, but about his independence as an elected official and a legislator."

Popular in the Community