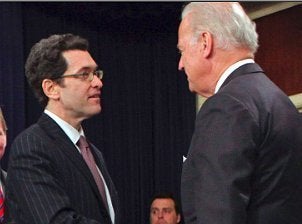 President Obama has nominated his "ethics czar" as ambassador to the Czech Republic, the White House announced on Monday. The White House won't say whether it plans to replace him.
Eisen's first act as special counsel to the president for ethics and government reform was to gather up Obama's campaign promises about battling special interests in Washington and to bundle them into an executive order banning lobbyists from serving in the administration, which Obama signed on his first day in office.
Subsequent Eisen actions have barred lobbyists from federal advisory boards and made thousands of names of White House visitors public.
"Under Norm Eisen's leadership, the Administration has had a remarkable first year making our government more accessible and accountable, including reducing special interest influence in Washington," said a White House official. "Among other accomplishments, as government watch-dog groups have recognized, the President's revolving door lobbying ban for officials leaving government is 'the most-far reaching ever adopted'; the President's 'reverse' revolving door rules for officials entering government are the 'first-ever' and 'innovative'; and the President's open government initiatives are 'unprecedented' and 'go well beyond any efforts undertaken by previous administrations.'"
Watchdog groups praised Eisen in statements, but some worry that he will not be replaced. The White House official said only that "we will continue working for real change in 2010 and beyond to make government truly accessible and accountable to all Americans," and that "this will continue to be an important part of the President's agenda and the White House Counsel's Office portfolio."
"In some ways it sounds like they're not planning to replace him," said Melanie Sloan, executive director of Citizens for Responsibility and Ethics in Washington, a group Eisen co-founded. "Having someone specific indicates that it is a priority. It's not that there weren't different people but Norm really was the point person... Ethics is tricky, and I think it's caused them a lot of headaches, so I'm not surprised if they would de-emphasize it."
One headache developed when the New York Times reported last week that White House staffers make much use of nearby coffee shops to meet with lobbyists, thereby keeping K Street names out of the visitors log. Many lobbyists have said the Obama administration's anti-lobbyist policies have pushed the influence industry underground.
Craig Holman of Public Citizen told Politico that "it doesn't look good" that there may not be a replacement for Eisen, and Danielle Brian of the Project on Government Oversight said there would be "hell to pay" without a new ethics boss.
But Ellen Miller, director of the Sunlight Foundation, told HuffPost she's not worried: "I expect nothing less than a replacement who has an equal amount of access to the president."

Popular in the Community