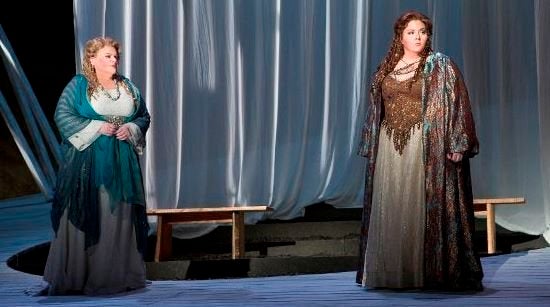 Angela Meade ruled the stage as Norma last Saturday in an alluring new production at Washington National Opera, and judging from the ovation after her first aria and the "bravas" at the finale, this singer will now add another glittering success to her list of plaudits. Since March of 2008, when Meade stepped into the Met Opera's Ernani to replace an ailing colleague, her career has taken off with dazzling speed. And after hearing her sing the title role in Bellini's bel canto masterpiece, I believe this young soprano, just 35, has the plush, distinctive voice--the gleaming beauty and agility--and dramatic chops to justify her reputation as a rising star.
From her opening notes in the Kennedy Center Opera House, Meade, who describes herself as "a lyric soprano with a big coloratura extension," gave her Norma luster and conviction, and as her nuanced portrayal gained momentum, she made an effortless transition from Druid high priestess to scorned lover to tender mother to vengeful warrior. Her tone was seamless from top to bottom, and she spun long, gorgeous lines with heart-breaking pianissimos, then declaimed the recitative with bite and passion. It's no wonder she's often compared to those iconic divas, Sutherland and Caballe, who excelled at bel canto. (I also long to hear Meade in Semiramide and Lucretia Borgia, two roles she hopes to perform on stage.)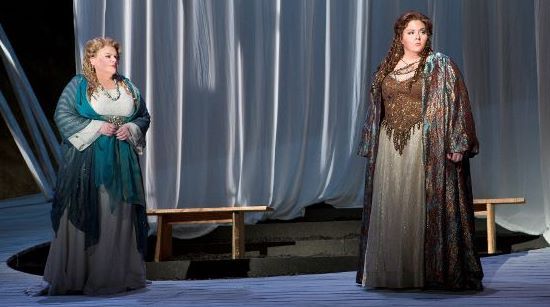 Dolora Zajick (left) as Adalgisa and Angela Meade as Norma.
Photo by Scott Suchman for WNO.
But let's flash back to Monday, March 4, when Meade and I meet at the Kennedy Center. Tall and lovely with long dark hair, she arrives for our interview in a black dress and mint-green pumps. She's approachable with a quicksilver laugh and seems to glow with happiness. It doesn't take long before she admits that along with the heady thrill of singing her first fully staged Norma in D.C., she's newly engaged to John Myers, a tenor who's singing this month at Long Beach Opera Company; they plan to wed in November 2014. So by any yardstick, professional or personal, it's been a whirlwind five years for this Washington State native.
"I've been busy," Meade says merrily, and the truth is, her phone hasn't stopped ringing since April 1, 2007, when she won the Met National Council Auditions, arguably the most prestigious vocal competition in North America. "The next day after winning," she explains, "I got an email from the Met asking if I'd cover [Elvira in Verdi's] Ernani.
I prepared myself and went to rehearsals which started the next February, and I was in awe of being there, surrounded by so many great singers. I was peachy keen covering, but I thought it would be amazing if I got to go on. We got to opening night and Sondra Radvanovsky wasn't feeling well. She made it through the first night, but for the next performance [March 21, 2008] she couldn't sing.

And that's when they called me. It was the day before and I was getting out of a cab in Philadelphia where I live, and they asked if I'd come back to New York, and I said, 'Could I come back tomorrow?' I'd been up at the Met that day for a final costume fitting, and I was across the street from my building. I asked the cabbie to let me off there and called my mom and said, 'Guess what happened?' and she jumped off the phone to buy airline tickets. My parents got on the plane the next morning, and arrived three hours before the performance, and it was a magic night.
Met officials and opera fans agreed, but even Meade could not have predicted the opportunities that began to unfold after her auspicious eleventh-hour outing. "Well, I was hopeful about the future," she admits. "Some people make their debut there in a great huge splashy way and then nothing happens. But it's played out magnificently." Indeed, she was hired to headline the Met's 2012 Ernani revival, a production broadcast Live in HD across the globe, and that same season she portrayed Donizetti's Anna Bolena in the Met's new David McVicar production. By then she had made her European opera debut at the Wexford Festival in the rarely staged Mercadante opera, Virginia, and she has since made her Vienna State Opera debut as Elena in Verdi's I Vespri Siciliani.
Ironically, despite her rapid progress, Angela Meade was blithely unaware of opera while she was growing up in the small city of Centralia, Washington, some 85 miles south of Seattle. She owned a karaoke machine, and sang along to "talented singers" like Whitney Houston and Celine Dion. She also sang in both church and school choirs as a soloist.
Following high school, she enrolled at Centralia College and took science classes, but she again sang in the choir where she caught the ear of a professor who introduced her to a voice teacher named Wayne Bloomingdale. Their work together evoked an epiphany: "I knew this was what I was meant to do," Meade says. "The light bulb went on! Classical singing felt completely natural." Bloomingdale taught the young soprano privately for a while, presently suggesting she transfer to Takoma's Pacific Lutheran University as a voice major.
"I got bitten by the bug really hard at PLU," Meade admits, "though my opera debut was during a summer program at Bay View Music Festival in Michigan around 1999. I was the Second Lady in The Magic Flute, and the opening night of my first opera happened on my birthday [August 12]."
In fall of 2001, Meade moved to New York to continue her studies at Manhattan School of Music. In her gut, however, she instinctively knew the program was a poor fit, and then 9-11 happened. Feeling uncomfortable on all fronts, she moved home to Centralia and sold jewelry for a year at the Bon Marche (now Macy's). When she felt ready she called Gary Glaze, whom she met at Bay View and who's a professor at USC's Thornton School of Music. Glaze encouraged her to apply to Thornton, and she earned her master's degree there and began a doctorate. "I was biding my time at that point," she says. "I always knew I didn't want to teach."
Though she applied to many Young Artist Programs and struck out, a tough period, she was eventually accepted at Philadelphia's renowned Academy of Vocal Arts. To supplement her income, she entered a slew of competitions, and by the time Meade bid farewell to the contest circuit, she had won a record 57, including the aforementioned Met Auditions, a process depicted in the film The Audition; the 2009 Grand Prize at the Concours Musical International de Montreal; the 2011 Richard Tucker Foundation Award; and the 2012 Beverly Sills Artist Award. The prize money allowed her to pay for coaching, travel to auditions, and other expenses without having to distract herself with a "day job."
The aria that became Meade's competition signature was "Casta Diva," Norma's moving first-act paean to peace. "I don't think that when I picked it up and learned it I had any idea of the implications... I thought it was so beautiful and a great introduction to the whole piece. Bellini is a great melodic master."
It probably surprised few opera cognoscenti when Meade was invited to sing a concert version of Norma at the Caramoor Festival in 2010 and a second concert version at the Astoria Music Festival last June. The soprano received rave notices for both, and feels ready for the WNO production in which she'll tackle this "encyclopedic role," one of the most difficult in the soprano repertoire.
"You need an incredible amount of stamina to sing Norma in concert and even more so in a staged version," Meade observes. "As much as you can let your emotions run loose in a concert, you really let them loose in a staged version, and sometimes I have to tell myself, 'Pull it back, pull it back, you've got a lot more singing left to do.' And when I finish, I'm so tired, I could crawl into my dressing room and go to sleep." Meade feels grateful that her Adalgisa at WNO is mezzo Dolora Zajick. "She's amazing. I'm enjoying our give and take; I think there's a nice dynamic."
But the visceral rewards for Meade are found not only in singing Bellini's stunning score but in her approach to his strong, courageous heroine. "I feel very empathetic toward Norma herself, and I think most people can identify with her even though the opera is set eons ago [circa 50 B.C. in ancient Gaul]. I always joke that it could be a Jerry Springer episode! She's given everything to her lover [the Roman proconsul] Pollione, and even had children by him that she is hiding from everyone except her friend Clotilde. In the WNO production the oldest kid is ten, so they've been together for a long time. She can't tell anyone because they would've killed her, not only because Norma is a vestal virgin but also because she's sleeping with the enemy.
"Norma has all these things against her, and then she learns Pollione's been cheating on her with Adalgisa [a younger virgin of the temple], and her life comes falling down around her head. She goes through all these emotions, and she's furious -- and then she's torn, wondering how she can get revenge. And she realizes at the end -- she's such a great person!--that she can't condemn her friend Adalgisa for what she did."
Meade will finish her WNO run on March 24, and then she heads north for an April 8 concert version of Verdi's I Lombardi with the Opera Orchestra of New York. Late spring will take her to Cincinnati Opera where she'll sing Donna Anna in Don Giovanni (June 13-15), reprising the role she sang last year at Los Angeles Opera. Her upcoming Met schedule includes an October Norma and her December debut as Alice Ford in a new Falstaff.
When I ask how she makes a classic role her own, she pauses. "I never think about what so-and-so did. It's all about making whatever role you're doing personal to your own experiences. I can never do a role the way Callas did it, or Netrebko did it. It has to be the way Angela Meade does it."
Like all performers, Meade has weathered her share of rejections and disappointments. Yet her delight in her career is palpable. "If I had to give a young singer advice, I'd say you should always be prepared and love what you do, and if you don't love this, you shouldn't do it. There are so many sacrifices...everything else in your life is put on the back burner." She smiles. "But when I'm on stage and everything is going well, I feel the world's in the right place. I feel very calm and at peace, and I know this is what I'm supposed to be doing."
Washington National Opera's Norma runs from March 9-24 at the Kennedy Center Opera House. It is directed by Anne Bogart and conducted by Daniele Rustioni. Along with Angela Meade and Dolora Zajick, the new production features Rafael Davila as Pollione, Dmitry Belosselskiy as Oroveso, Julia Mintzer as Clotilde, and Mauricio Miranda as Flavio. For information, visit www.kennedy-center.org/WNO.
Popular in the Community