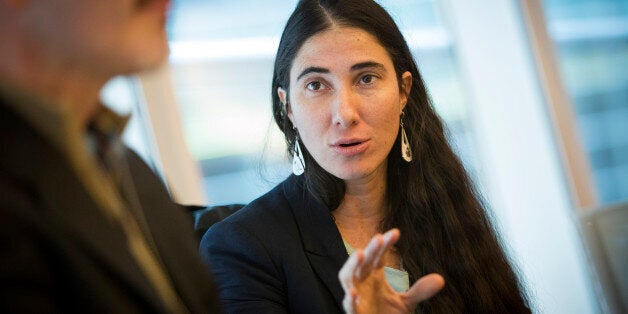 The detention of several Cuban dissidents in Havana just before the year's end -- and two weeks after the historical announcement of the restoration of diplomatic ties between the United States and Cuba -- serves as a somber reminder of Raúl Castro's government's lack of tolerance of dissent and the challenges that await in the difficult transition ahead. The detention of dissidents took place hours before performance artist Tania Bruguera was planning to stage an unauthorized open-mike free-speech event, described by Cuban officials as a political provocation.
In the last few years, Cuba has made minor and mostly symbolic openings in the press-freedom landscape. Perhaps the most important one has been the 2013 reforms in legislation that allow political opponents and independent journalists and bloggers to travel internationally for the first time in decades. Also noteworthy was the 2014 launch of prominent blogger Yoani Sánchez's news website 14ymedio. While its content is inaccessible to most Cubans, who lack unfiltered connections to the Internet, its reporters have been able to work without serious restrictions.
But as the recent arbitrary arrests of dissidents show, the Cuban government has not abandoned its repressive practices, intended to limit the free flow of information. In fact, a Cuban blogger is listed in CPJ's recently released 2014 imprisoned census. Ángel Santiesteban Prats, also a writer of novels, has been serving a five-year prison sentence since February 2013 on trumped-up domestic-abuse charges, in retaliation for his criticism of the government on his blog, according to many local writers and political dissidents.
Plans between the two countries to normalize relations for the first time since the Cold War has debunked the arguments used by Cuba throughout the years to justify the incarceration of independent journalists. Cuban officials have argued that independent journalists are "mercenaries at the service of the U.S. imperialism." During the so-called Black Spring in March 2003, when the government then-led by President Fidel Castro launched a widespread crackdown against dissidents while the world's attention was focused on the U.S.-led invasion of Iraq, a total of 29 independent journalists were sentenced to jail terms of up to 27 years. During court proceedings, it was alleged that those journalists were charged with destabilizing the nation because of their work for foreign-media outlets.
Analysts believe some of the programs that the U.S. implemented in Cuba to promote democracy and human rights have played into the Cuban government's hands. A secretly funded and introduced Twitter-like program intendedto provide information to Cubans who have limited access to the Internet was an effort by the U.S. Agency for International Development to encourage political discussions in the island, according to an Associated Press 2014 investigation. This program, in addition to a recently revealed one to promote hip-hop music, have been widely viewed asattempts by the U.S. government to undermine the Castro brothers.
As both countries are taking steps to normalize relations, the rationale behind the imprisonment and intimidation of the Cuban independent press could now become obsolete. The constant smear campaigns against dissidents, including accusations of being CIA spies or State Department covert agents, today appear outdated.
While there are numerous obstacles on the path to U.S.-Cuba normalization, the effect of such an extraordinary turn in the relationship between both countries could be positive for freedom of expression. As a result, journalists will hopefully be able to do their jobs without the ongoing threat of being incarcerated solely for reporting and expressing critical opinions, and with the possibility of having Internet access without filters, obstructions or prohibitive costs.
As Cuba remains hostile to dissent, it is clear that changes won't happen at once. In order to improve its dismal free-expression record, Cuba must ratify and implement international human-rights agreements in order to guarantee freedom of expression and information, end the use of detention, surveillance and smear campaigns against independent journalists and bloggers, remove all legal barriers to individual Internet access and extend access to the population at large, release all imprisoned journalists, and dismantle a legal framework that punishes independent journalism.
This post is part of a Huffington Post blog series called "90 Miles: Rethinking the Future of U.S.-Cuba Relations." The series puts the spotlight on the emerging relations between two long-standing Western Hemisphere foes and will feature pre-eminent thought leaders from the public and private sectors, academia, the NGO community, and prominent observers from both countries. Read all the other posts in the series here.
If you'd like to contribute your own blog on this topic, send a 500-850-word post to impactblogs@huffingtonpost.com (subject line: "90 Miles").
Popular in the Community