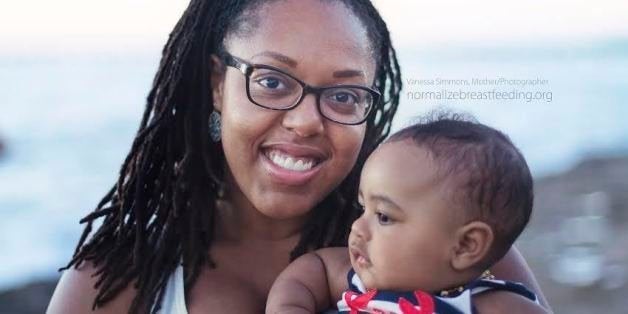 When Vanessa Simmons had her first baby seven years ago, the experience, she said, was "amazing." The 32-year-old Ghanaian-American photographer had the vaginal, unmedicated delivery she had hoped and planned for. She imagined that breastfeeding would go much the same way.
But "after day two, I had broken nipples and bleeding ... it was a really difficult experience, to the point that I was crying at every feeding and not feeling good about what I was doing," said Simmons, whose son was 4 pounds 9 ounces at birth. She and her husband sought out support at a local San Diego boutique that had a lactation consultant on staff, but things did not get any easier, and she began to pump exclusively.
At about two months in, Simmons' son finally latched. "After we started breastfeeding, it was amazing ... Everything went really smoothly until he was about six months, when all the sleep deprivation caught up to me," she said. "And then I hit rock bottom."
Between pumping, breastfeeding and tending to her new baby, Simmons had only been getting around three hours of sleep at night and felt completely overwhelmed. Over the course of three months, she was hospitalized four times -- for up to a week at a time -- suffering from what she described as severe postpartum depression and psychosis, though she was never given a proper diagnosis. Simmons said she felt like she came out of her fog when her son was 10 months old.
In 2010, she gave birth to another baby, this time a girl -- and the experience filled her with anxiety.
"I was so afraid throughout the whole pregnancy that I might end up with postpartum depression again, that once she was born ... I put my baby on my back, got a box of formula and said, 'Look, I need to sleep,'" Simmons recalled. "'I'm not sleeping and I'm going to end up in the hospital again.' So that was my motivation for supplementing with formula for my daughter." Simmons breastfed when she could, then encouraged her husband to feed the baby with pumped breast milk or formula so she could be sure to get at least one three-to-four hour stretch of uninterrupted sleep every day.
Then, when Simmons' youngest baby -- another boy -- was born last January, she finally got the breastfeeding experience she had longed for throughout motherhood.
"My son, my little rainbow baby, he came out nursing like a champ. Not a single issue!" Simmons said. "Maybe on day two or three, I had really, really sore nipples to the point where I didn't want to nurse, but I just pushed through."
"It's very emotional," Simmons said of her personal breastfeeding journey. "I always think, 'What could we have done differently [the first time]?' But it made me stronger. I learned through those experiences."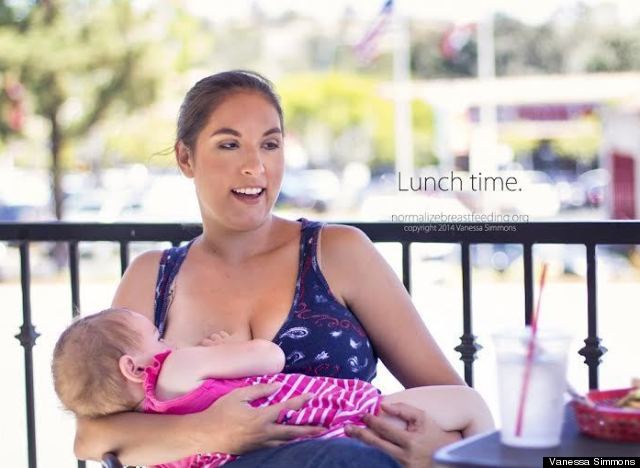 An image from Simmons' Normalize Breastfeeding campaign.
In June of this year, Simmons had the idea to start what she is calling a "mother's breastfeeding awareness media campaign" -- Normalize Breastfeeding. It began with her sharing images she'd captured of breastfeeding women on social media outlets, but soon women began contacting her to ask if she would be willing to share the photos they'd taken themselves.
"It's so crazy, my pictures aren't even important anymore," Simmons said. "My pictures are just kind of the face of the organization, but the real pictures that matter are the ones that are being shared every day, because these are the women who are like, 'Look, I'm breastfeeding my baby,' or 'Look, I'm out nursing in public.'"
In a matter of months, Normalize Breastfeeding's presence has grown -- the Facebook page now has more than 6,000 followers, and Simmons built a website that she plans to fill with women's images and breastfeeding stories. She is in the process of seeking 501(c)3 status for her organization and, in addition to spending roughly five hours a day on coordinating social media efforts herself, now has a team of nearly 50 volunteers, as well as a makeup artist who offered up her time to work with mothers she has photographed.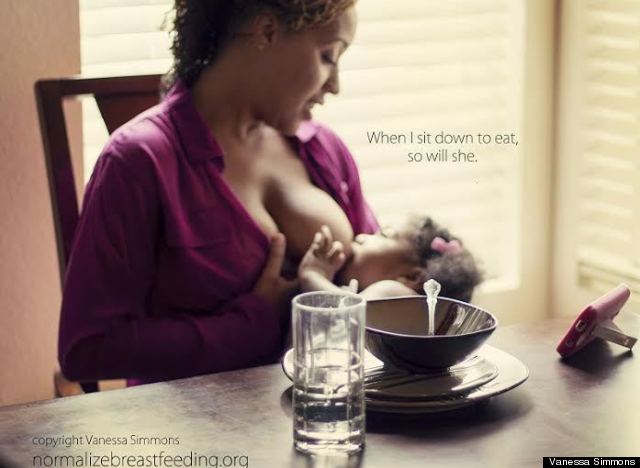 For Simmons, the breastfeeding campaign, which features many different women in various scenarios, is very personal.
In 2015, Simmons hopes to go on a tour, taking photographs in states with some of the lowest breastfeeding percentages to help draw attention to her core message, that breastfeeding -- with all of its highs and lows, intricacies and challenges -- is normal.
"If [women] read other stories, then it becomes more normal like, 'Oh, I'm going through that exact same thing.' Or, 'My baby's screaming their head off at six weeks and I can't figure out why,'" she said. "Sharing those stories enables women to be able to connect."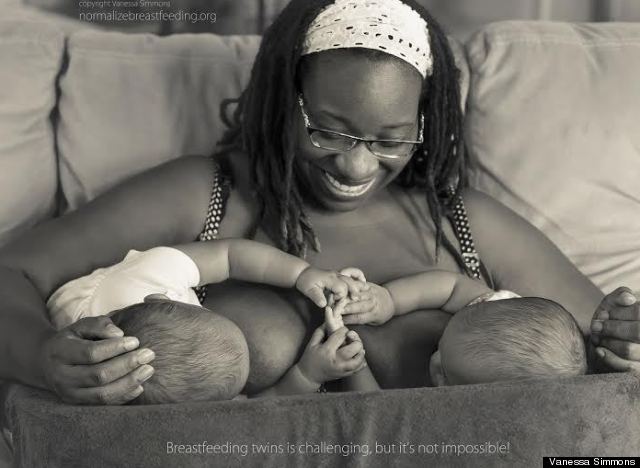 Showing diversity among breastfeeding mothers is very important to Simmons, in all regards.
Support HuffPost
A No-B.S. Guide To Life
Related
Popular in the Community