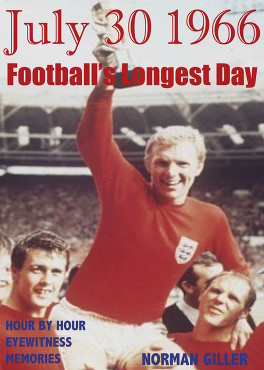 "That's like The Beatles leaving Lennon out of the recording studio...
To leave a player of Jimmy (Greaves') quality on the sidelines is a sad indictment of Ramsey's philosophy. He is happy to have a player in the team like Stiles who is purely destructive, yet omits a footballer with world-class skills and the finest goalscorer these islands have ever produced."
--Legendary Spurs Captain & BBC pundit Danny Blanchflower,
from Norman Giller's new book
It would be like leaving Patriots' quarterback Tom Brady off your Super Bowl gameday squad. And, oh boy, was I bummed. I was at our home in Newport, South Wales, sitting with my family, wearing my World Cup Willie mascot badge.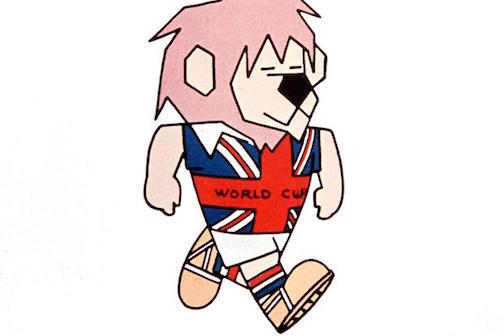 I was ecstatic about seeing my first football cup final live on television, and I was even happy that Bobby Charlton had scored two extraordinary goals in the semifinal against Portugal, propelling England into the final against West Germany -- happy even though Charlton played for my dad's team, Manchester United, a club that I already "disliked" as I had recently developed a now life-long love for Tottenham Hotspur, one of United's great rivals.
No, I was bummed because my first footballing hero, Jimmy Greaves, who played for Spurs -- and went on to become the English top flight's all-time goalscorer (357 goals) -- wasn't going to play in the World Cup final. I was hurt, like so many other Tottenham/Greavsie fans, and mad at England manager Alf Ramsay, who'd ironically played for Spurs and their famous push-and-run English champions. How could Alf leave out our hero, someone that many saw as indispensable to England's World Cup chances?
Scribe Norman Giller, who was to become one of the great wordsmiths of English sports and is still a longtime friend of fellow Londoner Greaves, recalls the great player's hurt in his can't-put-it-down new book, July 30, 1966: Football's Longest Day:
It was impossible not to focus on the lonely figure of Jimmy Greaves as he wandered among the celebrating (England) players, giving genuinely warm hugs to his squad-mates yet managing to look like a man who'd wandered into a party to which he was not invited. Jimmy and I were later to write twenty books together...I could read him like -- uh, well -- a book. He did a good job hiding his disappointment at not playing but deep down he had a dull ache and the feeling that he'd rather be in any place in the world apart from Wembley (England's footballing shrine).
Greavsie recovered and went onto a brilliant television career after his memorable playing days were over. But when Giller approached Greavsie about contributing to this new book, the illustrious man cheekily quipped in his inimitable way:
Leave me out of it. It's all history. Everything about that day is a blur...I wanted to be part of it but fate -- and Alf -- decided otherwise. Just one thing I will admit -- if I hadn't been struck down by severe hepatitis in the autumn of 1965 things might have been different. But then, if my aunt had balls she'd be my uncle.
If you're a fan of English Premiership football and bummed by England's national team always crashing out of major tournaments, then reading Giller's 101st book is like stepping into Doctor Who's Tardis and transporting back to July 30, 1966, and becoming a fly on the wall, inside that glorious day, hour by hour, when England did rule the world.
Giller writes that the international, colorful cast of "football's longest day" included: national hero Pickles the Collie dog, who had fortunately found the stolen Jules Rimet cup, or England's captain Bobby Moore wouldn't have had a glistening cup to hoist; boxer Muhammad Ali, in town to promote his upcoming fight, who apparently dozed through most of the game; and, 96,924 wide-eyed spectators including the Queen and Duke of Edinburgh, other dignitaries and the world's media. Giller writes:
... the two teams walked out side by side for the match of their lives, England in rarely worn red shirts, the West Germans in traditional white shirts and black shorts. Then the roof was nearly lifted off Wembley as the crowd, now with the Queen in attendance, sang the national anthem ('God Save the Queen') with extra pride and gusto, before 'Deutschland Uber Alles' echoed around the historic stadium. It was kick-off time and the battle was on.
Back in South Wales, my family and I, like millions of others -- we were all "English" that day -- around the world, experienced a nerve-wracking event. The Germans scored first in the 12th minute, and we at home got to see instant replay for the first time, with the revolutionary technology coming from an American company, notes Giller, who adds, "In the Royal Box, lip readers were able to see that the Queen said, 'Oh dear, how disappointing." Wow and ouch!
But it took just six minutes for England to respond with a "made-in-West-Ham equalizer" -- Moore to Geoff Hurst then cue raising the roof in our house. England went up 2-1, then the Germans themselves equalized late in injury time to send the outstanding match into extra-time. Of the Germans' 'Great Escape,' Giller notes that a fellow Brit journalist cried, "The bloody Krauts never know when they're beaten."
I'll leave the rest of the breathtaking game and day for you to read and enjoy. While we were going bonkers back in Wales, here are some snippets from Giller's recollection at game's end:
The roar as (captain Moore) received the Jules Rimet trophy (from Queen Elizabeth) was unequalled in my experience of attending many major events at Wembley...then came unforgettable scenes...most memorable of all was seeing Nobby Stiles, red socks down to his ankles and his front teeth still missing, skipping like a drunken hobgoblin on tired legs as he gave the impression of a victory jig.

Nicely put, sir! Unfortunately, England ignominiously crashed out of Euro 2016 and there won't be another titanic battle with Germany on July 10 in the tournament final.
Calling all HuffPost superfans!
Sign up for membership to become a founding member and help shape HuffPost's next chapter