Television writer and producer Norman Lear faulted Breitbart Monday night after a headline on the conservative news site twisted his recent interview on MSNBC to suggest he had attacked the tea party.
Lear, 92, famed creator of "All in the Family," appeared on MSNBC's "The Cycle" Monday to talk about his new memoir, Even This I Get To Experience, and reflected on how society and families have changed since the sitcom's heyday in the 1970s. When asked what the show's fictional lead character Archie Bunker would have thought of the tea party today, Lear said he would have "denied" it, because he didn't hate others, he was just afraid of change.
"He would have founded the coffee party," Lear quipped. "He was not a hater. And that was the secret of Archie Bunker, he was not a hater." Lear added that Archie Bunker was more afraid of "progress" than "bigotry."
Breitbart took the statement and made the leap that Lear had directly attacked the tea party, publishing a short story headlined, "Norman Lear: Archie Bunker Was Not Racist Hater Like Tea Party."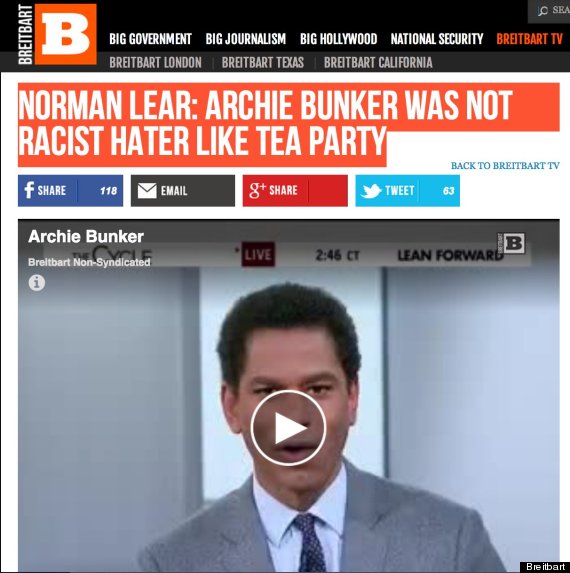 A spokesperson from Breitbart declined to comment.
Lear told The Huffington Post Monday night that Breitbart's headline "wasn't true," and the best proof was the interview itself.
You can watch the full interview on MSNBC in the video above.
"It's all there," Lear said. "It's something I've said for all the years people have asked me about Archie Bunker and 'All in the Family.' He was not a hater.'"
When asked why he thought Breitbart would run such a headline, Lear answered: "The site is known as Breitbart, not Breitsmart."
Lear will join HuffPost Live on Wednesday at 12:30 PM to discuss his new memoir. Watch live here.
REAL LIFE. REAL NEWS. REAL VOICES.
Help us tell more of the stories that matter from voices that too often remain unheard.