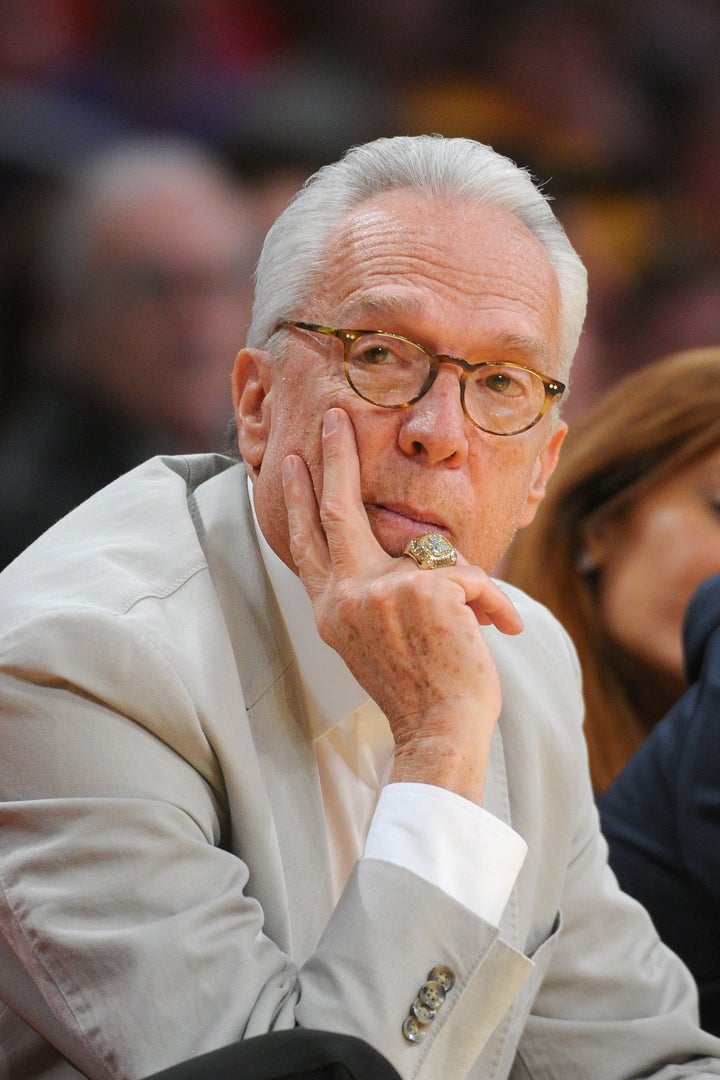 California Lt. Gov. Gavin Newsom and education leaders are urging the University of California to address allegations of sexual harassment and workplace misconduct by University of California regent and radio mogul Norman Pattiz, nearly a year after several people said Pattiz made them uncomfortable in the workplace.
One of the women, comedian Heather McDonald, released a tape in November 2016 of Pattiz asking her if he could hold her breasts. Pattiz has confirmed that it's his voice on the tape and apologized. Another employee accused Pattiz, a Los Angeles Sheriff's Department reserve officer, of brandishing his firearm in a threatening manner. Pattiz denies those allegations.
In a letter dated Nov. 29, Newsom, California Superintendent of Public Instruction Tom Torlakson and UC Student Regent Paul Monge asked university officials to make clear what they have done or will do about Pattiz, whom Gov. Jerry Brown reappointed to a 12-year term in 2014.
The issue is complicated by the fact that it's not possible for anyone ― including the board itself, any California legislative body or the governor, who appoints most regents ― to remove Pattiz. Instead, Pattiz would need to voluntarily resign.
In a statement, Marvin Putnam, a lawyer for Pattiz, said the McDonald incident had been resolved and that if Newsom "took a moment to learn the facts, then he would not have sent the letter he did."
"As Napolitano stated at the time, the matter is now closed," Putnam said. "There is an American tradition of not rushing to judgment without knowing the facts; hopefully, we are not losing that august tradition in the midst of the important national conversation and reevaluation that is now underway."
Brown wants Pattiz to resign, according to two sources familiar with his thinking. He has had a senior staff member request Pattiz's resignation at least once, the sources said, but Pattiz refused.
The UC Regents, more formally known as the Regents of the University of California, is a governing board charged with overseeing the University of California system, including over 200,000 students and over 150,000 faculty and staff members. It has broad powers and helps to oversee a multibillion-dollar budget.
The scandal-plagued University of California system has been working to improve its handling of sexual harassment cases by speeding up investigation timelines. And earlier this year, the Board of Regents also strengthened its own ethics policies, addressing procedures for investigations into alleged misconduct and providing options for sanctioning a regent if allegations are proven.
In the Nov. 29 letter, sent to University of California President Janet Napolitano and UC Board of Regents Chair George Kieffer, the signatories ask whether there has been, or will be, an investigation into Pattiz's conduct. If an investigation is not allowed, they ask if the board has the power to retroactively enact sanctions created earlier this year, which could include censure or removal of Pattiz from all chairmanships and committees.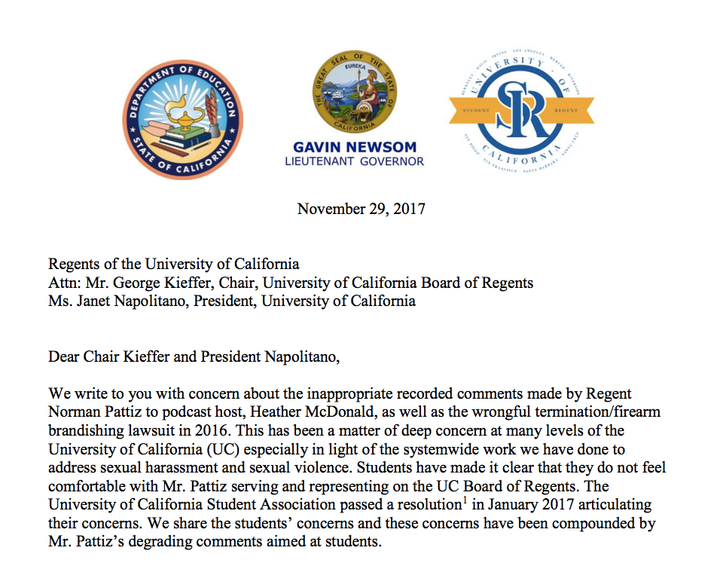 Pattiz serves on the Academic and Student Affairs, Governance and Compensation, Public Engagement, and Development committees. He has served as the chair of the National Laboratories committee, but former Congresswoman Ellen Tauscher, who now serves on the Board of Regents, is taking over that position, and Pattiz recently chaired his last committee meeting.
"This has been a matter of deep concern at many levels of the University of California (UC) especially in light of the systemwide work we have done to address sexual harassment and sexual violence," the letter reads.
Pattiz, a successful radio and podcast entrepreneur, has served on the UC Board of Regents since 2001. He has been under fire for more than a year over numerous allegations of workplace sexual harassment and other misconduct.
The letter cites an incident from May 2016, in which Pattiz was recorded asking if he could hold comedy writer Heather McDonald's breasts during a taping of her podcast "Juicy Scoop." McDonald was part of a podcast network Pattiz founded, PodcastOne, and recorded her show at the network's Los Angeles-based studio.
As McDonald finishes recording a commercial for a bra company, she says, "You're making me nervous now, OK."
Pattiz then says, "Wait a minute ― can I hold your breasts? Would that help?"
McDonald responds with an emphatic, "No." Pattiz then says, "These are memory foam" ― a reference to his hands. He laughs and adds, "My memory."
McDonald left PodcastOne shortly after the incident. The LA Times reported on the exchange and also detailed accounts of several other former PodcastOne employees, some anonymous, who have worked with Pattiz and said he would make remarks about women's bodies and their looks in the workplace, at times making them feel uncomfortable.
Ji Min Park told the LA Times she left PodcastOne in 2016 after working there for a year, largely because of sexually inappropriate comments from Pattiz. Park told the LA Times Pattiz said she was the "hottest Asian" and told her, "If I wasn't married, I'd be chasing you down a hallway right now."
Pattiz told Park she looked like a schoolgirl and that he had watched "too many videos" with schoolgirls in them, according to the account she gave the LA Times. She and others assumed he was talking about pornographic videos.
"She was miserable and felt sick to her stomach every day," Dantes said. "Wondering, is he going to come upstairs today? What will he say? Is this the day he grabs me or touches me?"
Pattiz's lawyer said there is no Emilia Dantes.
"Pattiz told Park she looked like a schoolgirl and that he had watched "too many videos" with schoolgirls in them, according to the account she gave the LA Times."
Raymond Hernandez, a former producer at PodcastOne, told the LA Times that he frequently witnessed Pattiz making comments about women's breasts and bodies, including the size of the breasts of two podcasters who were pregnant. Hernandez also alleged that at one point, Pattiz asked several employees if they wanted to see revealing photos on his phone of a female executive at PodcastOne. Other PodcastOne staff members corroborated Hernandez's allegations to the LA Times.
Pattiz apologized for making McDonald feel uncomfortable, but did not address any other allegations.
"There is no excuse for any such comments or making anyone feel uncomfortable," he told the LA Times. "If I did that, I sincerely apologize, and it will be a valuable learning experience. I can assure you that you can teach an old dog new tricks."
The recent letter also cites a 2016 incident in which Hernandez said Pattiz brandished a loaded firearm and belt knife at Hernandez to force him to report false numbers of downloads for various podcasts to advertisers. In a lawsuit Hernandez filed against Pattiz in September in Los Angeles Superior Court, he alleges Pattiz displayed the weapons at PodcastOne "to intimidate" him into complying with Pattiz's orders. Hernandez also said Pattiz would take out his LA County Sheriff's Office badge and brag about his connections in law enforcement.
Pattiz's lawyer called the allegations in the lawsuit "fantastical."
"As to those few that we can decipher, they are completely false," he said. "The allegations will be met with a vigorous defense and countersuit, and will be litigated in court where they properly belong."
Responding to the recent letter, Kieffer, the UC Board of Regents chair, said that former Chair Monica Lozano had sent a letter to Pattiz expressing her concern about his inappropriate comments to Heather McDonald. He added that the board established a requirement for regents to follow an anti-sexual harassment training, as is required for other university employees. Pattiz was in the process of taking the course, Kieffer said.
Kieffer added that the university was currently not investigating the incident involving Hernandez, as it is part of an ongoing lawsuit.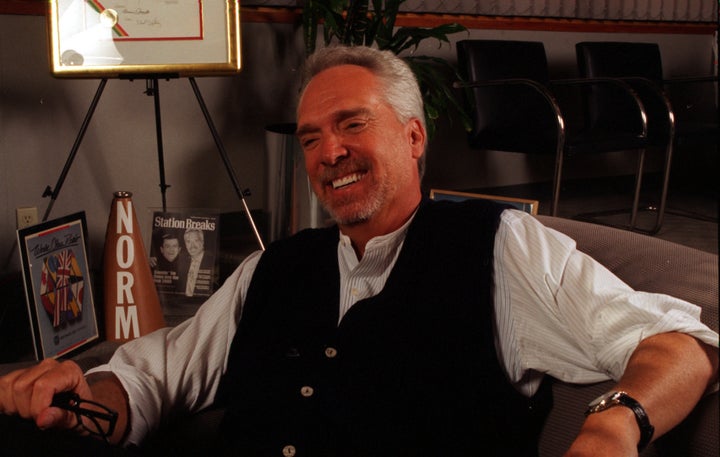 In response to the numerous allegations against Pattiz, the University of California Student Association passed a resolution in January calling for his resignation.
The student association strongly condemned Pattiz's behavior, and said keeping him as a UC regent "is an insult to the students by which they claim to serve, especially students who identify as survivors of sexual harassment or sexual violence."
But a defiant Pattiz told students just last month they should be "ashamed of themselves" for demanding he resign. When asked by The Mercury News if he would consider stepping down from the board, he told the newspaper, "Not on your life."
Newsom and the other signatories of the letter say they share the students' concerns about Pattiz, which have been compounded by the host's "degrading comments" aimed at students.
"Regents are expected to show respect for the opinions of our students," the letter reads. "These students – some of whom are survivors of sexual assault and harassment themselves – deserve to be heard, not silenced or told to be 'ashamed.'"
This story has been updated with comments from Pattiz's lawyer and UC Board of Regents Chair George Kieffer.
Popular in the Community