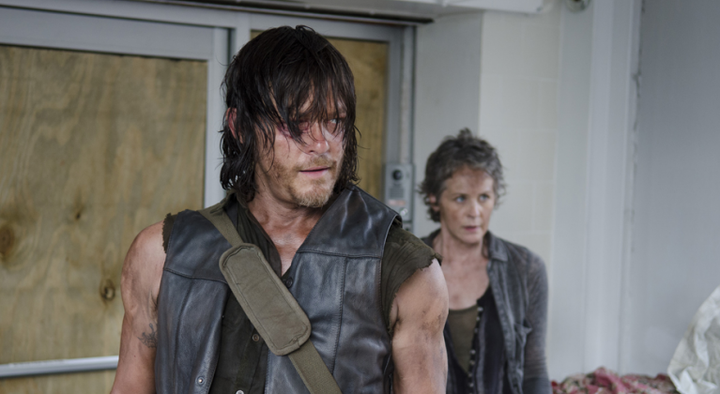 We've already heard Season 6 is going to be "total chaos" on the show, but now star Norman Reedus is teasing that there are some subtle surprises, too. In an interview with Entertainment Weekly, Reedus says there's a big Daryl/Carol Easter egg on the way:
There's one particularly beautiful, gruesome zombie -- he's got a lot of green moss on him.​ But when you see that episode -- it's in Episode 6, I think, that particular zombie -- something happens, and it harks back to a Daryl and Carol moment. I'm going to let you just guess what that could be, but there are Easter eggs in some of those zombies, so you'll see it in Episode 6.
Whoa! Easter eggs hidden in zombies? Uh, yes please.
Maybe it has something to do with the big moment from Season 5 when they fell off a bridge, or perhaps it has something to do with one of the times they get their flirt on, or (gasp) maybe it's about Sophia, Carol's daughter who turned into a walker in Season 2.
"Walking Dead" Season 6 kicks off this Sunday, so it shouldn't be long before Episode 6 rolls around and we find out what Reedus means. Here's hoping the Easter egg has something to do with Daryl and Carol finally getting together. Because, seriously, it's about damn time.
PHOTO GALLERY
The Walking Dead
Calling all HuffPost superfans!
Sign up for membership to become a founding member and help shape HuffPost's next chapter