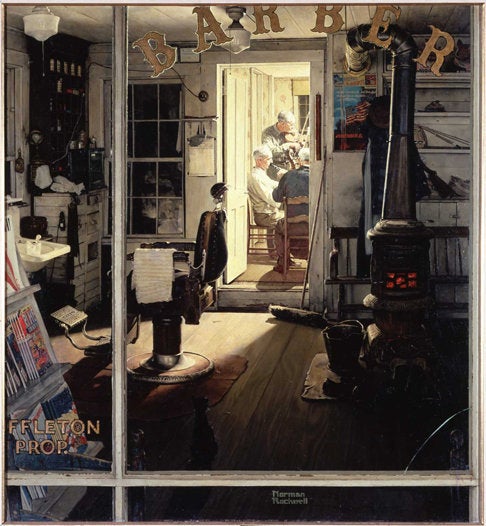 "It's a cold and it's a broken Hallelujah" – Leonard Cohen
I had never seen the actual painting, just poor, darkened reproductions. But I felt and understood the picture my grandfather painted in 1950 even before I laid eyes on it; it was painted as the family crisis escalated and my grandmother Mary's impending breakdown loomed like an invisible wraith inside the home, something you could sense more than see.
Shuffleton's Barbershop is arguably Norman Rockwell's masterpiece. It is chiaroscuro at its best – a noirscape of an after-hours moment in a small town barbershop. It appeared on the cover of the Saturday Evening Post in the spring of 1950.
I felt apprehension, a well of emotion coming to the surface, as I sat in anticipation of seeing the painting in person for the first time. Would it live up to my expectations or disappoint me?
I knew I was going to encounter my grandfather in a very different, more personal way this time. After researching their lives I now know what he and my grandmother were struggling through when he painted it; how they tried to shelter their three boys from the extent of my grandmother's growing inner disturbances and the reliance on alcohol she hoped would soothe her inner wounds that were a mystery even to her.
Her illness was their secret. Yet everyone knew. A bank of darkness had descended on what was supposed to be the perfect American family. The prevailing instinct is to protect that loved one who is emotionally and mentally ailing. And then to protect your children and yourself.
Mary had dedicated herself to my grandfather and his work for over 15 years before she began to collapse. She had never individuated – she went from being an overly protected, isolated child to the wife of an already famous and successful American illustrator, 15 years her senior.
And when the buried trauma and attending internal scavengers began to surface within her, she tried everything to find a solution – went to doctor after doctor, becoming attached to each one – until she snapped one day at a coffee counter in a service station in Arlington, Vermont in the dead of winter in early 1951. She broke down into uncontrollable tears as she sat with the younger family doctor who had been trying to analyze and help her. Perhaps in that moment she realized he couldn't save her, he didn't have the answers either, and once again, she was left with her overwhelming existential pain. She had improvised an infatuation for this doctor that was just an illusion.
"I knew I was going to encounter my grandfather in a very different, more personal way this time."
It is hard to separate Pop and Mary because in many ways they had always operated as a team. While some other couples slept in monastic side-by-side twin beds, my grandparents pushed their two mattresses together to make one bed. Each Saturday Evening Post cover was a labor of agony and love for both of them. Mary would often drive the models back and forth to the studio, cook lunch for them, scour the countryside for the specific props that Pop needed for each painting. My grandfather also used Mary as a model repeatedly. They had help – Pop always had an assistant in the studio and she had housekeepers in the home.
But when she began to seek out psychiatrists in the late '40s, two of these male doctors unwittingly pulled her and her marriage apart in destructive ways. They questioned how she responded to her husband intimately without guiding her toward a real solution. They challenged her very concept of womanhood; one California doctor provided strange rules and edicts of wifely/female conduct. They began to open her up, yet failed to get to the root of her fragmentation, and then abandoned her.
All of this swirled around me as I was led into a small side room at Sotheby's in NYC – suddenly there was my grandfather's painting on the wall, waiting for me. I felt shock that I had been granted such immediate access in this private viewing. This is the painting that had haunted me from afar.
What struck me first was how much more light there is in the original than the reproductions – there is so much more to see. The influence of Rembrandt – his view of the "deep mysterious" – is unmistakably echoed in Rockwell's ambitious use of glowing light and stark shadows.
In the midst of the darkened room lit by secondary light, the radiant gold of the window sign letters and the bright orange of the fiery hearth call out contrast and almost beckon you inside. Hints and pops of color sneak in through the carefully displayed magazines and comics in front and the patriotic poster on the back wall.
The observer is not just the black cat in the darkness with its right ear pulled back in uncertainty or annoyance; it is Norman Rockwell standing outside the cracked window – where his uncentered, diminished signature lingers – an isolated viewer, kept apart from the light of creativity and festive music in the illuminated back room. The older men play with calm joy, yet he remains an imprisoned outsider in the cold looking in.
He is not completely alone, he knows his audience looks in with him from the same vantage point. He is quietly asking us for empathy – see, he silently nudges you, this is how I'm feeling, perhaps I'm not so alone after all.
The symmetry of the two chairs with chipped paint like two guardians at the gate. The poorly painted window pane with layers of unscraped paint over the years, leaving paint marks on the window. The old broom leans against the wall as another character, its bristles peaking out from overuse. The startling clarity of the hot stovetop and the back light hitting the stovepipe where it enters the wall. A pair of shoes and a pair of beat up boots warm by the fire. The comforting softness of the worn ivory barber cloth draped over the arm of the chair; the channel of light from the other room exposes the intricate detail of the foot rest. Stray cigarettes from the day scattered on the floor.
The revelation of the painting is the impressionist reflections in the back window – a play of gradations of gray. Pop always finds a way to surprise me.
There is a tender dance between chaos and order, community and isolation.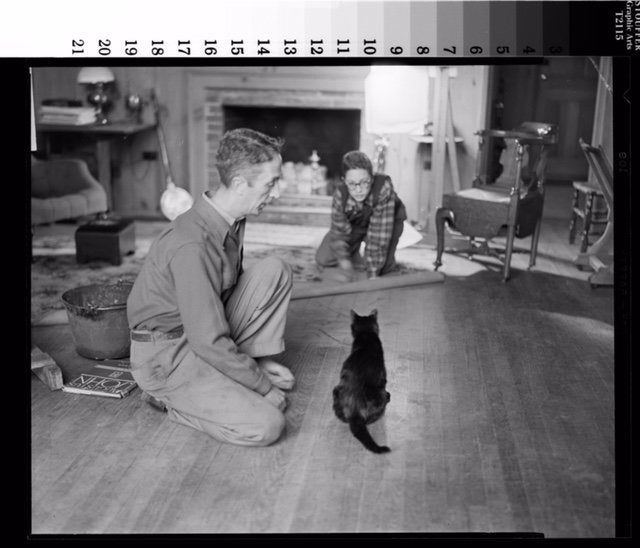 Pop had a number of reference photos of the cat taken. He enlisted his young son Peter and together they cajoled the cat into the correct pose; Pop sitting on his legs right by the cat, Peter on all fours, gesturing out in front. The first model, a round black and white tuxedo cat, wasn't in the mood to cooperate. Pop replaced him with an all black cat with a leaner back who was more amenable.
Did he really need the cat there? And why did he slightly cartoon its figure? Was it a form of slight sabotage to add that "Norman Rockwell" stamp of sentiment or did he feel he needed the ominous presence of a black cat looking on from the shadows – as he was feeling at that time? A grim harbinger of what was to come – perhaps Pop attempted to undercut the gloomy specter with a touch of humor.
When I stood back from all the details and silently took the painting in from the other side of the room a strange thing happened – the painting seemed to come to life dimensionally and allow me to enter into it. I was now the observer standing right outside the barbershop longing to be a part of the music in the back room – the barbershop opened up to me and I was transported inside – I knew that I could enter the lit back room if I wanted to.
And that is the affirmation – it is the joy of art, of music, of community that saves us in those dark moments. It always saved Pop.
Sotheby's is planning to auction Shuffleton's Barbershop and Shaftsbury Blacksmith Shop on November 13. Once again controversy circles around Norman Rockwell – people have always parasitically attached themselves to him, forged their identities by associating themselves with him and his work. He has attracted that sort of adulation and animus since his art entered into the public eye. People both revere and disparage his vision.
Art is not created to stay in one place, it is created to move about and benefit the world. That is part of the magic of the artistic process – there is no true ownership. All of us are merely temporary custodians. These two paintings were painted in Vermont. Pop donated Shuffleton's in 1958 and Blacksmith Shop in 1966 to the permanent collection of the Berkshire Museum in Pittsfield, MA. The Berkshire Museum decided months ago to auction much of its art, including the two Rockwells, in an attempt to reimagine its future.
What would Norman Rockwell want? He would want the two paintings to be placed where the most people would have easy access to them, to experience his work for themselves. His art is the art of the people.
If this auction goes through, Mr. George Lucas, I am calling on you... to save the day, rescue the Rockwells and become the faithful custodian of them at your new museum.
Hope persists, in spite of it all.
Popular in the Community