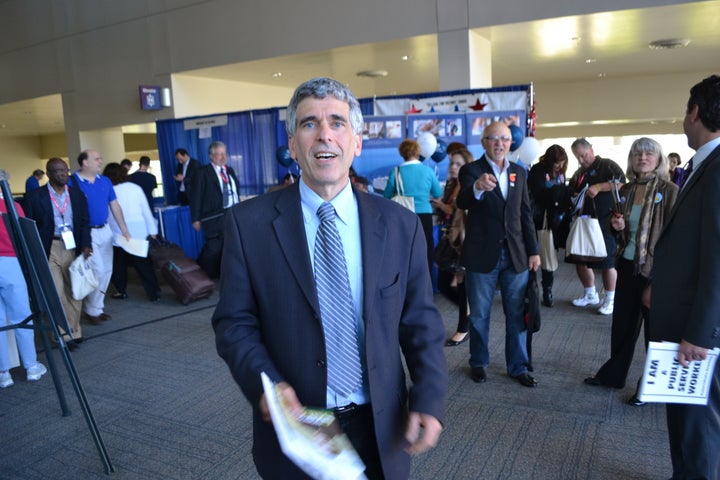 After a vote-counting process that stretched a few weeks beyond the June 5 primary, anti-war Democrat Norman Solomon finally conceded the race for California's 2nd District on Tuesday.
Solomon, an activist and co-founder of the media watchdog group Fairness and Accuracy in Reporting (FAIR), finished third behind Democrat Jared Huffman and Republican Dan Roberts, who will face off in the general election. Despite picking up roughly 1,000 votes after the initial tally on election night, Solomon eventually lost by less than 200 votes to the second-place Roberts, according to the Democrat's campaign.
Solomon had established himself as something of a progressive superstar this electoral season, with endorsements from Phil Donahue, Sean Penn and Jackson Browne. With big name left-wingers in Congress like Dennis Kucinich (Ohio), Barney Frank (Mass.) and Lynn Woolsey (Calif.) bowing out after their current terms, Solomon was hoping to pick up the mantle of the progressive anti-war agenda in Congress. And in California's newly created 2nd District, which stretches along the state's comfortably liberal North Coast and covers much of Woolsey's former district, there seemed to be a golden opportunity for him.
"I expected him to be the single best voice for peace and justice in Congress," said Dave Swanson, an anti-war activist and former advisory board member of Progressive Democrats of America, which endorsed Solomon in the race.
"Our campaign was about offering choices beyond the usual, overly constrained choices people have," said Solomon, who called for an immediate end to the war in Afghanistan, aggressive regulation and taxation of Wall Street, elimination of nuclear power and a strengthening of civil liberties and labor rights. "We need fundamental change, we really do. It needs to be about economic and social democracy and ending the warfare state."
But despite raising more than $600,000 and pulling in endorsements from four sitting congressional representatives -- Kucinich, Raul Grijalva (D-Ariz.), John Conyers (D-Mich.) and Grace Napolitano (D-Calif.) -- Solomon was unable to advance to the general election. There are a "kaleidoscope" of reasons that explain his defeat, he said.
For one, Solomon noted that several left-leaning Democrats each earned some percentage of the vote in the liberal district. But he also cited "obstacles that genuine anti-corporate progressives face," such as the difficulty in getting endorsements from mainstream liberal advocacy groups like labor unions and environmental organizations.
Indeed, the more centrist Democratic candidate, Jared Huffman, a state assemblyman for almost six years, captured the vast majority of those endorsements. And given the district's liberal leanings, Huffman is expected to win the general election easily.
Solomon also levied some criticism at the Democratic Congressional Campaign Committee (DCCC). Though the margin separating Solomon from the Republican Roberts had shrunk to under 600 votes at the time, with the final results still up in the air, the DCCC decided to label Huffman as a "majority maker" in the general election.

The Majority Makers program "highlights Democratic candidates in strong Democratic districts," according to the DCCC's website. The program is intended to identify candidates who can help raise money for Democratic candidates in more competitive districts.
"I mean the Democratic Party, after Florida [in 2000], after Ohio [in 2004], they're endorsing a Democrat as though the race was over?" Solomon said with a chuckle. He said the DCCC's move, as minor as it was, is ultimately indicative of how the party leadership feels about candidacies like his own.
"Under the current leadership of the DCCC, progressive Democrats are not the kind of Democrats that are the apple of their eye. They're somewhat tolerated," said Solomon. "And who wants to be tolerated? We're part of this party, and we should become more of this party."
Swanson agreed, comparing the way the Democratic Party has treated Solomon's campaign to the way the party has treated Massachusetts Senate candidate Elizabeth Warren. "You'll see a lot of support for Warren, who's perfectly fine with the wars but wants the bankers to help pay for them. Norman Solomon isn't that kind of guy," said Swanson, adding, "This is someone who was attempting to infiltrate the party from the outside."
Elizabeth Warren's campaign could not be reached for comment.
Amber Moon, DCCC Western Regional press secretary, declined to comment on Solomon's campaign or on the timing of Huffman's addition to the Majority Makers program. But she said that Huffman fit the criteria of the program.
"Jared Huffman's commitment to fighting the extreme agenda of House Republicans and his willingness to help other Democrats in competitive races earned him recognition in our ... program," Moon said in an email.
Still, Solomon said he thinks his run was worth it. Campaigns like his own are necessary, he said, even if they aren't successful.
"It's important to fight this fight in electoral arenas and in the Democratic Party," he said. "We cannot afford to leave the electoral battlefield to corporate Democrats and Republicans ... We need to be in the mix, and we need to push. There's no guarantee of results. That's the nature of elections."

Calling all HuffPost superfans!
Sign up for membership to become a founding member and help shape HuffPost's next chapter
BEFORE YOU GO
PHOTO GALLERY
Afghanistan War, By The Numbers