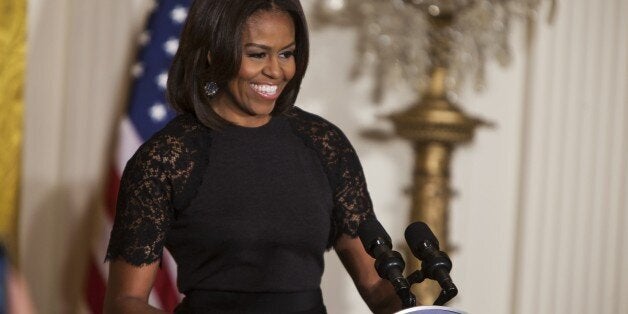 This week, over 200 men and women representing a diversity of ethnicities, languages, professions and political views gathered to participate in what was perhaps the largest celebration of the ancient holiday of Norouz, the Persian New Year at the White House.
The event epitomized elegance and charm, blending Iranian hospitality in the splendid setting of the East Wing. There was a traditional "Haft Seen" table, folk dancers in regional costumes performing to festive tunes, comforting Iranian home-style meal and indulgent Iranian pastries. All these thoughtful details and cultural courtesies were offered by the First Lady, Michelle Obama, who graciously hosted the event. It was truly an historic occasion.
Norouz is not only an Iranian day of celebration. Other nationalities including Azeris, Kurds, Uzbeks, Tajiks and others that also celebrate this ancient holiday were present at the White House. But perhaps more interestingly, the gathering convened an incredibly diverse group of Iranian Americans. The day drew together people from across the diverse spectrum of our community -- various religions, ethnicities and political associations. In the past three years, after multiple roundtables and a Norouz celebration in 2014, it is gratifying to know that Iranian Americans have achieved such a high degree of social acceptance. We should credit this Administration for creating this reality.
In many ways, the Norouz event exemplified the best elements of our democracy, equality and pluralism. It felt inspiring to see all of our people represented in the White House which the First Lady poignantly described as the "People's House -- a house that reflects the diversity of culture and traditions that make us who we are as a country." As an American by choice, I felt honored to celebrate my cultural heritage in the country that now serves as my home.
In this same sense, the inclusivity of this event also represented a moment of painful irony. As Iranian-Americans, we know that we can speak freely here but many voices are silenced or tormented in our country of origin. While there were a large number of distinguished professionals, activists, artists, writers and even former prisoners of conscience mingling at this event, there is no such freedom of assembly in Iran. The White House convened men and women and representatives of many religious minorities, but Bahais, Sunnis and Christians lack fair representation before the law and women are treated as second-class citizens.
As a diverse group we were welcome by the First Lady of the United States, but it is inconceivable to imagine that people from all walks of life could break bread with the rulers of the Islamic Republic.
We felt invigorated as America once again delivered on its values of equality and freedom by creating a safe and civil space for the dispersed faces of Iran to come together under one roof. Sadly, within the borders of our ancient homeland, no such values exist. Every year, Norouz celebrations are raided because young people are listening to music or dancing; women are suppressed under unfair rules that treat them as inferior; religious beliefs and conversion out of Islam are subject to scrutiny and even imprisonment; celebration of one's ethnic language is treated like a crime; and political discourse is a life-threatening risk. Those of us who fled our country because of these restrictions long for the day when we can return home and freely celebrate Norouz in the land where we were born. Truly, the Obama administration should be lauded for honoring thousands of years of heritage and the rich tapestry of the Iranian American experience. At the same time, this is a reminder for our policymakers and leaders. The trouble with a one-track negotiation that solely focuses on the nuclear agenda is that it fails to consider the wide set of other issues important to our diverse community.
We all want change, but we should not accept the false choice that our government cannot engage in a more dimensional conversation with the Islamic Republic about the real challenges facing the Iranian people -- human rights violations, religious oppression, gender inequality. We are playing into a narrative created by a government that continues to restrict its citizens liberty and freedom. If we do not emphasize these values in conversations with the Islamic Republic, can we truly live up to the promise of our democracy and the principles that make our country so exceptional?
Popular in the Community