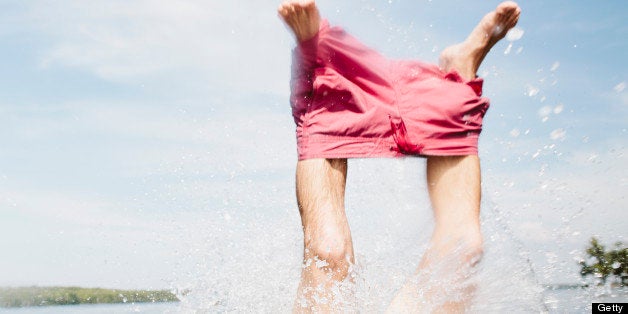 Skinny Dipping has a long honored history in the U.S.. It's as American as baseball and apple pie.
Mark Twain wrote about the joys and innocence of skinny dipping in The Adventures of Tom Sawyer and The Adventures of Huckleberry Finn. Norman Rockwell's famous painting of boys skinny dipping was on the cover of the Saturday Evening Post magazine in 1921. The New Yorker's magazine cover on August 29th, 2005 was of people happily skinny dipping at the beach. Even President Johnson and the Rev. Billy Graham are said to have gone skinny dipping in the White House pool together.
When summer thoughts turn to picnics, with the fresh corn on the cob, lemonade and ice cold watermelon, you just know skinny dipping is always right around the corner.
Well this year on Saturday, July 13th, the American Association for Nude Recreation and The Naturist Society are jointly sponsoring a North American World Record Skinny Dip.
Cool down this season and check two life events off your bucket list, skinny dipping with others and breaking a Guinness World Record™.
From California to New York, Canada, to Mexico everyone is invited to put on their birthday suits and join in the fun. There are over 100 skinny dip destinations. Click here for the location closest to you.
This exciting record-breaking event happens at 1:00 p.m. local time. Of course you'll want to arrive early to relax and enjoy your fun, clothes-free adventure all day long.
Not a nudist? No problem. In order to encourage more people to try nude recreation (we know you'll love it), first timers are allowed to enter the water wearing bathing suits. However, if you want to help break the record, at that 1:00 p.m. countdown, off come the swimsuits and on go the birthday suits. Everyone has to wear zip and skinny dip to be counted for breaking the record.
So make sure you bring some sunscreen and your smile to the nudist resort near you. Once you try skinny dipping, you'll never want to wear a soggy swimsuit again.