Beginning January 2017, pro racers and auto/motorcycle enthusiasts alike are expected to flock to Palm Springs as The Thermal Club finalizes its highly anticipated third and final phase of track development, complete with the most modern safety technology in the industry.
Previous additions to Thermal—the North and South Palm Circuits—received the highest accolades. Phase 3, the Desert Circuit, is poised to be no less impressive. Not surprisingly, Thermal has become the go-to club among the racing and driving communities, building upon innovation, safety, and passion for motorsports as its core foundations.
One of The Thermal Club's utmost concern is the wellbeing of its drivers. Thus, they outfitted all three track phases with state-of-the-art barrier technology pioneered by Impact Safety Systems (ISS). Thermal placed the barriers in critical locations around their courses—red and white Kart Impact Safety Systems (KISS) barriers outline one mile of the South Palm Circuit and three miles of the karting track; blue and white ProLink barriers by ISS cover three-quarters of a mile of the North Palm Circuit; and more than half a mile of the Desert Circuit is bordered by green and white ProLink barriers. In total, there are nearly 3000 ISS barriers creating kaleidoscopic rows of protection.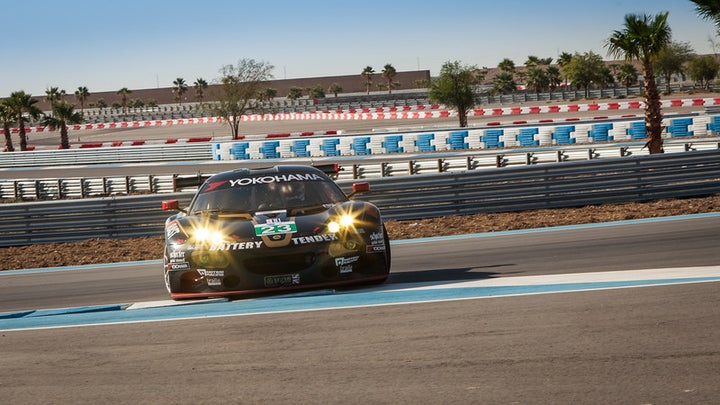 My motivation behind creating Impact Safety Systems was the dire need for barricade reform to increase driver survival. Over the past 16 years, these barriers have become staples at tracks across the country. Track managers and operations directors took a stand against jeopardizing racers' lives with archaic and dangerous barriers, such as Armco guardrails, concrete walls or used tires. Instead, they usurped the status quo and chose a new composite polyethylene plastic barrier technology that not only delivers maximum safety, but is also extremely cost effective and easy to install.
On Thermal's tracks, ISS barriers are more than mere aesthetic enhancements—as buffers against Armco and cement, they may make the difference between life or death, minor rather than critical injuries, and minimal versus major vehicle damage. ISS barriers act as the first line of defense by providing enough safe deceleration to avoid hitting the last line of defense—hard walls. The system is designed to absorb impact energy and distribute it down the line of linked barriers to cushion the blow and reduce ricochets.
Participants at The Thermal Club have personally been involved in or witnessed serious collisions that ended with very little vehicle damage and, more importantly, less harm to its occupants. ISS barriers are engineered to optimize safety and mitigate impact, enduring high-speed hits with less deformation, primarily due to sidewall impact ridges that support structural integrity. Additionally, the UV-stabilized, weather resistant barriers are reinforced when filled with water or sand to ballast, which can be adjusted for varying levels of resistance depending on the speed and weight of the vehicles.
When Thermal's events require track changes, ISS barriers easily adapt as they are one of the only systems that can be arranged in any configuration or either direction, including curves and 90° angles. Because of its lightweight plug-and-play design, installation of 1000 linear feet only takes two workers one day to accomplish.
The Thermal Club fulfills the need for speed and understands that the ideal environment to safely indulge in this obsession must offer unparalleled protection. ISS has always been dedicated to making racing as safe as possible, thereby allowing drivers to focus on the fast lane with less fear of crash consequences. Thermal's completed project is the perfect outlet to test the limits of both man and machine. I can't wait to get on their track myself one day soon.
Popular in the Community