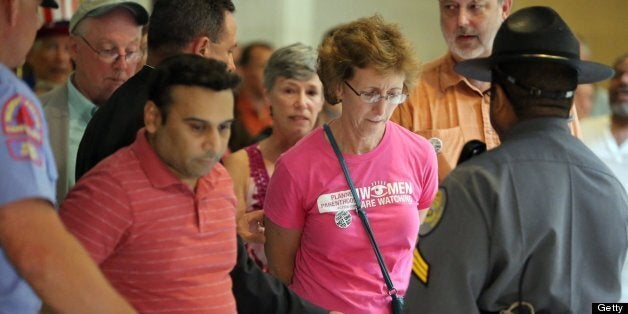 You've seen the news: When they thought no one was looking last week, state senators in North Carolina tucked several dangerous attacks on women's health into an unrelated bill. Legislation originally meant to -- yes, you're reading this right -- ban "Sharia Law" in North Carolina will now also severely restrict a woman's ability to make deeply personal, private decisions about her pregnancy by restricting access to safe and legal abortion.
North Carolina has a proud history as a pro-choice beacon in the South. In the 1930s, we were among the first states in the country to have a state-funded family planning program. We liberalized our abortion laws before Roe v. Wade. In 1976, Congress passed the Hyde Amendment, cutting off Medicaid funding for abortion services for women with low incomes. North Carolina responded by setting up a state abortion fund, which at one point amounted to $1.5 million a year. When I started working for Planned Parenthood in 1982, North Carolina had a model, age-appropriate K-12 sex education curriculum.
Everything has changed. And this past weekend -- as the nation celebrated Independence Day -- I decided, enough is enough. It's not just that our legislature is turning its back on the history and people of our state. It's not just that they are playing with women's lives, although that's good enough reason to take a stand. I want these politicians to see that with every attack, they are creating a fierce and ever stronger opposition. We're making it impossible for politicians to ignore us, no matter how hard they try. That's why I decided to get arrested, along with more than 60 others, at the most recent Moral Monday protest yesterday.
North Carolinians of all stripes have been fighting back with everything we've got. For months, hundreds of us have rallied and protested against more restrictions on women's health in our state. In a matter of hours last week, more than 500 women's health activists descended on the General Assembly to protest the Senate's actions last week. Hundreds more are protesting today to #standwithNCwomen. We are already home to one of the nation's most intrusive and demeaning mandatory ultrasound laws. We were also among the first to try to block preventive health care funds from Planned Parenthood's nonprofit health centers. Taxpayers here have been on the hook for the costly legal battles these unconstitutional attacks on women's health and well-being have triggered.
Meanwhile, countless more North Carolinians have stood vigil at weekly protests as the General Assembly launches an all-out attack on workers, poor children and families. I have stood in solidarity with them for the past 10 weeks, just as they have stood in support of North Carolina women, their children and the men who love them. I believe that all these issues are connected -- education, health care, prenatal care, unemployment benefits, support for domestic violence services, early education, voting rights -- and access to birth control, accurate sex education, and abortion. This is how we make our state better. This is how we give our children a chance for a better life. This is only right.
Beyond North Carolina, we are seeing women and our allies mobilize across the country. In Wisconsin, a new law signed by the governor last week -- signed during the cover of the holiday weekend despite protests of hundreds of Wisconsinites and one of the most compelling floor debates by women representatives in that state's recent memory -- threatens access to safe and legal abortion immediately if it is not blocked by federal courts. In Ohio, dangerous restrictions on women's access to health care have now been signed into law, sneaked into the state budget despite a constant presence of opposition in the State House. And in Texas, Planned Parenthood is launching a bus tour today to expand what has already become the largest mobilization in memory in that state, over a proposed bill that would cut most women off from access to safe and legal abortion.
It was a long night in Raleigh. But we're part of something much bigger. A fuse has been lit that's burning across this country. The odds may be stacked against us, due to the overwhelming advantage that opponents of women's health have in state legislatures like ours, but with every attack, I see firsthand that these politicians are creating a new generation of activists who will take this state -- and our country -- back.
Popular in the Community