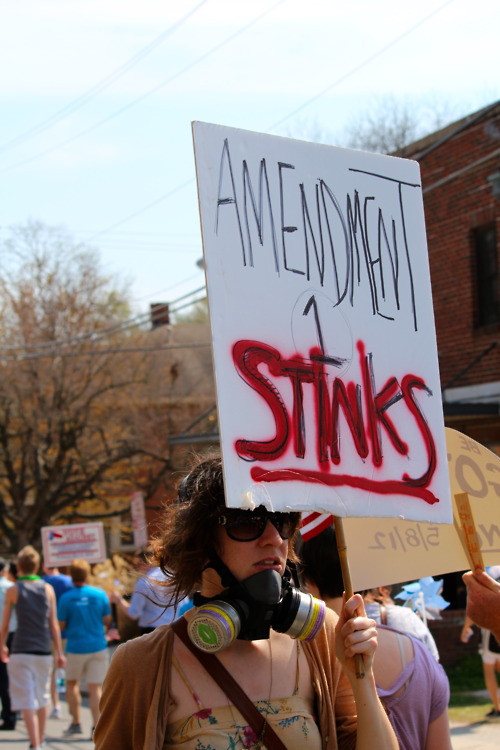 Back in January 2012, when National NAACP President and CEO Benjamin Jealous said that the nation was watching North Carolina, he could not have been more accurate.
Since the beginning of the year, the national spotlight has shone brightly on recent legislative attacks on North Carolina voting rights, public education, workers, women, and public safeguards for the poor, minorities, and other oppressed populations, but it has shone brightest of all on an overreaching constitutional amendment on the May 8 ballot, now known as Amendment One, that, in the process of discriminating against gay and lesbian families, would potentially dismantle protections for all unmarried couples in North Carolina and their children.
Last week Amendment One even drew the ire of the President of the United States, who voiced his opposition to the ballot measure, representing the first time Barack Obama has weighed in on a state referendum touching gay issues since the 2008 campaign trail. With his statement, the president joined a chorus of unlikely Amendment One opponents, from conservative Republican U.S. Rep. Renee Ellmers, who was one of the first to say she will vote against the amendment, to N.C. NAACP President Rev. Dr. William J. Barber, who called the legislation a "trick" and reminded the state that "none of us should ever want to deny any other person of constitutional protections."
But arguably the most telling national endorsement of North Carolina's anti-Amendment-One efforts came on March 19 from the California Democratic Party. In a statement released on Monday, California Democratic Party Chair John Burton applauded the president's opposition to what Burton called "a divisive ballot amendment" and pledged that California Democrats "stand ready to help and we will soon be in touch with ways that Democrats here can start getting the word out to voters in North Carolina about the need to defeat Amendment One."
This unprecedented offer from one state's political party to reach out to its counterpart in another state -- not to mention in a state across the country -- to help defeat an upcoming ballot referendum reveals increased national understanding of the far-reaching consequences of Amendment One to children and families in the Tar Heel State. It also signals increased momentum within the state itself to be the first in the South to reject a broadly worded effort to disenfranchise hundreds of thousands of its citizens, robbing them of health care, domestic violence protections, and child custody and visitation.
The Libertarian resolution joins dozens of others in North Carolina, from party Democrats, local governments, faith communities, professional organizations, business leaders, and universities and colleges, encouraging voters to cast their ballot against an amendment that would harm not only their neighbors but the perception of the state on the national stage.
And lest there be bleating from proponents of Amendment One that any national voices represent unwelcome outside interference in state matters, let's not forget that the forces of the Washington, D.C.-based hate group, the Family Research Council, have been infiltrating North Carolina for the past eight years that this amendment has been a possibility, with anti-gay behemoths like the National Organization for Marriage a mere month away from releasing their "gathering storm" propaganda on the people of my state.
But this is 2012. And early in the election year here in North Carolina, it appears, for the most part, that this wedge issue has lost its edge even among North Carolina's historically conservative Democratic politicians. In fact, to date, all 2012 Democratic gubernatorial and lieutenant gubernatorial candidates have publicly opposed Amendment One, most in the same week they announced their candidacy.
This unequivocal support among respected North Carolina leaders also coincides with a dramatic drop in public appetite for legislation like Amendment One, with the latest nonpartisan Elon University poll, released March 9, revealing that a majority of North Carolinians are themselves opposed or strongly opposed to Amendment One, including a particularly dramatic increase in the category of "strong opposition" to this type of amendment, with 34 percent now voicing strong opposition, up from just 21.8 percent in February 2011.
Today, Amendment One bashing appears to be becoming a badge of honor in a state known as the progressive voice of the South. And so as this growing statewide and national chorus of anti-Amendment-One sentiment sings loudly, we stand more confident than ever in the rising harmony among voters -- to vote against Amendment One -- on May 8.
Popular in the Community