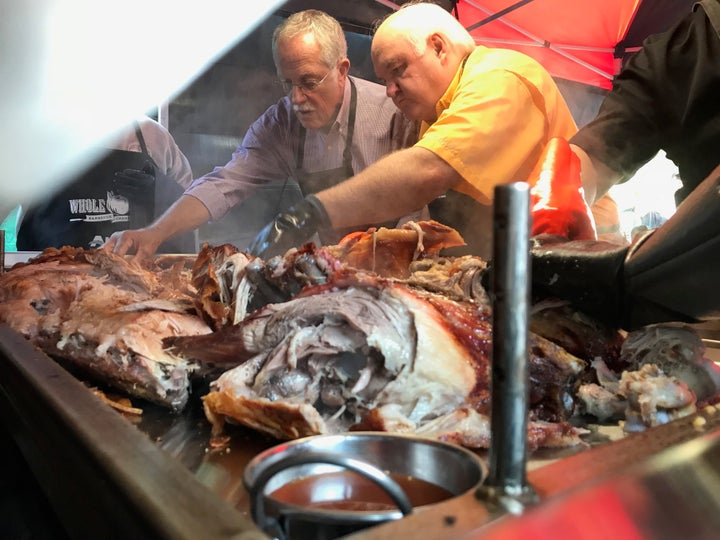 If you've ever watched the TV show BBQ Pitmasters, you know BBQ competitions are serious business and can be cutthroat. But reality TV isn't always "real," and not all BBQ competitions are alike.
In fact, the North Carolina Pork Council's annual series of cookoffs is not only much friendlier, but barbecue cookers are more like family.
Case in point, the 2017 North Carolina Whole Hog Champion, Kevin Peterson of Benson, has only been cooking whole hogs competitively for two years. At 34, he's the youngest champion.
"I still can't believe it," he said, holding the heavy, wooden trophy half as tall as he is. "We are so happy to win the state championship. I'm so tickled. I couldn't have done it if it won't for my wife Dana Christman Peterson; she has seen me up and down, and had to hear way more about BBQ than I think she ever wanted to. Thanks to Doug Melvin for going with us and all the help, and to Chris Fineran for taking me under his wing and all the guidance that he has given me. Words can't explain what this means to me."
Peterson added, "This was a goal that I set to win the championship but never thought I would have done it in just a year- and-a-half cooking.This North Carolina Pork Council Whole Hog Series has some great folks, and we have made some great friends along the way."
Saturday, as part of the International Bluegrass Music Association's World of Bluegrass, Peterson's Showtime Legit BBQ beat out 28 other competitors -— the state's best of the best. And one of those was Chris Finneran, last year's champion and the 2016 Pitmaster of the Year, who took Peterson under his wing, or pork shoulder, if you will, and taught him everything he knew.
Apparently, Finneran's mentoring skills were a little too good. But he and his team Beach Boys BBQ of Cherry Grove Beach, South Carolina, were among those cheering the loudest when it was announced Peterson was not only the winner for best barbecue but also the winner of the blind tasting crispiest skin contests.
"I'm really proud of him," said Finneran after the competition. But the words weren't necessary. His wide grin said it all as he slapped Peterson on the back numerous times.
That's because it wasn't that long ago that other former champions, Ernest Twisdale and Charlie Meeks among them, took Finneran under their tutelage and helped him become a champion. Meeks, who celebrated his 82nd birthday Saturday, was the oldest competitor and cooked on a grill he handbuilt in 1989.
That's what families do. Help each other, encourage each other and show each other how it's done. "I drove all the way to Myrtle Beach one weekend to cook with Chris," Peterson said. "And another time he spent over an hour on the phone with me, walking me through what I was doing wrong."
This year's competition added another trophy for the best sauce. Phillip Weeks of Clayton brought home the honors with his team, Late Night Porkin.
And while he admitted he was disappointed his pork didn't take home the coveted prize, he was happy to be in the winners' circle with his secret recipe he described as "a different twist" on Eastern Carolina barbecue sauce. For the uninitiated, Eastern sauce has a vinegar base; Western Carolina barbecue sauce has a tomato base.
From March through October, in towns peppered throughout North Carolina and Virginia, some of the best barbecue cooks in the nation come together between 25 and 30 times a year to strut their stuff in the Whole Hog Barbecue Series cooking contests, according to the website. The barbecue chefs who qualify in the local events then square off for the grand prize: the Whole Hog Barbecue Championship.
"It's a friendly competition for a good cause," says N.C. Pork Council CEO Andy Curliss. "It's a neat, traditional event that plays out across Eastern North Carolina, and it's fun to be a part of."
The 32nd Annual Whole Hog Barbecue Championship began Friday evening when the whole hogs were delivered to the cookers lined up outside the Raleigh Convention Center with a parade of shiny, stainless steel smokers of various sizes and shapes.
After cooking overnight, the judges sampled what the contestants had to offer before announcing the contest winners. Then the Inter-Faith Food Shuttle sold the remaining pork in the form of sandwiches to help hunger relief programs. The event was the culmination of more than 20 contests across North Carolina, hundreds of hours cooking and more pounds of barbecue than one can count. Each contest used rules and judges sanctioned by the N.C. Pork Council.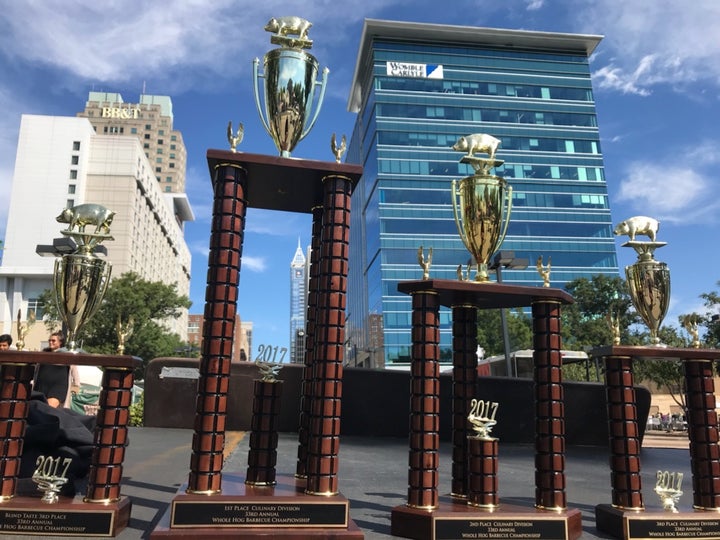 Related
Popular in the Community