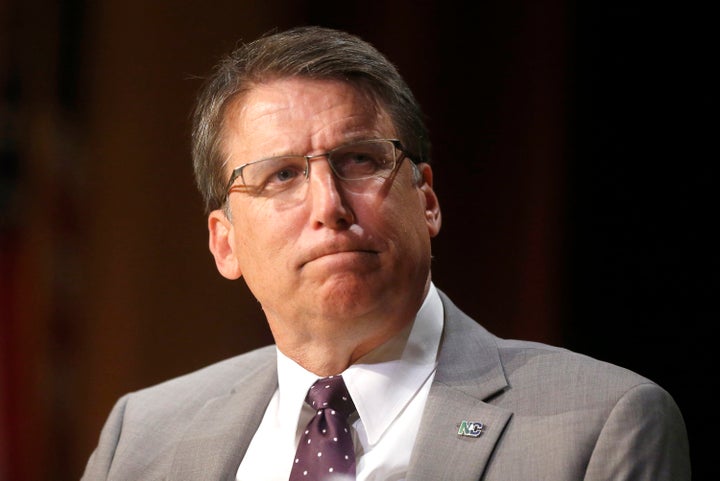 WASHINGTON -- The Obama administration on Monday filed a lawsuit against the state of North Carolina, alleging that a bill that blocks protections for transgender people violates federal law. The Justice Department said in a lawsuit that the so-called "bathroom bill" "stigmatizes and singles out transgender employees, results in their isolation and exclusion, and perpetuates a sense that they are not worthy of equal treatment and respect."
A person's external genitals, the feds said, are "but one component of sex and not always determinative of a person's sex."
DOJ's lawsuit highlights statements by North Carolina officials in support of the law, including a statement from Lt. Gov. Dan Forest (R), who has said that a proposed anti-discrimination ordinance in Charlotte "would have given pedophiles, sex offenders, and perverts free rein to watch women, boys and girls undress and use the bathroom."
Attorney General Loretta Lynch said the lawsuit "is about a great deal more than just bathrooms" and affects the "dignity and respect we accord our fellow citizens." Speaking directly to the citizens of North Carolina, where she herself was born and raised, Lynch said the law inflicts "further indignity on a population that has already suffered far more than its fair share."
"This is not the first time that we have seen discriminatory responses to historic moments of progress for our nation," Lynch said. "We saw it in the Jim Crow laws that followed the Emancipation Proclamation. We saw it in fierce and widespread resistance to Brown v. Board of Education. And we saw it in the proliferation of state bans on same-sex unions intended to stifle any hope that gay and lesbian Americans might one day be afforded the right to marry."
"That right, of course, is now recognized as a guarantee embedded in our Constitution, and in the wake of that historic triumph, we have seen bill after bill in state after state taking aim at the LGBT community," she went on. "Some of these responses reflect a recognizably human fear of the unknown, and a discomfort with the uncertainty of change. But this is not a time to act out of fear. This is a time to summon our national virtues of inclusivity, diversity, compassion and open-mindedness."
The attorney general added that "what we must not do -- what we must never do -- is turn on our neighbors, our family members, our fellow Americans, for something they cannot control, and deny what makes them human. This is why none of us can stand by when a state enters the business of legislating identity and insists that a person pretend to be something they are not, or invents a problem that doesn't exist as a pretext for discrimination and harassment."
The administration's lawsuit, announced at a press conference at Justice Department headquarters, came the same day that North Carolina officials sued the federal government for threatening to withhold federal education funds after DOJ's Civil Rights Division informed the state that the bathroom measure violated federal civil rights laws. North Carolina's lawsuit against the feds maintains that the state is "protecting the bodily privacy rights of state employees" and that the Justice Department is engaged in "baseless and blatant overreach" of its authority.
The Justice Department has argued that gender discrimination can occur against people who do not conform to gender stereotypes, such as transgender students. The Obama administration told an appeals court last year that "treating a student adversely because the sex assigned to him at birth does not match his gender identity is literally discrimination 'on the basis of sex.'" The appeals court ruled in favor of a trans student who was denied bathroom access.
North Carolina Gov. Pat McCrory (R) said at a Monday press conference that the country was "dealing with a very new, complex and emotional issue" that involved "balancing privacy and equality." He called on Congress to clarify the law rather than allowing the executive and judicial branches to interpret whether laws intended to protect against gender discrimination also protected transgender individuals.
Popular in the Community