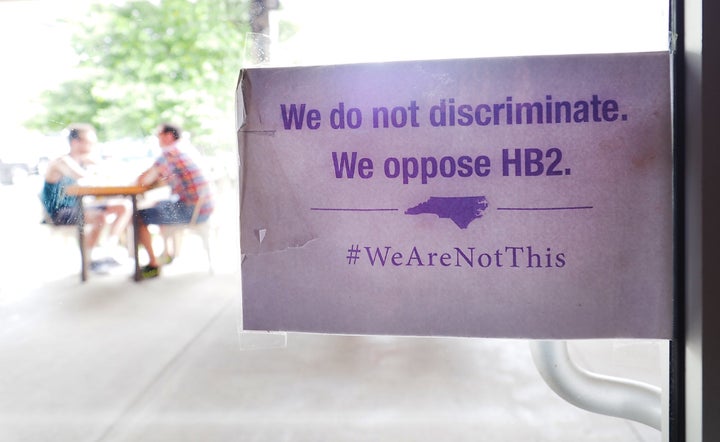 A federal court on Friday barred the University of North Carolina from enforcing the "bathroom bill" portion of H.B. 2 against two transgender students and an employee who sued over its implementation.
The law, which has made waves in North Carolina since the legislature passed it in March, has been the subject of a flurry of litigation by and against the Department of Justice, civil rights groups, Gov. Pat McCrory (R) and family-values groups that support the legislation.
Schroeder's order is preliminary until he holds a full trial, or else an appeals court reviews it further. It also only applies to the North Carolina law's bathroom provision, which mandates that public facilities be used only in accordance with the person's "biological sex."
As with related disputes bubbling in lower courts, a key issue in the case is whether this part of H.B. 2 violates Title IX of the Education Amendments of 1972, a law that requires educational programs receiving federal funding to abide by its prohibition against sex discrimination.
Courts are grappling with whether the "sex" provision of Title IX and other federal civil rights laws cover transgender individuals. But Schroeder recognized that North Carolina is bound by an April ruling that found that the Department of Education's own reading of Title IX in favor of trans students is owed deference.
That ruling "requires Title IX institutions in this circuit to generally treat transgender students consistent with their gender identity, including in showers and changing rooms," Schroeder wrote, even as he acknowledged that its future "is uncertain."
Relying on submissions from North Carolina that more or less confirmed that the state already accommodated transgender individuals and that its "decades-old" laws against invasion of privacy were working as intended, the judge seemed to suggest that H.B. 2 was a solution in search of a problem.
"Rather, on the current record, it appears that some transgender individuals have been quietly using facilities corresponding with their gender identity and that, in recent years, State educational institutions have been accommodating such students where possible," Schroeder wrote.
"In short," he added, "UNC may not apply HB2's one-size-fits-all approach to what must be a case-by-case inquiry."
Friday's ruling appears to be on a collision course with a Texas ruling earlier this week forbidding the federal government from enforcing trans-inclusive guidelines in public schools nationwide. Sooner rather than later, one or more of these cases are likely to be resolved by the Supreme Court.
This was a developing story and has been updated throughout.