University of North Carolina President Margaret Spellings insisted in a letter to the U.S. Department of Justice on Monday that the public universities under her leadership are not violating federal civil rights laws. 
The DOJ declared last week ― and reiterated in a lawsuit Monday against North Carolina, its governor and UNC ― that a new law in the state discriminates against transgender persons under both Title VII of the Civil Rights Act of 1964 and Title IX of the Education Amendments of 1972.
Spellings' letter shows UNC intends to continue following the controversial new law, H.B. 2, despite the U.S. government telling the university system that it violates federal law.
Pulling all federal funding for schools is "such a thermonuclear option," said Barmak Nassirian, a federal lobbyist for the American Association of State Colleges and Universities. "One would have to assume that things would be resolved way in advance of reaching that point."
The process for revoking federal funds is a long and "cumbersome," according to Debora Osgood, who spent 25 years with the U.S. Department of Education Office for Civil Rights. And the arm of the Education Department in charge of enforcing civil rights is charged with fixing the policies that violate federal law, not punishing schools for them. 
What The DOJ Is Doing
The DOJ's lawsuit seeks to have a court issue a permanent injunction on the aspects of H.B. 2 that violate federal law, namely the rules requiring that people only use bathrooms and changing facilities that align with the gender they were assigned at birth. The department's lawsuit came hours after Gov. Pat McCrory (R) filed a suit on behalf of the state against the federal government, arguing the Obama administration was overreaching.
The DOJ is retaining the option of moving to terminate federal funding from the department, Attorney General Loretta Lynch said Monday. That would require a hearing and at least a 30-day notice to Congress, according to Osgood, and would ultimately have to be approved by the attorney general.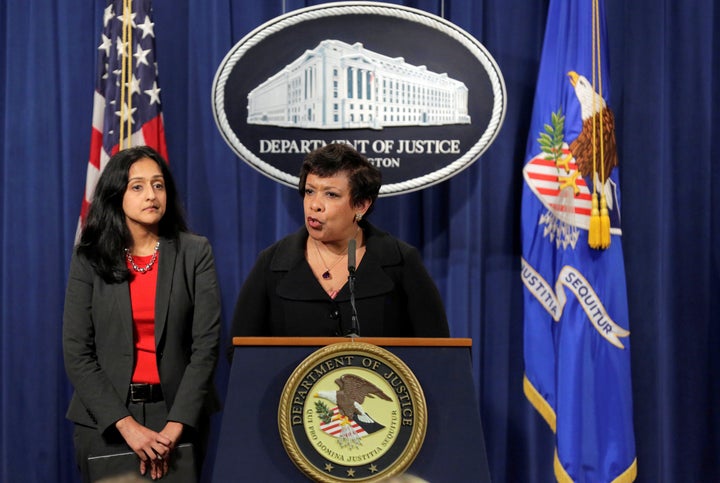 But there is much more money at stake from the Education Department than from the DOJ. North Carolina received around $38 million over four years from various Justice Department grants, but its K-12 schools took $1.3 billion in just 2015-2016 through federal grants focused on improving education, helping students with disabilities and addressing childhood poverty. Federal funding at the K-12 level covers the salaries of about 7,700 employees, or 7.4 percent of all school personnel in the Tar Heel State.
On the higher ed side, research would be decimated without federal grants. The 17-campus UNC system takes around $2.6 billion a year from the federal government, but that's not counting how much of its $3.1 billion in tuition and fees are covered by government financial aid, like Pell grants and student loans. 
Cutting off federal funding to UNC schools for violating Title IX would mean no student could get a federal student loan to attend a public college in the state. 
What The Education Department Could Do
If the Education Department's Office for Civil Rights gets involved, and determines after an investigation that UNC's policy under H.B. 2 violates federal statutes, the agency will first enter negotiations with the university system, seeking a resolution to bring the schools into compliance. At that point, the university system would have a choice of complying with the voluntary resolution and making policy changes, which would end the federal inquiry but gut a big chunk of H.B. 2.
But if UNC decides it will continue following H.B. 2 instead of Title IX, OCR likely will find the schools in noncompliance and move to strip them of federal funds through an administrative hearing process.

"Obviously, that takes time and the administrative process is a slow process," said Rick Rossein, an expert in discrimination law from the City University of New York School of Law. "It's likely if they went that route, President Obama would not be president by the time it got to that point."
Instead of stripping funds, OCR could also refer the case to the Justice Department, which has prosecutorial power, to take UNC officials to court to comply with federal law -- essentially what the DOJ is already doing. 
"I think that's why it's going through DOJ," Osgood said. "It's viewed as, probably, a quicker process."
Osgood, Rossein and Nassirian were all unsure of how long it would actually take to pull federal funding for schools in North Carolina. The Education Department has never yanked all funding from a school for violating Title IX, and it hasn't done it for other civil rights violations in decades. The point the experts all agreed on is that it would be a "huge lift" if the department actually went through with it.
Why UNC Isn't Following The Obama Administration's View Of Title IX
UNC is stuck between a "rock and a hard place," Rossein said. In this case, the rock is the federal gender equity laws, and the hard place is a conservative state legislature that could retaliate against UNC if it does not follow H.B. 2. Republicans in the state have shown they are not afraid of financially punishing their critics in the UNC system. 
The U.S. Court of Appeals for the 4th Circuit, where North Carolina sits, ruled last month that Title IX does extend to protect trans students from discrimination based on their gender identity. The defendant in that case, the Gloucester County School Board in Virginia, has appealed for a new hearing, and so the ruling is not yet final.
Spellings, a former education secretary under George W. Bush who has made controversial comments about LGBT couples in the past, told the DOJ in her Monday letter that because the Gloucester County case is still pending, the court's ruling is not yet a mandate for UNC. In other words, Spellings is arguing that currently, it's just the Obama administration's interpretation of Title IX that says the law protects against discrimination based on someone's gender identity. 
Nationally, court decisions have gone both ways on whether discrimination based on gender identity violates civil rights laws, Rossein said. He predicted it'll likely take a U.S. Supreme Court decision on the issue to achieve a definitive answer.
Calling all HuffPost superfans!
Sign up for membership to become a founding member and help shape HuffPost's next chapter