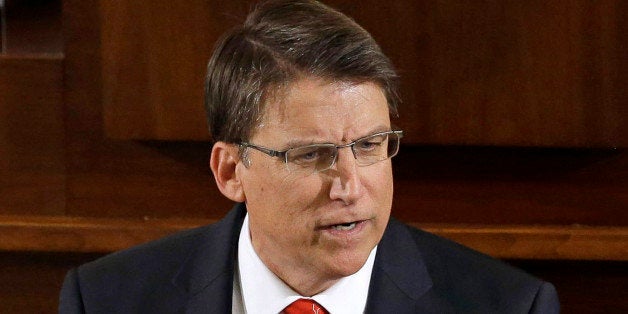 RALEIGH, N.C., May 28 (Reuters) - North Carolina lawmakers voted on Thursday to allow government officials to refuse to perform marriages by citing religious objections, protecting those who oppose same-sex weddings from losing their jobs.
The measure, already passed by the state Senate, heads to Governor Pat McCrory's desk after being approved by the Republican-led House of Representatives in a 67-43 vote.
The Republican governor's office did not comment on whether he will sign the bill. McCrory has said he does not support letting public employees sidestep their duties, but he could allow the measure to become law without his signature.
The bill allows magistrates and other officials to refuse to perform marriages or issue marriage certificates by citing a "sincerely held religious objection." Once they have asked to be recused in writing, magistrates would be barred from performing any marriage, gay or heterosexual, for six months.
During lengthy debate over several days, supporters of the measure said it would offer needed protection for magistrates who have said they would not perform gay marriages since the practice became legal in North Carolina last year.
"Really the question is, should you be fired from a job or subject to disciplinary action because you choose to live your life by sincerely held religious beliefs?" Republican Representative Dean Arp said.
The legislation requires that all eligible couples have access to marriage services. But critics argued gay couples will likely face delays when officials object to marrying them, particularly in less populated areas where few magistrates are available.
Representative Grier Martin, a Democrat, compared the bill to the system that once segregated students by race by claiming that black and white schools were "separate but equal."
"This sets up a separate system of marriage," Martin said. "We've tried separate but equal before in this state. It did not work then, and it does not work now."
Similar bills were filed in several states this year, though none have become law yet, according to the American Civil Liberties Union.
"This discriminatory bill treats gay and lesbian couples as second-class citizens and distorts the true meaning of religious freedom," said the Reverend Jasmine Beach-Ferrara, executive director of the Campaign for Southern Equality.
Gay marriage is legal in 37 states and Washington, D.C. The U.S. Supreme Court is expected to decide next month on whether same-sex marriage should be legal nationwide.
Calling all HuffPost superfans!
Sign up for membership to become a founding member and help shape HuffPost's next chapter
BEFORE YOU GO
PHOTO GALLERY
Gay Marriage Signs