When a federal court struck down North Carolina's congressional map this week, it also sent an unmistakable warning shot to Republicans, who have benefited from the map for nearly a decade, that the court could order new congressional districts for the 2018 midterm elections.
Given the fast approach of those elections, the possibility of new districts ― which would benefit Democrats ― is surprising. It's also notable because the Supreme Court is currently split 4-4 and may be unable to block the lower federal court from imposing new districts before the midterms.
The new districts could help Democrats gain control of the U.S. House: Republicans have consistently controlled 10 of North Carolina's 13 congressional districts since 2012, and the Brennan Center for Justice estimates the plan is responsible for two to three additional seats in Congress.
In its ruling, the 3-judge panel betrayed its sizzling frustration with Republican lawmakers, who hold supermajorities in both chambers of the state legislature, by citing a series of recent GOP-enacted election changes to justify the extraordinary step of ordering new districts so close to an election.
Republicans had dragged their feet and blown previous opportunities to draw constitutional districts, the court said. The map the court struck down on Monday was one Republicans had put in place to fix a 2011 map ruled to be unconstitutionally racially gerrymandered.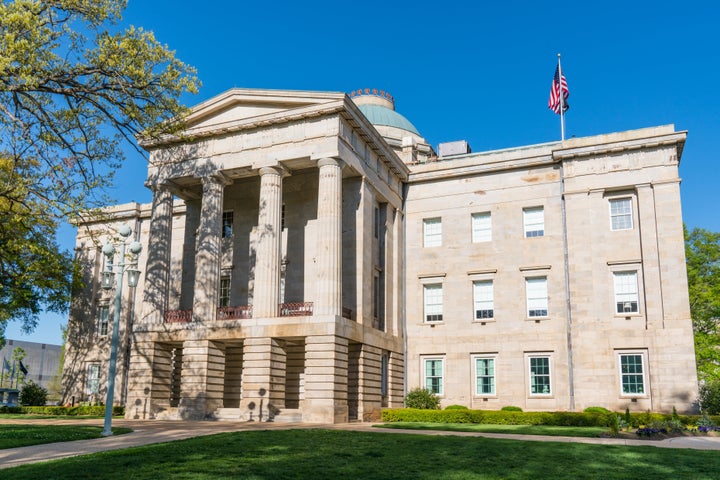 In explaining its rationale for new districts, the court also pointed to the GOP's decision to eliminate primaries for judges and the fact that ballots still can't be printed because of allegedly misleading, GOP-authored descriptions of constitutional amendments.
North Carolina Republicans eliminated primaries for judges in the state last year in what Democrats denounced as an effort to preserve Republican influence on state courts. The federal court pointed to that decision to justify why it would theoretically be possible to hold a congressional election later this year, without a primary, under new districts.
"Were this Court to order the State to conduct a general congressional election without holding primary elections, that would be consistent with the General Assembly's policy preference as to at least some offices," Judge James Wynn, an appointee of President Barack Obama on the U.S. Court of Appeals for the 4th Circuit, wrote in the majority opinion.
Gerry Cohen, who served as counsel to the North Carolina General Assembly for almost four decades, said it was clear those comments were pointed at the legislature.
"I think Judge Wynn clearly was trolling the legislature by suggesting that we go to a no primary system because the legislature enacted that a year ago, and everyone thought it was to game the system so multiple Democrats would run," Cohen said.
He further noted that the GOP plan had backfired, because just one Democrat ― but two Republicans ― will be on the ballot for a Supreme Court seat this fall.
I think Judge Wynn clearly was trolling the legislature.

Gerry Cohen, former counsel to the North Carolina General Assembly
The federal court also said that imposing new districts wouldn't be much of a burden on election administrators because state courts had already blocked them from finalizing ballots due to a lawsuit. The lawsuit claims that Republican-authored ballot descriptions of constitutional amendments would mislead voters.  
Republicans have given the federal court fodder to justify the possibility of new congressional districts, said Michael McDonald, a political science professor at the University of Florida.
"They have to justify what they're doing, and the Republicans have given them an opportunity to provide justification," McDonald said. "It's also now grounding their decision in the legal framework of elections that are in North Carolina. Whether or not you agree with what Republicans have done with elections, they've made their own bed and now they have to lie in it. The court is basically saying 'OK, well, you've allowed us to do this.'"
Cohen said North Carolina was in a similar situation in 1996, when a federal court struck down the state's congressional map in July before the general election that year. The court ultimately allowed the state to use the unconstitutional map in that election.
Whether or not you agree with what Republicans have done with elections, they've made their own bed and now they have to lie in it.

Michael McDonald, University of Florida
Imposing new districts for this year's midterm elections would be extremely difficult, Cohen said, since ballots need to start going out to military and overseas voters on Sept. 22. It would also be difficult to have an election for Congress after the November general election but before Congress is seated on Jan. 3, another possibility the court raised.
"I don't think the court knows much about election administration; clearly, they don't," Cohen said. "If they hold the election Jan. 2 or late December, good luck finding either a) poll workers, or b) voters."
North Carolina House Speaker Tim Moore and Senate President Pro Tempore Phil Berger, the Republican leaders in the state legislature, have already said they will appeal the ruling to the Supreme Court.
"What the court suggests is simply impossible. We are not aware of any other time in the history of our country that a state's Congressional delegation could not be seated, and the result would be unmitigated chaos and irreparable voter confusion," they said in a joint statement. "The Supreme Court must step in to correct this disastrous decision."
REAL LIFE. REAL NEWS. REAL VOICES.
Help us tell more of the stories that matter from voices that too often remain unheard.