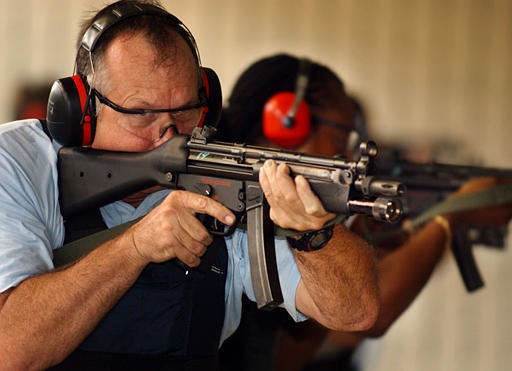 Tim D'Annunzio, House GOP candidate for North Carolina's 8th Congressional district, held an unusual fundraiser on Thursday night.
A contribution of $25 came complete with a full North Carolina barbecue dinner, sweet tea, a semi-automatic machine gun magazine for use at Jim's Guns Indoor Shooting Range in Fayetteville, NC, the site of the fundraiser, and a raffle ticket for a chance to win an AR-15 assault rifle.
52-year old D'Annuzio is one of at least five Republicans hoping to win the nomination for North Carolina's 8th District. He is a staunch advocate of 2nd Amendment rights, a point that he seems to have gotten across with Thursday night's "machine gun social."
Democrat Larry Kissell and Libertarian Thomas Hill are also set to challenge the eventual winner of the Republican nomination.
Watch Scenes From The Machine Gun Social:
Popular in the Community