 RALEIGH, N.C., July 1 (Reuters) - North Carolina Governor Beverly Perdue on Sunday vetoed legislation that would have lifted a ban on hydraulic fracturing, or fracking, and opened the door to shale gas exploration in that state.
Perdue, a Democrat, said she supports shale gas exploration and fracking, but that a measure approved by the Republican-led legislature in June to permit the practices would not ensure adequate environmental protections.
It's the second time in as many years the governor has put the brakes on Republican efforts to push fracking and shale gas exploration in North Carolina, where it is currently not permitted.
In early May, Perdue created a work group to develop guidelines to allow it. The bill approved on a party-line vote a month later would have repealed the ban and established a panel to oversee shale gas exploration.
Perdue said in a veto message she supports energy policies that create jobs and lower costs for businesses and families, but that the state shouldn't act too quickly.
"Our drinking water and the health and safety of North Carolina's families are too important," Perdue said. "We can't put them in jeopardy by rushing to allow fracking without proper safeguards."
Geologists have long known of a natural gas deposit in a shale rock formation under parts of North Carolina, but it exists at a depth and location that make exploration and extraction difficult and expensive.
However, horizontal drilling coupled with hydraulic fracturing has made such extractions more feasible.
Fracking involves pumping chemical-treated water and sand under enormous pressure into wells deep underground to help release gas from shale formations.
The technique uses large amounts of water and can lead to groundwater contamination, chemical spills and disturbance of large areas of land, according to a 2012 state report.
Fracking has been used in thousands of wells in recent years in other states such as Pennsylvania and West Virginia to extract shale gas.
The U.S. Geological Survey estimates the shale gas entrapped in the Deep River basin, a 150-mile long area under central North Carolina that extends to South Carolina, could supply the state's natural gas demands for more than five years.
The vetoed bill now returns to the General Assembly to provide the Republican majority legislature a chance to override the veto. The House and Senate each must muster a three-fifths majority of members present to override a veto.
Republicans hold a veto-proof majority in the Senate, but need some votes from Democrats in the House to override a veto.
In 2011, Perdue vetoed legislation that would have put shale gas exploration on a fast track in the state, calling it unconstitutional. The House failed to override that veto. (Reporting by Wade Rawlins; Editing by David Bailey and Eric Walsh)

Related
Before You Go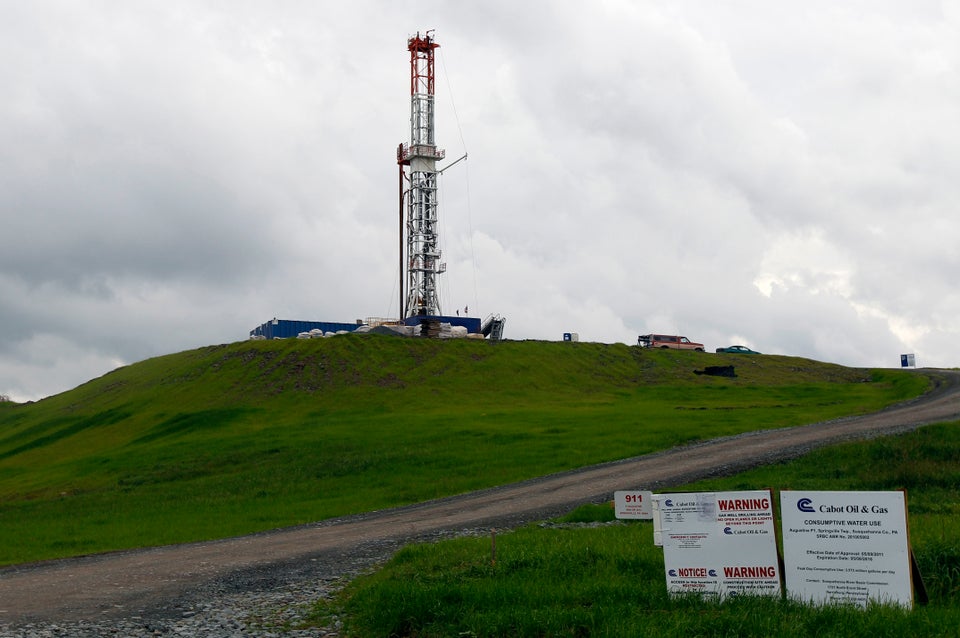 Drilling And Fracking Photos
Popular in the Community