WINSTON-SALEM, N.C. - North Carolina's gubernatorial race was undecided 10 days after the Nov. 8 vote and new allegations by the Republican incumbent's campaign about felons and dead people casting ballots could leave the outcome in limbo for weeks.
Republican Governor Pat McCrory, trailing Democratic challenger Roy Cooper by about 6,300 votes according to the state elections website Friday afternoon, has not conceded. Under state law, Friday was the deadline for counties to certify their results.
But challenges over the validity of hundreds of votes and reviews of provisional ballots were expected to delay the reports from many, if not all, of the state's 100 counties, elections officials said.
The uncertainty has been punctuated this week by a war of words, with McCrory's campaign accusing Cooper of being lax on voter fraud and Cooper's campaign calling the incumbent dishonest and desperate.
"It is unfortunate to see that rather than accepting the results, Pat McCrory is going to go down by besmirching Republican election officials (and) by impugning voters," Marc Elias, a lawyer for the Cooper campaign, said in a call with reporters on Friday.
McCrory's campaign, however, argues it is following the legal process to ensure all legitimate votes are counted.
Protests being filed by registered voters in some 50 counties argue that up to 200 ballots should be thrown out because they were cast under the names of dead people or by felons or individuals who voted more than once, according to the campaign.
McCrory representatives also said thousands of votes in 12 counties may have been part of an absentee ballot fraud scheme.
Several counties rejected election protests on Friday, including Durham County, where Republicans had called into question the tabulation of about 90,000 ballots on election night, local media reported.
All of the state's county elections boards are controlled by Republicans.
Elias said there are not enough votes at issue to keep Cooper from winning. McCrory campaign spokesman Ricky Diaz called that claim presumptuous with counting incomplete.
"There's additional cases of voter fraud being discovered each day," he said in a phone interview.
If McCrory trails by 10,000 or fewer votes once counties submit their final tallies, he could demand a recount.
A Cooper victory would be the only governorship addition for Democrats. Republicans, who flipped seats in New Hampshire, Missouri and Vermont, will hold at least 33 governor offices next year, the most for the party since 1922.
(Reporting by Colleen Jenkins; editing by Bill Trott and Grant McCool)
Before You Go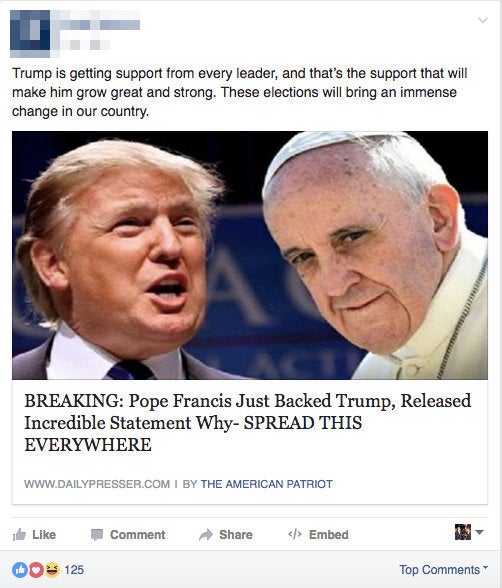 Fake News Spread By Social Media During The 2016 Election
Popular in the Community