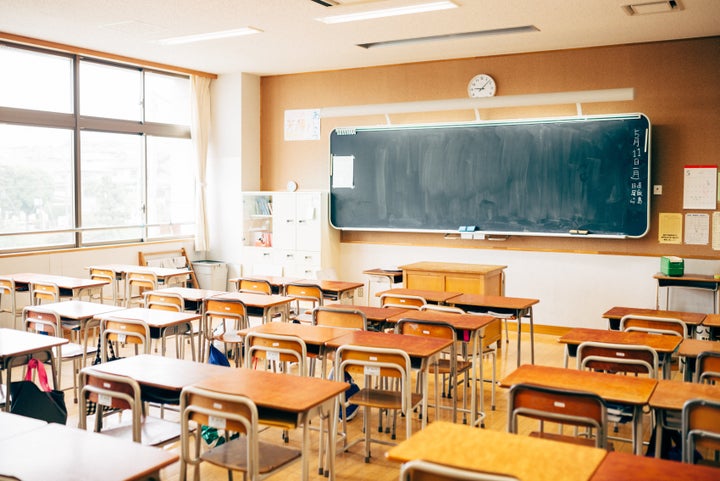 Two North Carolina students have been arrested after allegedly tricking a high school teacher into sending them nude photos of himself on Grindr.
Brian Joshua Anderson and Brittney Renee Luckenbaugh, both 16, allegedly posed as a 35-year-old man on the gay dating app to interact with David Laughinghouse, who is a French teacher at Swansboro High School in Swansboro, CBS North Carolina reports. The teens were said to have convinced Laughinghouse, 51, to send them nude photos of himself, which they then shared with other Swansboro High School students.
Anderson and Luckenbaugh were arrested April 26 and have been charged with misdemeanor disclosure of private images, local ABC affiliate WCTI reported. As of Monday, Laughinghouse remained employed with the school district, but had been suspended with pay.
Local authorities have remained mostly tight-lipped about the case. Sheriff Hans Miller called the matter a case of potential "catfishing" to The Jacksonville Daily News, but provided few other details about it. "This investigation remains an active one, and we are potentially looking for other incidents of catfishing," he said.
Meanwhile, the Onslow County school district released a statement on April 26 saying that they'd finished their internal investigation.
"The students and staff involved in this situation deserve their privacy, and they deserve to be treated with dignity and respect. This has been very disruptive to the learning environment of Swansboro High School and has caused real harm," the statement, which was sent to HuffPost Thursday, read. "Therefore, as we move forward as a community, we urge everyone to treat this situation and the individuals involved with the same courtesy and sensitivity that you would want if you, or a member of your family was involved."
Meanwhile, Samantha Peterson, who identified herself as a former student, has launched an online petition in support of Laughinghouse. Peterson, who says she graduated from Swansboro High School in 2006, defended her teacher as a victim of "the same type of bullying and misconduct that he always spoke against," and called for him to be fully reinstated. She then asked supporters to fight to "save a heroic voice that brought a little light into the dark days of high school."
I could never imagine what was going through those students' minds when they decided to target a supportive teacher, but I can only believe that they did not understand the gravity of their actions. I don't want to use this letter to make excuses for a group of children who made a terrible mistake, but the thing is, I know that's exactly what Mr. Laughinghouse would do to make an impact on their lives. That's the type of teacher and person he is, so I'm asking you not to pass judgment on him over an incident in which he had no control. He helped save me in a time that, for me at least, was incredibly difficult.

Mr. Laughinghouse is always there quietly serving as a hero to students in need. From small things, like buying lunch for students who forgot their money at home, to bigger actions, like helping a student struggling with problems at home. I can't claim to know all of the stories, but I'm hoping that a few of the people in the list below can help shed some light on the teacher, friend, and hero that we all learned to love.
A spokesman from Grindr didn't comment on specifics of the case, but told HuffPost in an email that the app was "committed to creating a safe environment through a system of digital and human screening tools to help its users connect and thrive."
"While we are constantly improving upon this process, it is important to remember that Grindr is an open platform," the spokesman said. "Grindr cooperates with law enforcement on a regular basis and does not condone abusive or violent behavior."
Anderson and Luckenbaugh are scheduled to appear in court June 15.
Popular in the Community