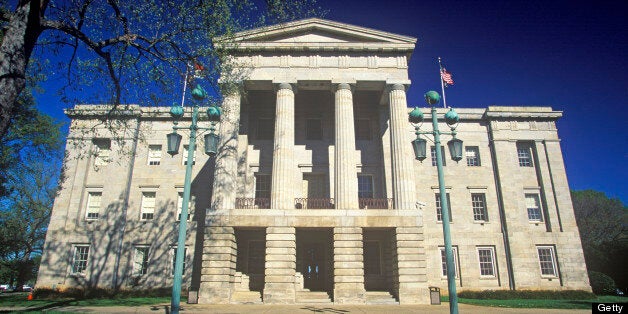 A North Carolina Senate committee Tuesday amended sweeping pro-gun legislation under consideration, to make it easier to buy a gun without a background check.
The state Senate Judiciary 1 Committee voted Tuesday morning to allow for the private purchase of guns in the state without a permit, WRAL.com reported. Under the provision, a permit and background checks would be needed for those purchasing a gun from a licensed dealer, but not for private purchases, including those made at gun shows. The committee included the amendment as part of a larger gun package making its way through the Republican-controlled Legislature.
"We're here to enhance our Second Amendment rights, which have been too long restricted by the previous majority," state Sen. Buck Newton (R-Wilson County) said at the meeting, according to the Charlotte News-Observer. "These are, by definition, law-abiding citizens," referring to those with permits to carry concealed weapons.
The amendment would become part of a package the Senate is taking up after it passed the state House of Representatives. That bill also includes provisions to allow guns in locked cars parked at all public colleges and schools in the state, as well as at parks, on bike paths and in restaurants that serve alcohol. Attendees at funerals will be permitted to carry a gun, along with those participating in parades.
In addition, judges, registers of deeds and court clerks would be permitted to carry a gun during the workday.
The current North Carolina session is dominated by conservative legislation, including proposals to overhaul the state's tax system and to create an official religion. This is the first year in more than 100 years that Republicans have controlled both houses of the Legislature and the governorship in North Carolina.
State Democrats are questioning the logic of the gun bill.
"Republicans in the General Assembly have no concept of consequences. They have shown that time and time again," state Democratic Party spokesman Micah Beasley told The Huffington Post. "Guns and alcohol don't mix. Guns at town parades or at playgrounds with our children is unacceptable. Guns on campus make our college students less safe. To add insult to injury this legislation undermines our local sheriffs ability to make their towns and cities safe."
Popular in the Community