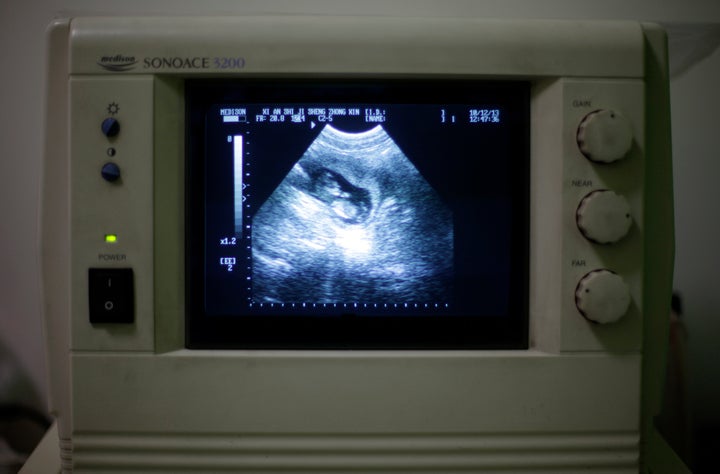 North Carolina lawmakers voted on Tuesday to override Gov. Bev Perdue's veto of a mandatory ultrasound bill that forces abortion doctors to say certain things to their patients before the procedure.
The Abortion-Woman's Right to Know Act, which Perdue vetoed in June, requires a doctor to give a woman an ultrasound prior to the abortion procedure and to describe her fetus in detail, including the size of its organs and limbs, whether she wants to hear it or not. If she refuses to view the ultrasound image or listen to the fetal heartbeat, the doctor must record that and keep her name on file for seven years.
Further, the bill stipulates that the woman has to wait 24 hours before having an abortion, which forces her to make multiple trips to the clinic. And an abortion physician has to hand her a document that says she is terminating "the life of a separate, unique human being."
"Physicians must be free to advise and treat their patients based on their medical knowledge and expertise and not have their advice overridden by elected officials seeking to impose their own ideological agenda on others," wrote Gov. Perdue in her June 27 veto note.
The bill's conservative backers say the measure could save thousands of unborn lives each year by educating a woman about the consequences of abortion, thus making her less likely to go through with the procedure. But Dr. Amy Bryant, a North Carolina gynecologist who provides abortions on a weekly basis, says the law's only function would be to place an undue emotional burden on patients.
"I've never heard of the ultrasound actually changing someone's mind," she told HuffPost. "Once they've made the decision that this is the right thing for them and their families, that's what they're gonna do. If you try to coerce women to hear these things or see the ultrasound or hear that there are fetal abnormalities, it's only going to be more distressing for them. I can't imagine how it would help."
After heated floor debates, the North Carolina House of Representatives overrode Perdue's veto by a vote of 72-47 on Tuesday. That being said, the Senate needs 30 votes to override Perdue's veto on Thursday and force the bill into law, and only 29 out of 31 Republicans voted in favor of the bill the first time around.
"I'm not supportive of it and I don't envision myself changing that position," said Sen. Stan Bingham (R-Davidson), the one Republican who voted against the measure (the other, Sen. Richard Stevens (R-Wake), didn't vote). "I just really am troubled by the fact that the government is involved in something as directly related to someone's personal life as abortion, and I feel hypocritical in voting to support this because I've always raised my four daughters to make these kinds of decisions on their own."
Bingham told HuffPost he also questioned some of the information about abortions that Republican supporters of the bill were using during debates.
"There's a lot of non-facts in some of the things that have been said -- they make it sound like you go in to get a hamburger and you have an abortion, without any medical exams, no check-ups, no discussion," he said. "But the medical society strongly disagrees with this, and my daughter is a physician and she strongly disagrees with this too. So I'm trying to be open-minded."
Mandatory ultrasound legislation has been extremely popular on the state level during the 2011 legislative sessions. Fourteen states have filed a total of 28 ultrasound-related bills in 2011, compared to nine in 2010, and four states -- Ariz., Fla., Texas, and N.C. -- have actually passed them. Twenty-four states have waiting-period requirements.
According to a recent Gallup poll, about half of American voters support ultrasound requirements and 69 percent of voters support the enforcement of 24-hour waiting periods.
Popular in the Community