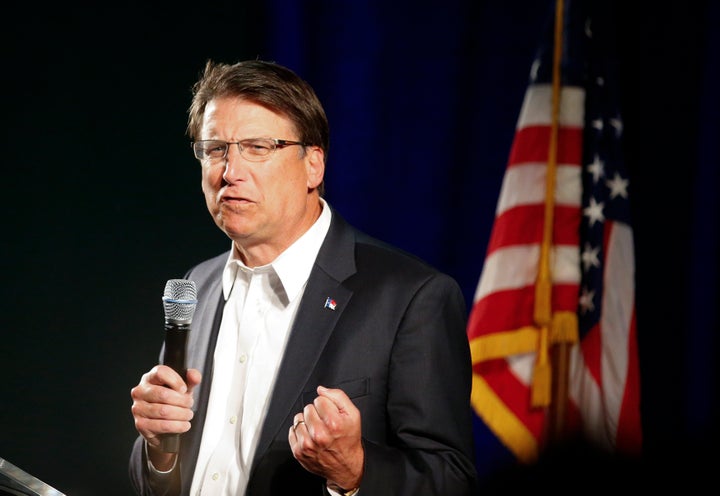 WASHINGTON ― By any objective measure, North Carolina's anti-LGBT law, HB2, has been a complete disaster for the state.
The law, which Gov. Pat McCrory (R) has steadfastly defended since signing it earlier this year, has drawn national criticism for banning transgender people from using bathrooms that match their gender identity. Businesses have protested by canceling plans for expansion in the state. The NBA, the NCAA and the ACC pulled major sporting events. High-profile musicians have canceled concerts. Conferences have been called off. In all, the law has driven business out of North Carolina to the tune of at least $230 million in lost revenue.
But in a bizarre twist, the same Republican politicians who put HB2 in place ― and who have the authority to repeal it anytime ― are now blaming critics of the law for being the reason they can't repeal it.
In a joint statement issued Sunday night, North Carolina Senate Leader Phil Berger (R) and House Speaker Tim Moore (R) said the only way they can repeal HB2 is if the Charlotte City Council gets rid of a separate, local anti-discrimination law. That ordinance, which bans LGBT discrimination and includes language about letting transgender people use the right bathrooms, is why the legislature had to pass HB2 in the first place, argue the Republicans.
"If the Charlotte City Council had not passed its ordinance in the first place, the North Carolina General Assembly would not have called itself back into session to pass HB2 in response," said Berger and Moore. "Consequently, although our respective caucuses have not met or taken an official position, we believe that if the Charlotte City Council rescinds its ordinance there would be support in our caucuses to return state law to where it was pre-HB2."
They are echoing a statement issued Friday by McCrory's office.
"For the last nine months, the governor has consistently said state legislation is only needed if the Charlotte ordinance remains in place," McCrory spokesman Josh Ellis said in a statement. "If the Charlotte City Council totally repeals the ordinance and then we can confirm there is support to repeal among the majority of state lawmakers in the House and Senate, the governor will call a special session."
It's an absurd demand, for a few reasons. The most obvious is that it is entirely within McCrory's control to call the legislature into session, if he wants to, and it is entirely within GOP leaders' control to introduce a bill that repeals HB2. They don't need Charlotte to take any action.
Rescinding the local law wouldn't stem the economic bleeding from HB2, either. The NCAA, for one, has indicated it won't hold events in any city that lacks anti-discrimination protections. There are currently 18 states and more than 100 U.S. cities that have LGBT ordinances like Charlotte's, so there are plenty others to pick from.
There's also no guarantee that McCrory and GOP legislators would follow through with getting rid of HB2, even if Charlotte officials rescinded their anti-discrimination measure. Their statements say they'll only look into repealing the law once the Charlotte ordinance is fully eliminated.
And then there's the fact that HB2 nullified Charlotte's ordinance anyway. Beyond its provisions targeting transgender people, HB2 prevents local governments from passing any nondiscrimination policy that goes beyond the state standard. So the push to make Charlotte vote to rescind its ordinance is purely so Republicans can say local officials voted with them in scaling back LGBT protections.
Put all of those reasons together, and you get the kind of response from Charlotte Mayor Jennifer Roberts (D) that she gave Monday, ahead of a scheduled city council meeting.
"The City of Charlotte continues its commitment to be a welcoming community that honors and respects all people," Roberts said in a statement. "We appreciate the state wanting to find a solution to the challenges we are facing and applaud the governor for recognizing the state should overturn HB2, which the state can do at any time without any action from the City of Charlotte. We are not prepared to add this item to our agenda this evening. However, we urge the state to take action as soon as possible and encourage continued dialogue with the broader community."
It's no coincidence that McCrory is trying to blame the fallout from HB2 on Charlotte officials two months before the elections. His name has become synonymous with the law and all of its baggage, and his gubernatorial challenger, North Carolina Attorney General Roy Cooper (D), is slightly leading in the polls, per HuffPollster.
McCrory clearly doesn't want to take questions on the matter ahead of November. His own staff planted questions at an event he held last week, none about HB2, instead of letting reporters get in questions.
When a reporter finally did get a question in, after the event, and asked about HB2, McCrory said he wanted the federal government to sort it out. There is a bill in Congress that would address LGBT discrimination, the Equality Act, but it hasn't gone anywhere in the GOP-led House and Senate.
CORRECTION: An earlier version of this story misstated the year that Gov. Pat McCrory signed HB2. It was this year.
REAL LIFE. REAL NEWS. REAL VOICES.
Help us tell more of the stories that matter from voices that too often remain unheard.
BEFORE YOU GO
PHOTO GALLERY
History-Making Transgender Politicians