Bigots in North Carolina will get a huge surprise the next time they cross over the North Carolina, South Carolina border.
Planting Peace, the nonprofit organization behind the rainbow-colored Equality House, just posted this billboard near Hendersonville, North Carolina, perfectly calling out the state's blatant anti-LGBT politics following the recently passed House Bill 2.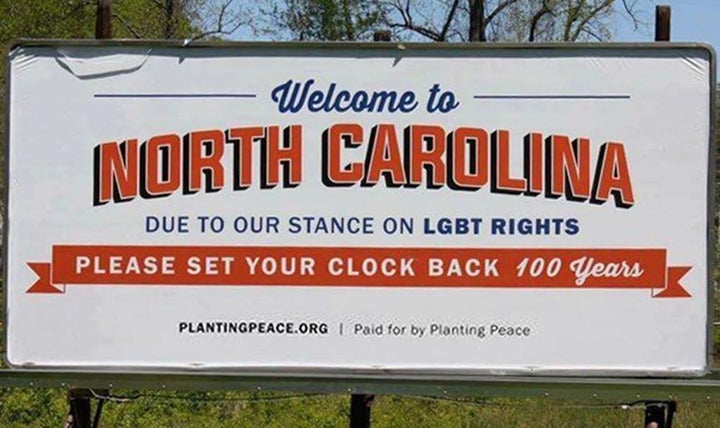 HB2, signed into law in the Southern state on March 23, "ban[s] employers and businesses from discriminating against employees or customers based on their race, color, country of origin, religion, age or 'biological sex.' The bill offers no protections for lesbian, gay, bisexual and transgender people, and prevents local governments from passing any nondiscrimination policy that goes beyond the statewide standard." The law also prohibits trans people from using the public restroom that corresponds with their gender identity.
"Laws such as HB2 are not about bathrooms.They are about discrimination," Aaron Jackson, president of Planting Peace, told The Huffington Post. "They paint a negative picture of the LGBT community and, in doing so, make LGBT children feel they are somehow broken or less than. This has a hollowing effect on young people, as evidenced by shockingly high suicide rates among the transgender community. Nearly half of transgender youth are reported to have contemplated taking their own lives. We must continue to rise to the challenge of the anti-LGBT movement. If you believe in equal, fundamental human rights for LGBT people, then it's time to be vocal. Let it be known."
Get the message, North Carolina?
Support HuffPost
Every Voice Matters
Popular in the Community