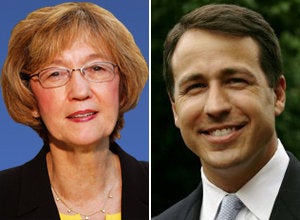 In North Carolina, first-term Republican Sen. Richard Burr, whose public approval numbers are lower than expected, easily won his party's nomination. Democrats won't decide his general election opponent until a June 22 runoff as none of the six candidates achieved the 40 percent of the vote necessary to win outright.
The runoff will pit Secretary of State Elaine Marshall against Cal Cunningham, a former state senator who is the favored choice of the Democratic Senatorial Campaign Committee.
With 36 percent of the Democratic votes, Marshall was just 4 percentage points shy of the 40 percent needed to avoid a runoff. Cunningham, who was recruited to run by National Democratic Party officials, finished second, with 27 percent of Democratic votes.
In the 6th Congressional District, Republican Rep. Howard Coble, who first won his seat in 1984, easily beat five opponents. And in the 8th District, first-term Democratic Rep. Larry Kissell survived a primary challenge from one of his former campaign volunteers. Nancy Shakir ran against Kissell in part because of his opposition to President Barack Obama's health care law.
North Carolina's director of the State Board of Elections projected turnout to be slightly above 2006 levels, when only 12 percent of voters cast a primary ballot. Said elections chief Gary Bartlett: "I was hoping for more."
Popular in the Community