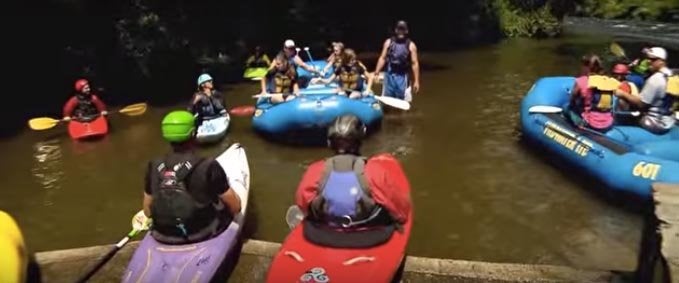 There are no walls or pulpit at River Church, a Christian community in rural western North Carolina. Instead, members see, hear and feel God in nature -- in the soft whispering of the wind in the trees and in the rush of the water under their canoes and kayaks.
River Church holds waterside worship services at a pub-turned-chapel on the Nantahala River every Sunday during the summer. A ministry of the nearby Bryson City United Methodist Church, River Church began in 2007 as a way to cater to the needs of the region's outdoor guides and weekend boaters. The open-air setting makes the space more accessible to river rafters who may need to come late or leave early to make it to work on time.
"We wanted to have something that felt natural to them," said the Rev. Wayne Dickert, the church's pastor and a former Olympic paddler. 
Sundays during the summer can be a busy time for outdoor enthusiasts in western North Carolina. The region is home to the Nantahala Outdoor Center, which attracts over 1 million visitors every year for whitewater rafting, mountain biking, and paddleboarding. It is also close to the Great Smoky Mountains National Park and the Appalachian Trail.
After sermons, Dickert tells attendees to paddle into the river to reflect on that day's message. It's a rare moment of quiet for his members in the middle of a busy summer season. 
"They really feel more connected to God outside in creation, in the living, breathing environment that God created," Dickert said. "So when we're worshipping, we can look up and hear the sounds of the rivers, see the green of the trees and hear the birds singing."
"It's just really special to be there," he added. 
PHOTO GALLERY
Abandoned Churches
Calling all HuffPost superfans!
Sign up for membership to become a founding member and help shape HuffPost's next chapter