She met Deah and Yusor three years ago. Snowflakes were falling heavily around them as they gathered to pray, remembers Aqhsa Zaman, a senior and the President of the Muslim Student Association (MSA) at Wake Forest University. But that couldn't stop Deah Barakat and his wife, Yusor Mohammad, from leading hundreds of students in prayer. The students, who lost their lives in a cruel act of violence this Tuesday in Chapel Hill, were attending a ski trip organized by the MSA. They were recently engaged. "Deah insisted on praying outside even though it was snowing," remembers Aqhsa. Their spirit was contagious. Being around Deah and Yusor made the cold seem bearable, maybe even enjoyable, a spiritual rite of passage they were all experiencing together. At the time, she was a sophomore questioning her Muslim identity, but meeting Deah and Yusor brought her closer to God. Aqhsa will always remember Deah as one of her role models, someone who was proud of his Muslim identity and wasn't afraid of wearing his religion on his sleeve. For Aqhsa, "Deah was someone who not only touched [her] heart, but who touched a lot of souls. I know that for a fact."

The deaths of Deah, Yusor, and her sister, Razan, have sparked vigils, forums, and memorials on campuses across North Carolina. Their Facebook page has over 135,000 likes. Deah's crowdfunding campaign to provide dental care to Syrian refugees has exceeded its goal by more than $280,000. Even though there has been an outpouring of support following the deaths of #OurThreeWinners, Muslims students at Wake are also being told by some of their peers that they do not understand why this is a big deal and that because this is "just parking issue" they should get over it. Mustafa Abdullah, a Wake Forest graduate and Program Associate at the ACLU of Missouri says it is these types of comments and reactions that highlight why solidarity events and vigils are needed. He continues, "So many people have no clue about the realities that Muslims face. And the total lack of desire to deal with the scars that have formed as a result of our campus communities ignoring our reality." It is for this reason that students across North Carolina and the nation are organizing.
The University of North Carolina (UNC) Chapel-Hill, where Deah was a Dental student and Yusor had recently been accepted, held a vigil Wednesday night attended by the victims' families, thousands of students and community members. Similar events have taken place or are being organized at colleges and universities across the state. At Wake Forest University, a Hoodies and Hijab event was held and attended by nearly four hundred allies. Organizers encouraged men to wear hoodies and women to wear scarves to highlight the intersectionality of groups targeted based on their perceived race, ethnicity, and religious affiliation.
The event, organized by the Wake Forest MSA, is the second of its kind to be organized at the school. In 2012, organizers mobilized around the killings of Trayvon Martin, an unarmed Black boy, and Shaima Al-Awadi, a 32-year old Muslim woman. Hoodies and Hijabs, which garnered national attention and inspired students around the country to replicate the photo, was meant to highlight the intersection of Black and Brown bodies marginalized in both the community and in the media. Mustafa, one of the organizers of the original event, says, "We decided to come together and create a sacred space for people to pray, share their reflections and emotions, and take a public stand against hate and bigotry." Three years later, the event is even more significant with the national discussion of #BlackLivesMatter and #OurThreeWinners going viral after the tragic deaths of these three young students.
Muhammad Siddiqui, a recent Wake Forest graduate, opened the event with a verse from the Quran: "O you who have believed, be persistently standing firm for Allah, witnesses in justice, and do not let the hatred of a people prevent you from being just." Before taking the group photo, Naijla Faizi, also a recent graduate of the University, announced other events taking place to raise awareness and honor the memory of the slain students. The MSA at Wake Forest is inviting all students and community members to their Friday prayers, which take place weekly and are open to all to ask questions and learn about the Islamic faith. There will also be a panel discussion on Islamophobia and a candlelight vigil next Tuesday where canned food will be collected for the local food bank and mosque to honor the victims' legacy of service.
I spoke with Muhammad, Naijla, and Aqhsa about their thoughts on the killing of their fellow students, their own activism efforts, and the struggles they face as Muslim students and community members. They all agreed: "It could happen to us. We don't feel safe." These students, along with many others in the United States, are asking themselves, Are we going to be targeted? Are we next? Yet, in spite of feeling scared and discriminated against, these students are not standing still. While giving students time to heal is the priority for many campuses, they are also using this as an opportunity to create productive discourse concerning Islam.
Although Muhammad says that students don't always talk about it openly or wear it on their face, the psychological effects of the shooting are the hardest part. But this is not the first time Muslim students have felt targeted. At Wake Forest this past November, a bucket of urine was found in front of the Muslim Chaplain's office. A female student at Elon University says she feels like a "triple outsider," discriminated against because of her gender, race, and her religious identity. Her fear is that she can be easily targeted by wearing a headscarf. Fareena Bacchus, a Muslim student and senior at Salem College, expressed distress about moving to a new city and living alone after graduation. "How do you build community? What do you tell people? What do you share? What do you hide?" Many Muslims don't see this incident within a vacuum. There is a larger history of Islamophobia and vigilante acts of hatred and violence towards Muslims.
To continue the conversation in a positive way, Muhammad and Naijla believe that it is not just up to the Muslim community to educate society at large, but that the majority needs reach out to their local mosque or community center and find ways to educate themselves, collaborate and help build a more just society. They also emphasized the need for Muslims to partner with other student groups and organizations and unite with brothers and sisters facing similar struggles: "If we want people to stand and advocate with us, we need to be there for other communities. Muslims also need to be there when Black bodies are lying on the street. We need to be advocates for other communities and in turn, those communities will stand up for us when we need them."

In a message to supporters and community members gathered at the UNC-Chapel Hill vigil, the girls' father said he is not seeking revenge, but instead, wants all students to feel safe regardless of their identity or religious affiliation. For Muhammad, that's the message the world should take away from this tragedy. Their father doesn't want revenge because that's not what the three victims would want, not in spite of their religion, but because of their understanding of Islam as a religion of mercy and peace. Deah, Yusor, and Razan wouldn't want revenge. That's not the religion they lived.
Snowflakes fell as the three students were laid to rest Thursday afternoon. Surely this is Allah's message that He was listening to Deah's prayer three years ago.
A listing of worldwide UNC Shooting memorial events can be found here.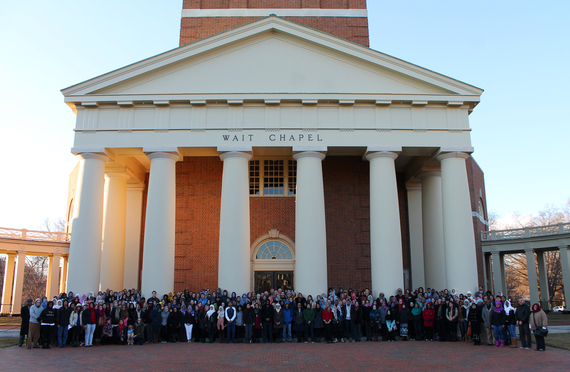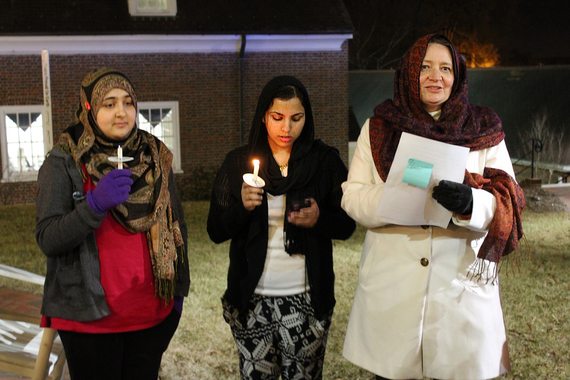 Students at Wake Forest University and Salem College attend memorial events. Photos by Katherine Hall.
Calling all HuffPost superfans!
Sign up for membership to become a founding member and help shape HuffPost's next chapter