In early October, North Carolina's Department of Public Instruction issued a report stating that teacher turnover is at a "five-year high." With teacher pay shaping up to be a hot-button issue in the state's 2016 elections, Republican defenders of the status quo quickly swooped in with cherry-picked statistics to claim that teacher attrition in the Tarheel State isn't really as bad as it looks.
In fact, they're sort of right -- it actually appears to be worse. A closer look at the data shows that for each of the last three years, teacher turnover in North Carolina has been higher than any other year for which data is available.
"I love and care deeply about public education, but the conditions became unbearable for me," said Kirstie Fischer, who left teaching in Asheville about a year ago. "I was unable to pay the student loans I had to incur in order to be qualified for my job. I was barely able to afford groceries."
While DPI's overall turnover rate includes teachers who leave their district for all reasons -- including retirement, non-renewal of contracts, and even death -- the separate rates at which teachers are leaving the state or leaving teaching altogether are staggering.
According to historical data on teacher turnover in North Carolina, the percentage of teachers who left to teach in other states has more than tripled since 2010 -- when Republicans took over the state legislature. On top of that, the percentage of educators who quit teaching altogether is almost sixteen times higher than in 2010.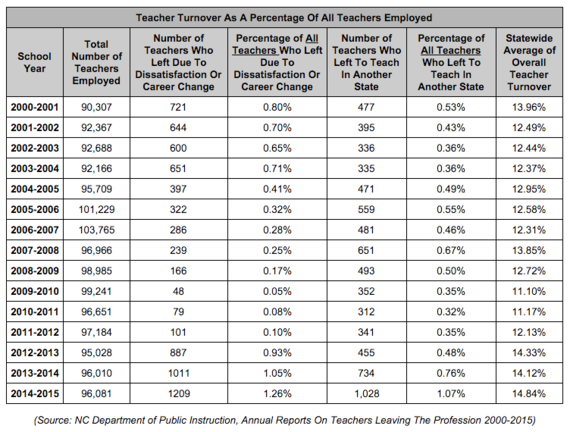 Instead of restoring North Carolina's education funding to pre-recession levels, the new Republican supermajority is more focused on giving billions in tax breaks to big corporations and the wealthiest individuals. Instead of raising teacher pay to the national average, Gov. Pat McCrory and his GOP allies have let per-student education spending sink to 46th in the nation.
"When politicians give tax cuts to the rich, to big corporations, and then we are ignored as teachers who are molding the workforce, it makes me feel disrespected," said Catherine Stennette, who left North Carolina in 2014 for a higher-paying teaching job in Houston, Texas. "It sends a very negative message that the education of our children isn't important."
So is it really any wonder why a recent WalletHub study ranked North Carolina the second-worst state in the country to be a teacher? Is it any wonder why teachers are leaving in droves for better-paying states like Virginia, Georgia and even South Carolina? Is it any wonder why school districts across the state are finding it harder and harder to hire enough teachers to fill their classrooms?
"Lawmakers need to prioritize and support public education in North Carolina," said Kirstie. "Instead of giving tax breaks to the wealthiest corporations and individuals, they need to start funding public schools at a level that allows students access to a quality education."
You can see more of Kirstie's story in a short video produced by Progress North Carolina, a nonprofit working to raise North Carolina teacher pay to the national average:
Calling all HuffPost superfans!
Sign up for membership to become a founding member and help shape HuffPost's next chapter