 North Carolina lawmakers are considering a bill that would slash unemployment benefits and cause the state to lose roughly $600 million worth of extended jobless compensation paid entirely by the federal government.
The measure would reduce the maximum weekly benefit from $530 to $350 per person. If it passes, North Carolina workers will no longer receive long-term compensation starting in July, since states cannot remain eligible for federal unemployment insurance if local lawmakers cut weekly benefit amounts. An estimated 80,000 people would miss out on federal extended benefits, according to the North Carolina Justice Center, a worker advocacy nonprofit. At $25 million per week, the total loss over time amounts to more than $600 million.
Policy experts said the move would be unprecedented. "It is pretty amazing," the center's Alexandra Sirota said in an interview. "As far as we know, no other state has rejected federal dollars to push that level of benefit cuts."
Sirota stressed that the benefits not only help the workers who receive them, but they also contribute to the state's economy, since recipients spend the money on things like food, rent and groceries.
The Republicans pushing the unemployment cuts, however, say unemployment taxes hurt the state's economy more than anything else. North Carolina businesses are paying higher federal taxes because the state has been slow to repay $2.5 billion it borrowed from Washington to pay benefits in recent years. The legislation will increase state business taxes and reduce state spending on benefits in order to repay the loan more quickly. The sooner the federal government gets its money back, the sooner federal taxes will come down.
"It will cause North Carolina to repay the debt to the federal government back in about six years less time," State Rep. Harry Warren (R-Rowan County) told the Salisbury Post.
The bill's supporters, including Republican Gov. Pat McCrory, don't seem to mind that the state would lose federal unemployment insurance as a result of the legislation. The extended federal benefits are set to expire at the end of the year anyway, but the bill would kill them six months early.
"I will not support the extension of unemployment beyond July of this year," McCrory said last week, according to WRAL.com. "I think we need to now draw the line."
The bill's opponents, however, see it differently. "Reducing benefits in a way that causes us to disqualify for those federal funds is extraordinarily shortsighted and philosophically driven," State Sen. Floyd McKissick (D-Durham) told HuffPost. "I think it's really horrendous."
The bill passed the state House of Representatives on Tuesday and a state Senate committee on Wednesday. Republicans rebuffed Democratic efforts to delay the measure's implementation and prevent the loss of federal benefits. McKissick said he expected the bill to land on McCrory's desk soon.
States typically pay 26 weeks of unemployment insurance to workers who lose their jobs through no fault of their own, and during recessions Congress routinely gives workers additional weeks of benefits. The North Carolina proposal, in addition to cutting the amount of state benefits, would also reduce their maximum duration to 20 weeks. The benefits could last for as few as 12 weeks when the state's unemployment rate declines. Florida and Georgia have recently adopted similar policies.
North Carolina's jobless rate stands tall at 9.2 percent, well above the national average of 7.9 percent.
George Wentworth, a staff attorney with the National Employment Law Project, said the bill would launch North Carolina into the upper tier of cheapskate states.
"With one of the highest unemployment rates in the nation, North Carolina will offer its jobless workers 20 weeks of unemployment insurance or less while unemployed workers in other states will qualify for anywhere from 40 to 73 weeks of benefits," Wentworth said.

Wentworth also said the loss of federal benefits would undermine the state's economy.
"This will be an economic catastrophe that could easily be averted by simply delaying the state benefit cuts until January," he said.
HuffPost readers: Economy screwing you over? Tell us about it -- email arthur@huffingtonpost.com. Please include your phone number if you're willing to be interviewed.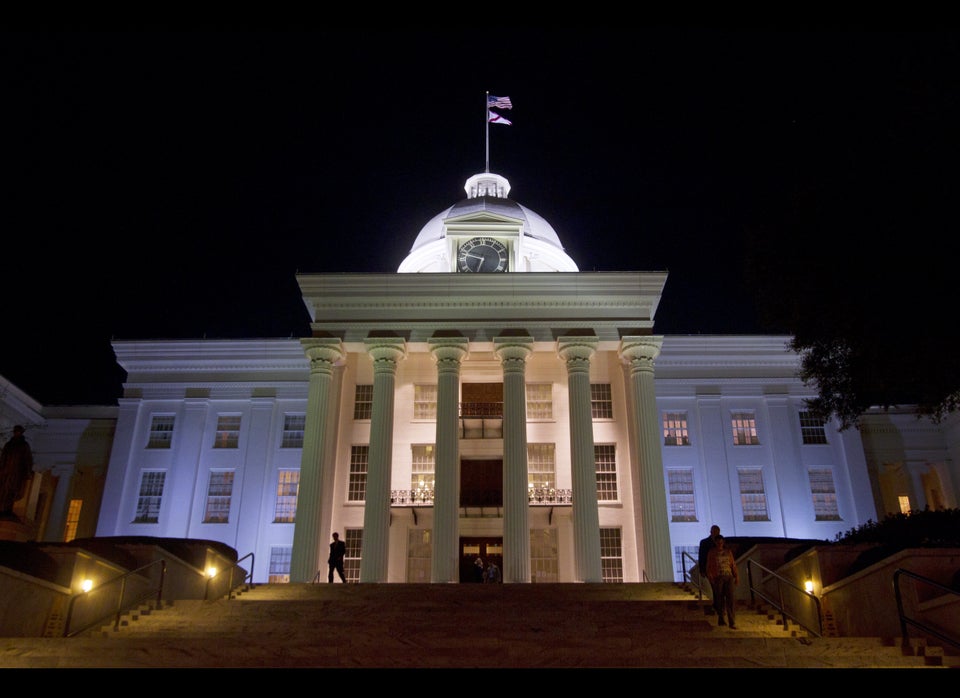 U.S. State Capitol Buildings
Popular in the Community