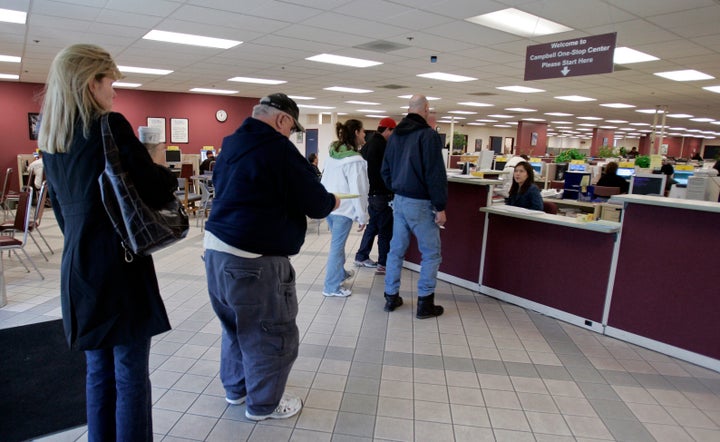 Long-term unemployed people in North Carolina and Tennessee are getting their money back after local leaders reinstated a federal jobless aid program that expired in April.
In a surprise statement announcing an executive order that would unilaterally restore unemployment benefits for 47,000 jobless North Carolinians whose checks stopped because a political standoff, Gov. Bev Perdue (D) specifically cited an unemployed woman who'd been evicted after she'd been cut off.
"One woman called my office recently," Perdue said. "She has a background in accounting and has been looking for work for months. Because she lost her benefits she and her daughter can no longer stay in their apartment. They have nowhere to put their belongings so they will also lose everything that they can't carry to the homeless shelter."
"Sadly, this story is not unique," Perdue continued. "The people I hear from say they can't keep the lights on."
Now that the unemployment insurance is flowing again, two North Carolina residents told HuffPost they would not face eviction as they had previously feared.
"I just felt tears of joy, of gratitude. It's finally over," said Sonia Street of Charlotte, N.C., describing the moment she saw news of Perdue's statement on Friday. Street said she'd received an eviction notice on her front door last month and that she and her three kids would get the heave-ho from her landlord if she couldn't make the rent by June 11. She said she lost her job as an accountant for a commercial property management company in July 2009.
When Street checked the balance on her unemployment debit card from the state's Employment Security Commission on Monday, she said, she found two payments totaling $2,700 -- the money she'd missed since April 16, when the federal Extended Benefits program expired. She's got another month and a half left, she said, and is hoping to have a job before her benefits run out for real.
(A spokesman for the ESC said anyone who hasn't received their missing EB payments should call the commission at (866) 795-8877.)
The Extended Benefits program pays the final 20 weeks of benefits for people who exhaust 79 weeks of combined state and federal aid without finding work. Nearly 30 states had to pass legislation that tweaked their laws in order to maintain their eligibility for Extended Benefits, since the program requires a state unemployment rate that is 110 percent higher than in either of the two previous years. Since unemployment rates haven't risen but have only barely fallen, in December the U.S. Congress said states could look back three years instead of two. In almost every state unemployment is still much worse today than three years ago.
In Tennessee, the legislature recently restored the benefits after they lapsed in April -- but unlike in North Carolina, lawmakers in Tennessee seemed unaware at first that they had to take action to keep the federal benefits in place. Republican leaders in the legislature blamed the outgoing administration of Gov. Phil Bredesen (D) for the goof, according to a local paper. The U.S. Department of Labor notified every state workforce agency about the possibility of losing the benefits. Apparently the message got lost in the transition.
Stephenie Dodson of Nashville told HuffPost on Tuesday that she had not yet received any retroactive payments for the checks she missed after April 16. "I haven't heard a word from the state," Dodson said. Even though Dodson has started a part-time job for the summer, she should still be eligible for checks covering the weeks she was unemployed in April in May, according to the Tennessee Department of Labor and Workforce Development.
"Letters will go out later this week pointing affected claimants to the internet application to update their certifications," a department spokesman told Huffpost. "Once they update their certifications, checks would be cut as early as that night. Those with some earnings would be instructed to certify by phone so that they could report earnings by each day (as opposed to each week)."
The EB lapse in North Carolina owed to a fight between Gov. Perdue and statehouse Republicans, who passed reauthorizations of the program with budget-cutting conditions attached, which Perdue refused to sign into law.
Like Street, Ali Braswell of Chapel Hill, N.C., said she'd have been evicted soon if lawmakers couldn't get past their disagreement. "I have very caring landlords," Braswell said, "but they can't let me stay here without paying them."
Braswell said she's told her four kids, two of whom are in college, that she's trying to find work. "This is a situation," she said she explained. "Things are really tough, I'm praying, I'm looking for jobs –- I've shown them."
When she discovered she'd received payments totaling $3,336 on Monday, Braswell said it was "such a blessing, such a blessing." Braswell, 40, said she lost her job as a payroll coordinator in July 2009. She's only found part-time work at a University of North Carolina residence hall since then. She hopes she can find more work before the benefits end this summer.
"There's still some hope I guess," Braswell said. "It's such a blessing to get this money but I only have about six weeks left. There aren't going to be any more reprieves. Things are still dire."
Calling all HuffPost superfans!
Sign up for membership to become a founding member and help shape HuffPost's next chapter