Higdon, a Trump appointee and the top federal prosecutor in the Eastern District of North Carolina, has jurisdiction over parts of North Carolina's 9th Congressional District ― where Republican Mark Harris appears to have defeated Democrat Dan McCready by fewer than 1,000 votes in last month's midterm elections. Investigators are probing reports that a political operative working for Republicans ran an illegal ballot operation in the 9th District.
A spokesman for Higdon's office said Monday they "cannot confirm or deny any investigation" into the alleged wrongdoings in the race between Harris and McCready.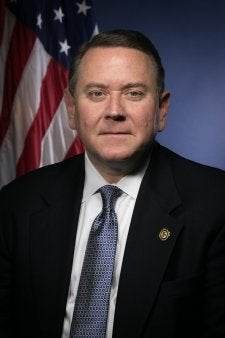 State investigators in North Carolina, however, indicated they are working with the FBI and Higdon's office on the investigation into the alleged election improprieties. The Washington Post reported that Harris' 28-year-old son John is an assistant U.S. attorney working under Higdon.
New evidence came to light Monday connecting suspicious absentee ballot activity in the Harris-McCready race to a political operative named Leslie McCrae Dowless. Dowless has a criminal history and has emerged at the center of the possible election fraud case. The conduct in question allegedly took place in Bladen County, which falls within the federal judicial Eastern District of North Carolina.
Higdon, who co-led the prosecution of former Sen. John Edwards (D-N.C.) in a case involving campaign finance fraud, has more recently overseen the prosecution of a number of cases of voting by noncitizens. One conviction in that batch of cases, involving an Italian immigrant who'd registered as a Republican, resulted in a $200 fine. Former U.S. Attorney David Iglesias, who was fired during the George W. Bush administration after Republicans complained that he failed to bring enough voter fraud cases, told HuffPost that the episode was an example of "the type of de minimis case" ― that is, a case too minor to merit consideration ― "that U.S. Attorneys almost never prosecute."
Higdon's office also issued a broad subpoena request earlier this year for millions of voter registration applications and absentee ballots, which the North Carolina Board of Elections voted to quash. Under scrutiny, Higdon's office delayed the subpoenas until after November's election.
Election officials are now investigating apparent irregularities with absentee ballots in the midterm race. In Bladen County, there appear to be an unusually high number of voters who requested ballots but never returned them. Bladen County is the only place in the district where Harris defeated McCready in absentee ballots.
The state Democratic Party submitted an affidavit from a man named Dwight Sheppard, who said he overheard a group of people saying Dowless would receive a $40,000 bonus if Harris won the race. In another affidavit, a man said he spoke to Dowless outside an early voting location earlier this year, and says Dowless told him he was doing absentee work for Harris.
Dowless was convicted of felony perjury and felony fraud in 1990 and 1992 respectively, according to The Charlotte Observer. He's worked on get-out-the-vote operations for a number of candidates over the last decade. As described in a 2016 episode of "This American Life," Dowless was at one point accused of running an illegal scheme that involved collecting absentee ballot forms and casting them on other people's behalf. The "volunteers" working with Dowless were allegedly paid per ballot, and the case was referred to the U.S. Attorney's Office. Higdon was confirmed as U.S. Attorney several months later, in September 2017.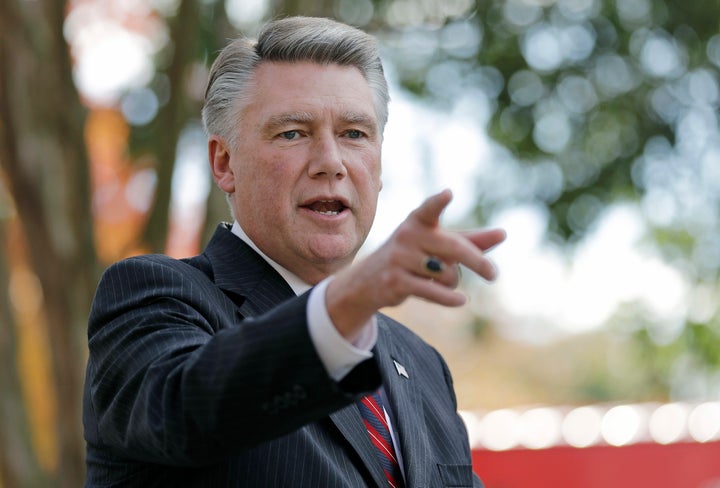 WSOC, a local television station, made another connection between Dowless and the apparent irregularities in the 9th District. A woman told the station that she collected absentee ballots from voters and then gave them to Dowless. In North Carolina, only the voter or a "close relative" can return a ballot. The woman, Ginger Eason, told the station she didn't know what Dowless did with the ballots.
WSOC and the website Popular Information published the names of eight witnesses who signed a high number of absentee ballots (North Carolina requires two witnesses for an absentee ballot). Eason is among that group and signed as a witness for 10 people.
The North Carolina State Board of Elections and Ethics Enforcement voted 7-2 Friday to hold a public evidentiary hearing on or before Dec. 21. Andy Penry, a Democrat and the board's chairman, resigned over the weekend after Republicans drew attention to tweets he'd written that were critical of President Donald Trump.
Trump speaks often of the need to crack down on supposed election irregularities, and has made the baseless claim that millions of votes from illegal immigrants gave former Secretary of State Hillary Clinton her popular vote victory over him in the 2016 election. Nearly half of Republicans believe the conspiracy theory that millions of people illegally voted in the 2016 presidential election.
Absentee voting is generally considered more vulnerable to electoral fraud than in-person voting. Voter ID laws are supposedly aimed at preventing in-person voter impersonation, which in reality is extraordinarily rare. North Carolina just passed a constitutional amendment mandating voter ID, and legislators are in the process of drafting the rules for which forms of ID would be acceptable.

Calling all HuffPost superfans!
Sign up for membership to become a founding member and help shape HuffPost's next chapter