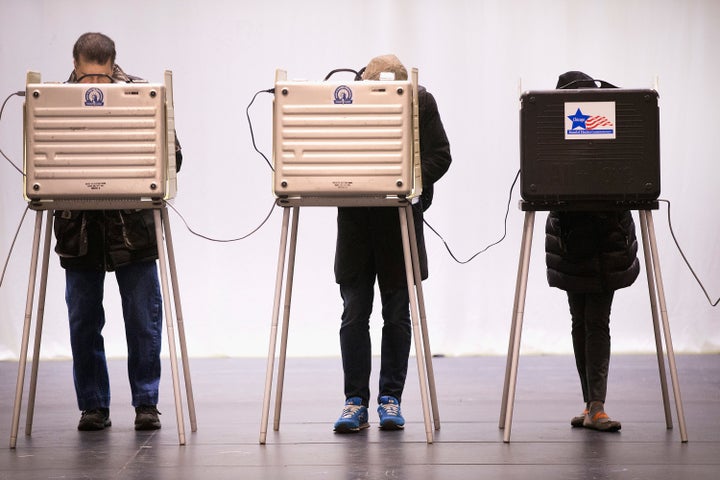 Federal appeals court judges on Tuesday probed the intent behind a sweeping 2013 North Carolina law that changed the state's election rules.
A lawyer for the state, Thomas Farr, defended the law and denied claims by attorneys for the U.S. Justice Department and civil rights groups that the law intentionally suppressed minority voters, speaking before the U.S. Court of Appeals for the Fourth Circuit in Richmond, Virginia.
The court already temporarily stayed the law's provisions that eliminate voters' ability to register the same day they vote and to vote outside their assigned precincts, methods that critics say are disproportionately used by minority voters.
If the appeals court follows a lower court's April ruling and upholds the law, those options may not be available for North Carolina voters in the upcoming election in November, widely viewed as one of the most critical presidential and general elections in recent U.S. history.
Judge Henry Floyd asked Farr about the fact that the legislature considered an expanded version of the law soon after the U.S. Supreme Court ruled in Shelby County v. Holder that Congress could no longer subject states with a record of race-based voter discrimination to special elections oversight.
North Carolina's Republican-controlled legislature got the "opportunity" to change some "pretty liberal voter registration provisions" with that decision, Floyd said.
"And it happened the same day Shelby was decided. Looks pretty bad to me, in terms of purposeful discrimination," he added.
Judge James Wynn asked Farr what type of voter behavior information the state legislature considered when passing the law: "At the time that it enacted this, did it have ... information that the use of these particular procedures was disproportionately higher in the minority community than they were in the non-minority community?"
Farr replied that the state board of elections launched a campaign to educate voters about the new requirements.
"When these rules were used in 2014 election, African-American turnout increased at a higher rate than whites," Farr told Reuters by email after the hearing.
Attorneys for the civil rights groups opposing the law appeared jubilant afterwards, greeting supporters outside the courthouse and at a local church in Richmond, where NAACP members sang, spoke and answered questions from reporters.
"The judges asked really probing questions to understand the crux of the matter," said Allison Riggs, a lawyer for the Southern Coalition for Social Justice. "The court below just got the law wrong."
Calling all HuffPost superfans!
Sign up for membership to become a founding member and help shape HuffPost's next chapter
BEFORE YOU GO
PHOTO GALLERY
Historic Images Of Women Voting