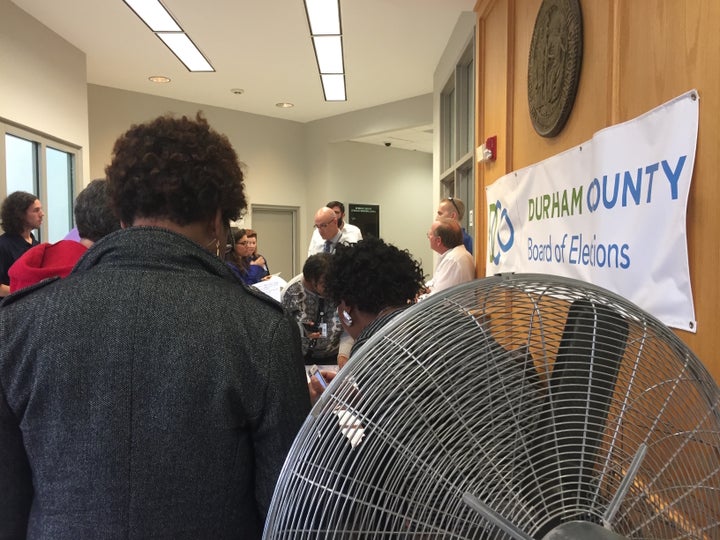 DURHAM, N.C. ― The North Carolina State Board of Elections decided Tuesday evening to extend voting times for an hour in two Durham County precincts following technical issues. Six other precincts will have their hours extended based on exactly how many minutes voters were unable to cast ballots. 
The Cole Mill and Bethesda Ruritan precincts received 60-minute extensions. Creekside Elementary School and Glenn Elementary School precincts received an extra 45 minutes, Forest Hills Clubhouse and Greater Emmanuel Temple of Grace received an extra 30 minutes, McMannen United Methodist Church received 25 minutes, and Neal Middle School will stay open just 20 minutes longer.
After check-in machines at some polling sites in Durham County experienced glitches earlier on Tuesday, the board of elections ordered the county to transition to paper poll books for voter check-in. As the board noted, the electronic malfunction caused a delay with voter check-in, not with the ballots themselves, since all voters in Durham vote by paper ballot.
The glitches caused concerns throughout the county ― especially after the Bethesda Ruritan club precinct ran out of authorization-to-vote forms and had to delay voting for a short period of time.  
"We demand that they fix this glitch," said Rev. Dr. William Barber, president of North Carolina NAACP, in a statement. "There were no glitches in early voting. Why now and why in a heavy black voting area?"

The Lawyers' Committee for Civil Rights Under Law, a voting rights advocacy group, said in a press call on Tuesday morning that it had received calls from voters who feared there may not be enough paper ballots and that some voters were receiving provisional ballots.
But Samuel Gedman, the deputy director of elections for Durham County, said that won't be an issue.
"There's an emergency paper process that we can go to in case there's a power outage or some other problem with the building," Gedman told The Huffington Post. "What we didn't anticipate was going for the full day. What we're doing now is just running supplies to make sure they have enough paper material to last them through the day."
Voting rights group Democracy North Carolina filed a lawsuit in Wake County asking a state judge to take these delays into account and keep polling precincts open in at least five locations until 9 p.m. 
The lawsuit alleged that "many voters will lose their right to vote in this election" if the state board of elections is not compelled to extend voting hours until that time.
The court in Wake County denied the request to extend voting hours later Tuesday evening. 
In a statement, Allison Riggs, an attorney who helped bring the lawsuit, lamented the ruling.
"There is no good reason to close these polling places without giving people who were turned away the ability to return and cast their vote," she said. "It is unacceptable to have Election Day ruined by technical problems."
Julia Craven reported from Durham. Cristian Farias reported from New York.
REAL LIFE. REAL NEWS. REAL VOICES.
Help us tell more of the stories that matter from voices that too often remain unheard.
BEFORE YOU GO
PHOTO GALLERY
U.S. State Capitol Buildings