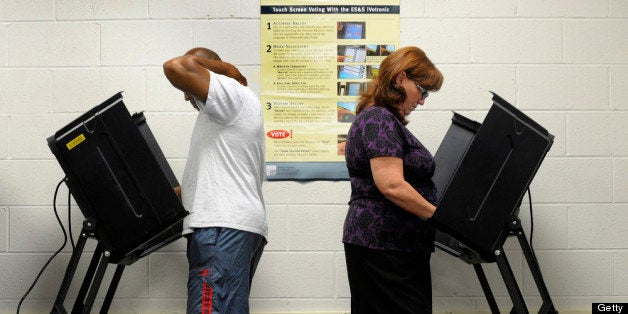 In recent weeks, civil-rights advocates and legal experts in North Carolina have contemplated a provocative question: Are the state's Republican lawmakers racist?
The answer could determine the future of North Carolina's voting laws. If a court finds that the state's lawmakers have engaged in a deliberate attempt to discriminate against minority voters, the federal government could require the state to clear all future election policies with the U.S. Department of Justice or a federal court. That would renew the federal oversight that ended with the Supreme Court's recent decision to overturn a key provision of the landmark Voting Rights Act.
In June, a 5-4 United States Supreme Court majority struck down Section 4 of the Voting Rights Act, a provision that required jurisdictions with extensive histories of discriminating against minorities -- including eight states in the South and parts of other states -- to get "preclearance" from the DOJ before making changes to their voting policies.
Soon after the decision came down, North Carolina and a number of other Southern states announced plans to move ahead with restrictive voter policies that could not pass muster under the original law. Critics accused the states of trying to disenfranchise black and Latino voters, and Attorney General Eric Holder promised that the DOJ's lawyers would turn to whatever tools were still available to "stand against discrimination wherever it is found."
One such tool could be Section 3, a relatively obscure provision of the Voting Rights Act that the Supreme Court justices have left intact, at least for now. Under Section 3, states and local governments can still be forced to clear their election changes with the federal government -- but only if a federal court can prove that those jurisdictions deliberately engaged in racial discrimination against voters.
That could be tough. "There isn't usually the kind of traditional 'we don't like those people' kinds of language in the record these days," said Kareem Crayton, a law professor at the University of North Carolina School of Law. "Legislatures are mostly too smart for that, unless they get caught on tape -- which does happen."
In South Carolina, a Republican legislator recently made the mistake of replying "Amen" in an email to a constituent who compared black voters to a "swarm of bees going after a watermelon." In Texas, a lawyer for Republican Rep. Lamar Smith acknowledged in an email that he wanted to move a country club from a heavily Hispanic district to Smith's in order to increase the number of white voters in Smith's constituency.
Last month, after Holder announced that the DOJ would ask a federal court to impose preclearance on Texas, speculation turned to whether North Carolina would be next. But as election experts often point out, there's a key difference between the two Southern states.
Texas recently incurred an official blemish on its voting-rights record when a three-judge panel in Washington found that the state's 2011 redistricting laws amounted to deliberate discrimination. The panel noted that the state's Republican lawmakers used "a deliberate, race-conscious method to manipulate not simply the Democratic vote but, more specifically, the Hispanic vote." That set the stage for the DOJ's argument that Section 3 should be invoked to protect the rights of minorities there.
By contrast, if the DOJ wants to prove that North Carolina's new law is racist, it will have to build its case around recent voting changes that haven't yet fallen afoul of any federal judges. "There certainly aren't the type of findings in court that you have in Texas," said Sam Bagenstos, the former No. 2 official in the Civil Rights Division of the DOJ during the first Obama administration, "so I'm not sure what recent changes they would be looking to."
The DOJ may try to build its case around a brand new law -– one that is likely to pass in a matter of days. North Carolina's Republican government is on the cusp of shortening the early-voting period, forbidding people from registering on the same day that they vote, and requiring voters to display specific forms of government-issued ID at the polls, to name just a few of the restrictions listed in House Bill 589.
Civil-rights advocates have panned the strictly partisan bill, calling it a thinly disguised ploy to disenfranchise Democratic-leaning groups, and they argue that minorities would be particularly affected.
But are the legislators who passed the law deliberately racist?
Under the old preclearance regime, state lawmakers had an incentive to cooperate with the sorts of DOJ investigations that could help answer that question. Now that states no longer need the DOJ's approval to get their laws passed, the DOJ could have a tough time bringing cases against them. The department lacks subpoena power in voting cases, which means it may have to look for evidence of discriminatory intent in emails that private litigants try to obtain through state freedom of information requests.
If that doesn't work out, the DOJ could try a more subtle strategy. "There's plenty of case law where the courts have found intent of racial discrimination because certain decisions aren't explainable unless you take account of race as the motivation," Crayton said.
Crayton cited Shaw v. Reno, a Supreme Court case involving the redistricting of North Carolina after the 1990 census. In the majority opinion, then-Justice Sandra Day O'Connor argued that some redistricting moves are "so bizarre," racial discrimination must be considered as a motive.
The North Carolina Republicans who support today's controversial law insist they're motivated by the desire to prevent fraud at the polls –- the standard rationale for such restrictions.
But not everyone's buying that claim. Evidence suggests that voter impersonation is rare, and some of North Carolina's restrictions –- like preventing young voters from pre-registering to vote before they turn 18 -– can hardly be portrayed as effective anti-fraud strategies without seriously stretching the limits of plausibility.
Even Thom Tillis, the speaker of North Carolina's Assembly and a candidate for Congress, recently conceded that preventing voter fraud was not the "primary reason" for passing the law.
Still, if racial discrimination was a factor, he didn't say so.
CORRECTION: An earlier version of this story misstated the former job of Sam Bagenstos. He was the No. 2 official in the Civil Rights Division of the Department of Justice.
Popular in the Community