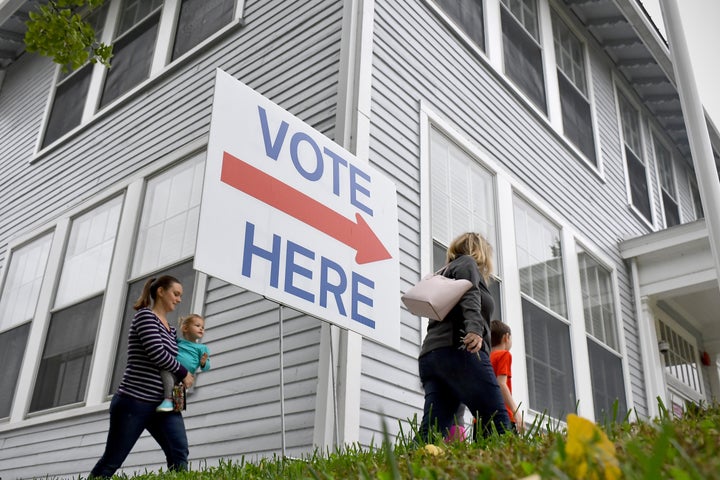 The office of a federal prosecutor appointed by President Donald Trump issued a broad subpoena for North Carolina voter information last week, including voter registration applications and absentee ballots.
The office of the U.S. Attorney for the Eastern District of North Carolina issued several subpoenas on Aug. 31 on behalf of Immigration and Customs Enforcement (ICE).
One subpoena, sent to the 44 counties that constitute the state's eastern district, asks for e-poll books, voting records, voting authorization documents and executed ballots for the last five years.
The second subpoena, submitted to the state board of elections asks for information from all of the state's 100 counties dating back to Jan. 1, 2010. It asks for registration application forms, postcard applications, federal write-in-absentee ballots, early voting application forms, provisional voting forms, absentee ballot request forms, any record of voter cancellations and any form in which someone admits or denies being a non-citizen.
A spokesperson for U.S. Attorney Robert J. Higdon, the prosecutor who heads up the office requesting the records, declined to comment.
Allison Riggs, an attorney with the Southern Coalition for Social Justice, said the scope of the subpoena was alarming. She said she suspected it was an attempt to continue the work of Trump's now-defunct commission on voter fraud. The panel, which was led by Vice President Mike Pence and Kansas Secretary of State Kris Kobach (R) received significant backlash for requesting voter information from all 50 states.
"This is essentially the Pence-Kobach commission reconstituted," Riggs said. "These kinds of really broad subpoenas that get at every ounce of election-related data and evidence, that's what Pence-Kobach wanted to do. They wanted a fishing expedition so they could find a few instances of voting irregularities and use that to justify voter suppression and voter fraud."
"They wanted a fishing expedition so they could find a few instances of voting irregularities and use that to justify voter suppression and voter fraud."
Patrick Gannon, a spokesman for the state board of elections and ethics enforcement, estimated that there were more than 15 million responsive documents to the subpoenas. For the 44 counties, he estimated there were 2,268,167 ballots that could be traced to specific voters who cast their ballots by mail or early voting. There are approximately an additional 3,367,012 million untraceable ballots, he said.
The subpoena asks election officials to produce the information by Sept. 25. On Tuesday, Josh Lawson, a lawyer for the state board of elections wrote to the U.S. attorney's office and said meeting that deadline would "materially affect" election officials' ability to prepare "time-critical tasks" for elections and asked for an extension. Sebastian Kielmanovich, an assistant U.S. attorney in the eastern district, said his office would consider extension requests from individual counties.
Justin Levitt, a former top official in the Justice Department's Civil Rights Division, said the wide range of information sought and the timing of the subpoenas were unusual.
"This is entering the busiest season of the year for election offices, and the subpoenas request an enormous amount of data," he said in an email. "Unless there's a narrowing letter that I haven't seen, it's a hugely broad fishing expedition for a very specific type of wrongdoing. It's a little like sending a subpoena for eight years' worth of all of the bank records held by the largest 10 banks in order to find specific instances of bank fraud."
"It's a little like sending a subpoena for eight years' worth of all of the bank records held by the largest 10 banks in order to find specific instances of bank fraud."
Riggs said some of the election boards federal officials sought information from had few staff members and could be overwhelmed by the request during the critical weeks of preparation close to an election.
"I've never seen a subpoena like this in so many counties so broadly worded. You see a subpoena if there's been an issue in a county and the feds want to look into it, then you have subpoenas in that one county for certain pieces of evidence," she said. "We have an election in less than two months now ... It's outrageous."
The subpoenas come less than two weeks after federal prosecutors for the eastern district of North Carolina announced they had charged a number of legal immigrants with illegally voting in the 2016 election. It's rare for federal prosecutors to focus resources on such cases, as they typically involved defendants who inaccurately believed that their legal immigration status allowed them to cast a ballot. HuffPost's interviews with defendants and review of the records indicated that may be the case. In a press release announcing those indictments, the U.S. attorney's office said the cases were being investigated under a task force headed by the Department of Homeland Security to probe benefit fraud.
Trump has claimed that between 3 and 5 million people voted illegally in the 2016 election, but there's no evidence to support that claim. Several studies have shown voter fraud is not a widespread problem and there's still no evidence of a broader effort at the Justice Department to search out cases of it. But regardless of whether prosecutors can successfully convict people of voter fraud, ICE can still separately deport any noncitizens they find who have claimed to be citizens on a registration form. Even if the person claims they were confused and is acquitted of voter fraud, they can still be deported, according to David Leopold, an immigration attorney at Ulmer & Berne.
David Iglesias knows that well. He was U.S. Attorney for the District of New Mexico during the Bush administration when he faced pressure from his fellow Republicans to look into cases of voter fraud. He was eventually fired during the Bush administration's purge of U.S. attorneys, with an internal watchdog finding that DOJ officials decisions to remove Iglesias "were an abdication of senior Department leaders' responsibilities, independence, and integrity."
Iglesias said he believed when he set up an elections task force that he'd find some viable cases to bring. But the only case he thought might have merit involved an ACORN worker who had been entering false voter registrations for cash, rather than for the purpose of influencing an election. They didn't move forward.
Iglesias said he was troubled by the notion of federal prosecutors bringing cases against legal immigrants who were likely confused by voting requirements.
"English is probably not their first language. They know they're here legally, they have a right to be here. It's not a stretch to think that they would wrongfully think that they're able to vote as well," Iglesias said. "Some of these people are not highly educated. They may get wrong information from their friends and family members. That's a mistake that is typically not criminalized, they're just told not to do it again. But this is where a prosecutor's' discretion comes in."
He added, "The federal judges I know would want to know why the U.S. attorney's office is wasting their time with these de minimis cases."
Iglesias said it was clear that federal prosecutors in North Carolina were seeking to send a broader anti-immigrant message by taking up relatively minor cases that aren't difficult to prove. Sending out a press release titled "Mexican National Charged for Voting by an Alien" is like "waving a red flag," he said.
"That is analogous to, back in the battle days of Jim Crow, saying, you know, 'Black Man Rapes White Woman.' A pretty inflammatory headline," Iglesias said.
Popular in the Community