When Army Spc. Timothy Patillo, 26, returned to Fort Bragg after an overseas deployment a month before the 2014 elections, he went to a North Carolina department of motor vehicles office to ask how to obtain a driver's license and register to vote.
He was given a list of documents he would need to provide, but wasn't told of the approaching voter registration deadline. He returned to the DMV soon after that with his identification documents and signed up to vote. Days later, a notice came in the mail telling him he'd missed the voter registration deadline.
Patillo would have been able to vote if, as in previous elections, North Carolina allowed same-day registration. But because the Republican-controlled legislature voted to eliminate same-day registration in 2013, Patillo was disenfranchised.
The elimination of same-day registration was part of a wide-ranging package of voting restrictions signed into law by Republican Gov. Pat McCrory two years ago. On Monday, civil rights groups will begin presenting their case to overturn those provisions in court.
The law McCrory signed also reduced the state's early voting period by a week, eliminated the counting of ballots cast by voters out of their home precinct, and ended pre-registration for those aged 16 and 17. The restrictions included a strict government-issued photo identification requirement for voters that would have gone into effect for next year's presidential election. Arguments over the ID provision will be considered separately from the other voting restrictions after the legislature unexpectedly softened the requirement last month.
Republican lawmakers who backed the election changes have said they are aimed at preventing voter fraud.
"Even if the instances of misidentified people casting votes are low, that shouldn't prevent us from putting this non-burdensome safeguard in place," McCrory wrote in a Raleigh News and Observer op-ed after he signed the law. "Just because you haven't been robbed doesn't mean you shouldn't lock your doors at night or when you're away from home."
Former state House Speaker Thom Tillis, now a Republican U.S. senator, said in a 2013 interview on MSNBC that voter fraud wasn't "the primary reason" for the bill. Tillis was asked why his caucus was intent on voting reforms when proven cases of fraud are exceedingly rare.
"Well, we call this 'restoring confidence in elections,'" Tillis said. "There is some voter fraud, but that's not the primary reason for doing this. There's a lot of people who are just concerned with the potential risk of fraud, and in our state it could be significant. This is just a measure that we think makes three-fourths, nearly three-fourths of the population more comfortable and more confident when they go to the polls."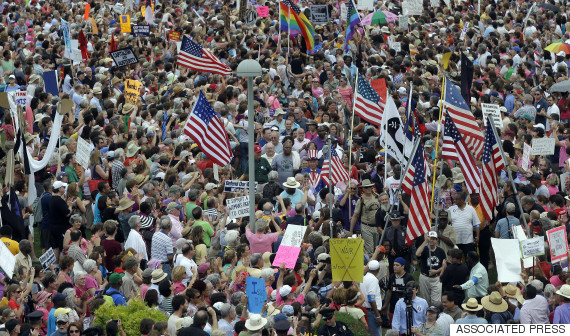 Protestors rally during "Moral Monday" demonstrations on Halifax Mall outside the General Assembly in Raleigh, N.C., Monday, July 8, 2013. Nearly 700 people, led by the North Carolina Chapter of the NAACP, had been arrested in the previous 10 weeks of the legislative session protesting against policies enacted by the North Carolina General Assembly. (AP Photo/Gerry Broome)

But civil rights advocates challenging the law say the measures disproportionately affect racial minorities and students. They filed a lawsuit to block the law during the 2014 elections. They lost in U.S. District Court, won in federal appeals court, and lost at the Supreme Court.
The Rev. William Barber, head of the North Carolina chapter of the NAACP, has compared next week's trial to the Selma, Alabama, march that led to the landmark Voting Rights Act of 1965. North Carolina legislators passed the voting restrictions in 2013, after the Supreme Court gutted key provisions of the law two months earlier.
"This is our Selma," Barber said in a press release. "North Carolina was the first state to pass a restrictive voting law after the Supreme Court weakened the Voting Rights Act in 2013, and it is the worst voter suppression law the country has seen since 1965. The people of North Carolina are standing up -- in the courts and the streets -- because we refuse to accept the revival of Jim Crow tactics used to block access to the ballot for African-American and Latino voters."
Barber said on a press call in June that the law was a "calculated effort" at ending voting practices that African-Americans use more frequently than white voters. According to state data, 70 percent of the state's African-American voters in 2012 used early voting, compared with 56 percent of the voting population overall. While African-Americans make up about 22 percent of the state's voting population, they accounted for 41 percent of voters who used same-day registration, and roughly 30 percent of those who cast ballots outside of their designated precinct.
In eliminating a week of early voting, the legislation also got rid of voting on the Sunday during which Black church congregations led "Souls to the Polls" drives.
The NAACP, with support from the Advancement Project, contends the law violates the constitutional right to vote and the Voting Rights Act's Section 2 ban on discrimination against racial minorities in elections. The Supreme Court's controversial Shelby v. Holder decision in 2013 struck down the Voting Rights Act's Section 4, which mandated that states with a history of discrimination, like North Carolina, get pre-approval for changes to their voting procedures from the federal government or a federal court.
"These measures likely would not have survived federal pre-clearance," Justice Ruth Bader Ginsburg wrote in her dissent from the Supreme Court's decision allowing the law to go in effect last year.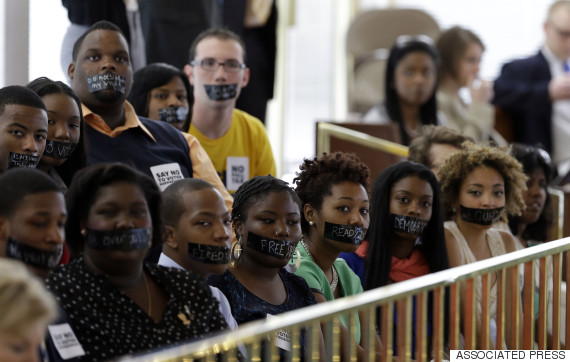 Members of North Carolina student chapters of the NAACP and opponents of voter ID legislation wear tape over their mouths while sitting silently in the gallery of the House chamber of the North Carolina General Assembly where lawmakers debated and voted on voter identification legislation in Raleigh, N.C., Wednesday, April 24, 2013. (AP Photo/Gerry Broome)

"We have a strong case against North Carolina's voting law, showing not only that the measure is discriminatory, but that lawmakers knew it would harm voters of color and passed it anyway," Penda D. Hair, Advancement Project co-director, said in the press release. "Behind each statistic and legal argument, however, are the stories of real people whose voting rights have been assaulted. Our case is about these voters and ensuring that elections are free, fair and accessible for all."
But attorneys representing the state argue that turnout figures from 2014's elections don't show that the law had a discriminatory impact.
"Notwithstanding the opinions of plaintiffs' experts, African American participation in early voting and Election Day voting during the 2014 elections increased as compared to both the 2010 Primary and General Election," the state's pre-trial brief reads. "North Carolina remains one of the more generous States for voters who wish to engage in early voting. None of these practices constitute severe burdens and are therefore constitutional.
"It is significant to note that none of plaintiffs' experts has ever testified –- and they continue to decline to testify -– that [the law] will cause a decline in African American registration or turnout or how [the law] will otherwise deprive African Americans of an equal opportunity to participate in the political process and to elect representatives of their choice," the state's brief continues, arguing that the burdens associated with registering and voting are race-blind. "Plaintiffs' argument is that minorities are entitled to either the equivalent of election law affirmative action or practices that are favored by political organizations dedicated to maximizing Democratic turnout."
Voting rights advocates say comparing the 2010 and 2014 midterm elections is inappropriate, because the 2014 Senate race between Tillis and former Sen. Kay Hagan (D) was the costliest in U.S. history. They also point to data from Democracy NC that shows rejected ballots in the most recent election were disproportionately cast by African-Americans.
The NAACP is leading a "Mass Moral Monday March for Voting Rights" in Winston-Salem on the day the trial is scheduled to begin, to echo the thousands of protesters who turned out earlier for "Moral Monday" marches at the state capitol in Raleigh.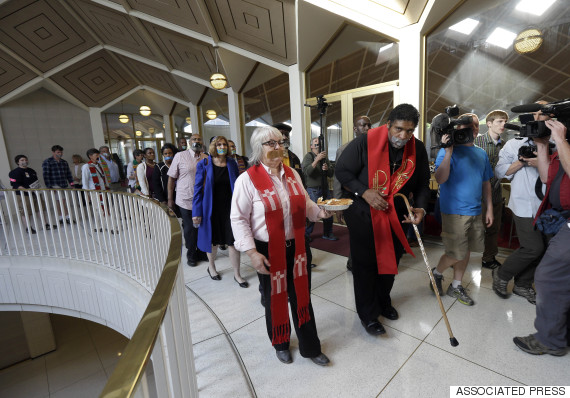 In this May 19, 2014 file photo, the Rev. William Barber, right, president of the North Carolina Chapter of the NAACP, walks with other demonstrators outside the House and Senate in a silent protest as they gather during the first "Moral Monday" protest of the new year in Legislative Building in Raleigh, N.C. The "Moral Monday" movement has become a de-facto campaign tool for Democrats to publicize their platform and recruit volunteers to help them win elections, especially the contested U.S. Senate race. (AP Photo/Gerry Broome, File)

The case will be heard in the U.S. District Court for the Middle District of North Carolina and is expected to last for about two weeks. The plaintiffs also include the League of Women Voters and North Carolinians represented by Democratic power lawyer Marc Elias (who also represents Hillary Clinton's presidential campaign), the Southern Coalition for Social Justice and the American Civil Liberties Union. The U.S. Department of Justice is also involved in the case, as is the law firm Kirkland & Ellis.
Follow the law's journey to the courts in the timeline below: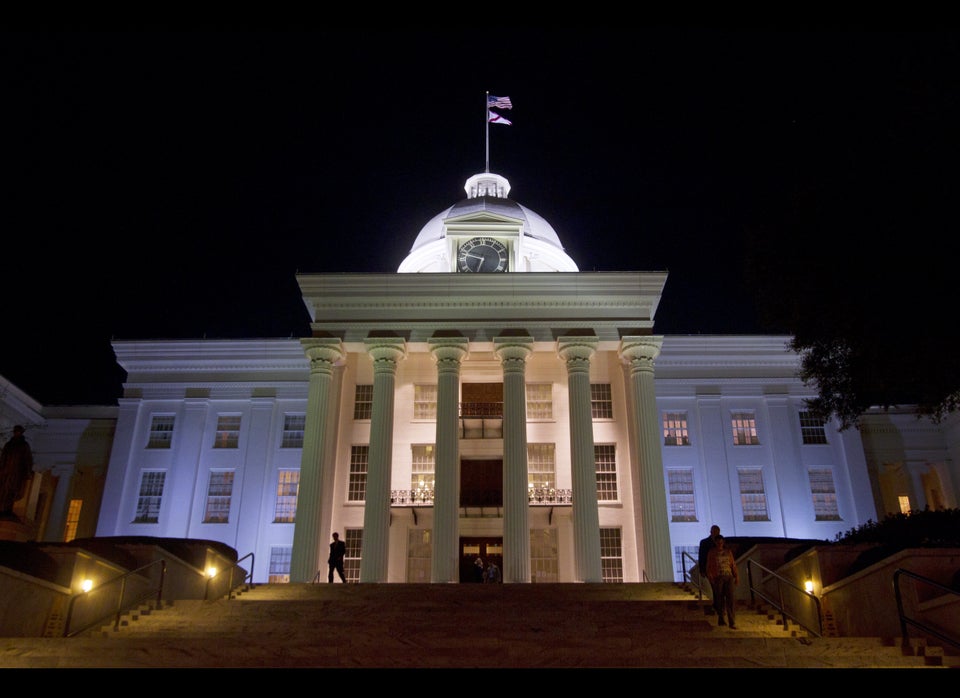 U.S. State Capitol Buildings
Popular in the Community