Lionel Vatinet is dreaming. He's held high by an unseen parent gripping him on one arm and one leg and he's being lofted in a mighty circle, spinning through acres of locally grown, heirloom varieties of wheat. Authentic amber waves, untouched by genetic modification, sprinkle his imagination with renditions of boules, baguettes, cakes, cookies, rolls, and flatbreads. In his dreams, this mythical wheat shimmers in the shadow of the Appalachians, it's carefully harvested then cold-ground by granite stones to preserve its natural elements then quickly delivered to his knowledgeable hands.
It's 11:00 a.m. and judging by the line out the door of La Farm Bakery, he's truly living that dream.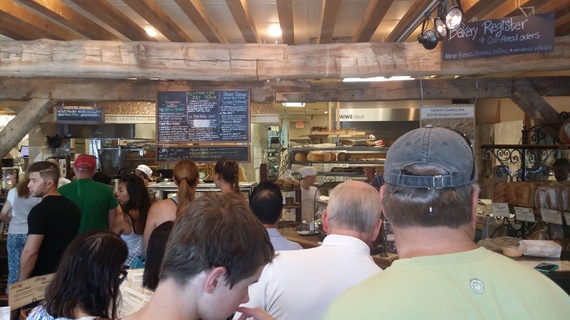 In the middle of fashionable Cary, North Carolina, a town that one might readily believe is full of the gluten adverse, Lionel Vatinet has built a thriving bakery business that succeeds on many levels. He's also a model of sustainability and a test bed for the retro-farming practices that Carolina Ground has successfully managed. He's more than a successful businessman, more than a baker, more than a teacher; he's all three and a model of success for this new food world suddenly overflowing with breweries, food trucks, and micro-farmers.
He makes money by selling bread, truly wonderful bread, made with heirloom wheat grown by tobacco farmers, and does it all in a gluten sensitive society.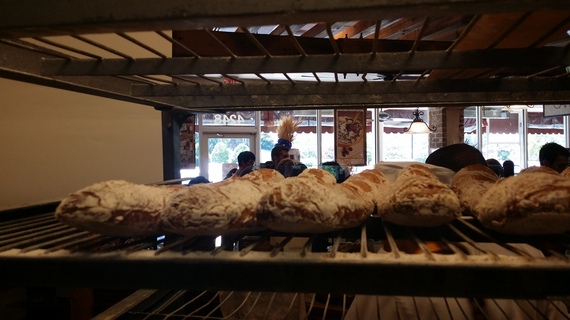 "Except during the silliness of the Atkins diet, our business has grown every year. All this gluten sensitivity hasn't slowed us down one bit. We're open from seven am to eight pm, seven days a week and most mornings start like this."
Lionel cranes his neck and surveys his bustling café. Every table is full, there's customers hunched in nooks and crannies waiting to pounce on a table should someone scooch back a chair, and there's at least twenty customers in line.
"Actually today is a little slow."
His team of cooks, bakers, barristas, and service staff have been at full tilt for five hours. And there's a steady stream of traffic through the front door. They line up and ogle the cinnamon rolls, scones, white chocolate and raspberry bread, sour cream coffee cake, white chocolate mini-baguettes, warm chocolate chip cookies, Boston Cream challah, buttery croissants, peach muffins... shall I keep going?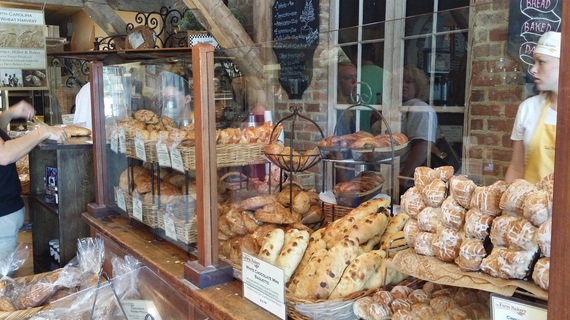 The waiter has brought me a Croque Madam. It's a ham (locally sourced) and cheese (gruyere, mozzarella) sandwich topped with creamy Mornay sauce and a (locally sourced) fried egg, framed in thick slices of Lionel's earthy sourdough bread. My wife was too busy enjoying her shrimp and lobster roll and asked for a bite of my sandwich only to see an empty plate.
"Too late." Lionel smirked.
The uncommon ingredient in the success of La Farm is Carolina Ground and Jennifer Lapidus. Jennifer spent years as the owner of Natural Bridge Bakery and turned her love of artisan baking into a love of artisan growing. Here's a secret; most of the artisan-labeled grains one sees in a gourmet grocer are have been purchased on the commodity market then ground at the artisan's facility. The chances are good that your fancy corn meal may have been ground by a water-powered granite wheel, but it's GMO corn from Iowa.
What Jennifer has done is truly holistic. She's taken artisan grain to the Nth level by convincing tobacco farmers to rotate their crop with her heirloom varieties of wheat and over the years she has built up a co-op of farmers. She's involved in growing, and the harvesting, and when it's time to grind the wheat she does so in a temperature-controlled mill. Her whole wheat flour is just that, unbleached, unbromated, unsifted 100% grain with all the germ, fat, and nutrients. Once ground, the flour is refrigerated, shipped cold, and stored cold. When Jennifer started Carolina Ground, Lionel was her guinea pig and together they developed techniques and recipes for the flours. And it's this partnership that has produced dividends for everyone in the North Carolina Triangle, and beyond. The chefs and bakers that sought out her flour also have a trusted professional in Lionel that has gone before them and knows the secrets of using this new, yet ancient, product. Like Glenn Roberts and his Anson Mill grits that came before her, Jennifer's reach has now exceeded her hometown and crept through the Southeast. And when true artisans like Jennifer and Lionel collaborate, everyone benefits: bakers, store owners, chefs, farmers, and of course, consumers.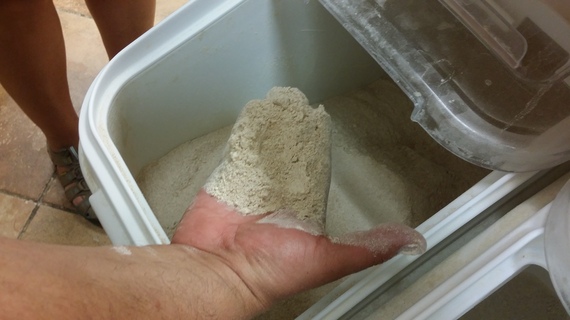 La Farm is in its sixteenth year and in those years, Lionel has branched out significantly. His products are available in five Whole Foods stores in the Triangle, his recent cookbook (A Passion for Bread) has garnered significant praise, and the James Beard Society has finally recognized bread bakers with a separate category and naturally, Lionel was on the list.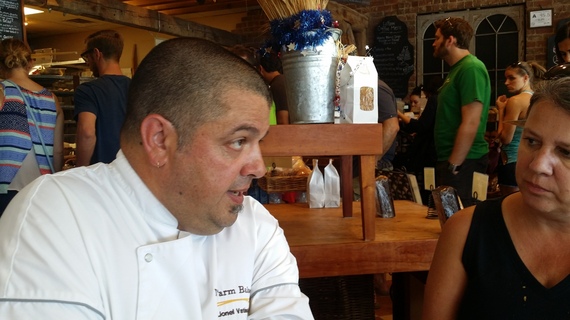 What more would Lionel want to accomplish? What would this humble bread baker want to do that he hasn't already?
"Teach. That's something I never tire of. And I want to do it so that anyone, not just professionals, but anyone can learn. Because think about this, if you teach someone to bake, you might save a life. And how wonderful is that?"