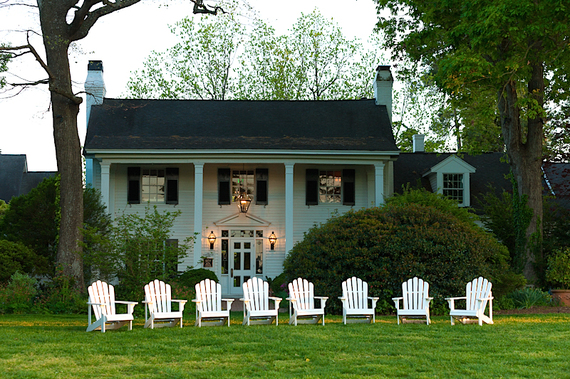 It may someday occur to certain Southern politicians that the greatest boost for a state's economy and ability to attract top talent in every field is higher education and world-class medical centers. And where those institutions are strong, so, too, are tourism and good restaurants.
Nowhere is this clearer than North Carolina's great Research Triangle--Raleigh, Durham and Chapel Hill--whose schools (NC State, Duke and UNC) are among the most respected in the nation, with a spill-over factor in the hospitality industry that caters to doctors, professors, lawyers, artists and the tourists who visit these booming cities and partake of their genteel form of Southern hospitality. (The state itself is the sixth most visited in the U.S.)
One of the loveliest and most evocative places at which to experience North Carolina culture is the Fearrington House Inn within Fearrington Village, a planned community of 2,000 residents in a quiet, kempt neighborhood within the town of Pittsboro, near Chapel Hill and about a 20-minute drive from Raleigh/Durham Airport. The whole enterprise, now 40 years old, was built by developer R.B. Fitch and his late wife, Jenny, who modeled Fearrington Village after the quaint villages of England.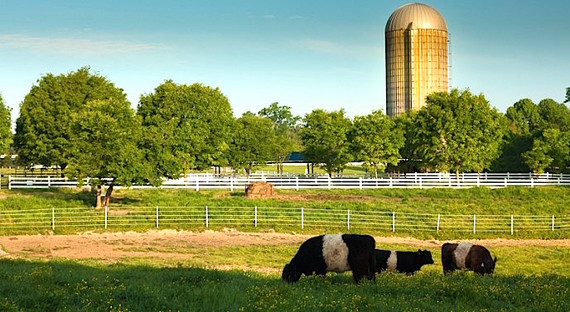 The land was for two centuries a working farm, as it is today. The farm's animals include a rare breed of 30 Scottish black-and-white Belted Galloway cows (introduced to the U.S. in the 1950s), as well as a recent arrival--a newborn donkey.
Over time the Fitches added the Roost beer garden, boutiques, a deli, McIntyre's bookstore (below),whose Cooks & Books series has visiting authors speak and sign their work, a casual restaurant called The Granary, and an award-winning restaurant next to the Inn in the Village Center. There is also a farmers' market featuring artisanal local foods and a brand new pizzeria on premises.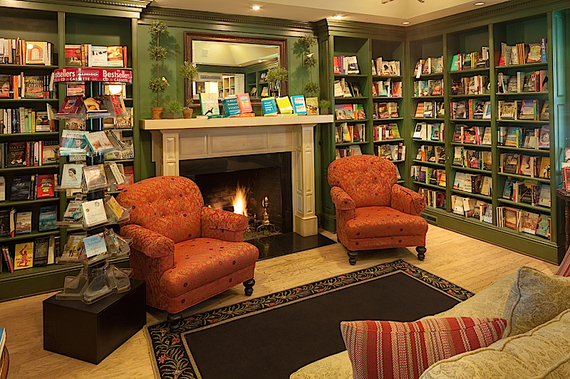 I had the pleasure to stay at the luxurious 32-room inn last month, visit some of the spacious homes on the property and dine at the restaurants. I had expected my stay to be relaxing, quiet, and removed from any urban intrusions, yet I never felt "out in the boondocks" as at the reclusive Greystone Inn on Lake Toxaway in the western part of the state. I entered my suite (there are four room categories) through a courtyard garden of roses, whence come the room's fresh flowers. The well lighted, tiled bathroom was as large as the bedroom, which was fitted out in a blend of contemporary and 19th century motifs. The living room, with a working fireplace (below), antiques, potted plants, and array of art books and style magazines, portends a high probability that you'll slump into a long afternoon nap on the couch.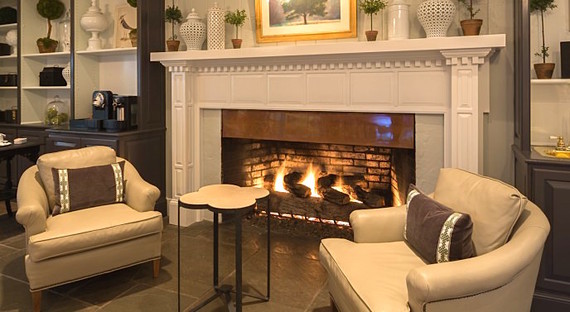 There is free WiFi, complimentary breakfast, afternoon tea, and at turn-down they bring a bottle of Rozès Port and housemade chocolate truffles. The Spa is first-rate--my long nap followed a dream-inducing massage--while the Duke Center For Living in Durham is an off-premises option. There are bucolic walking trails that pass the animal enclosures, slatted white wooden chairs dotting the lawns, and a very rustic, large barn used for parties and wedding receptions.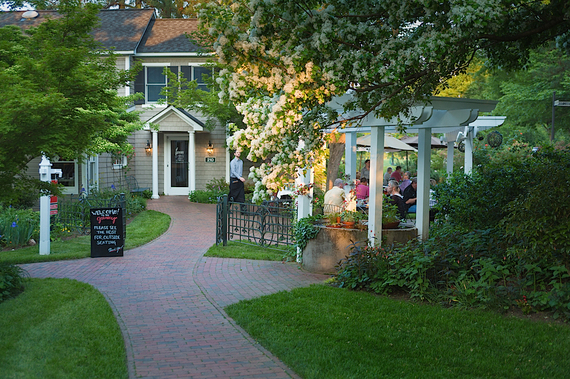 The Granary (above), which was in fact where grain had been stored, has a good bar, a casual but very loud ambiance, and a far more ambitious menu than you might think, thanks to British-born chef Colin Bedford, who serves up everything from sweet tea chicken wings ($6) and smoked barbecue ribs ($11) to very good seasonal soups ($5-$8) and a twice-baked goat's cheese soufflé with beets, spinach, watercress and pecans ($10). On the pasta section, the unorthodox linguine chicken carbonara with crispy egg, bacon jam, oyster mushrooms and Parmesan supreme sauce ($23) is an overwrought mess, but the fried chicken with ranch dressing, baked macaroni, broccolini and garlic butter ($22) raises that Southern staple to a new level of complementary flavors and texture. Best of all items I tasted was grilled meatloaf with fingerling potatoes, red cabbage, and red wine sauce ($20), another sensible elevation of downhome cooking that shows off Bedford's way with tradition teased by bright new ideas.
The Granary's wine list, put together by sommelier Max Kast, is remarkable for a place this casual, as is the beer collection--with brews from Winston-Salem, Durham and Mills River--and the bourbon and Single Malt categories. Kast's real prowess, however, is shown on the award-winning wine list of 1,500 labels and 6,000 bottles at the fine dining Fearrington House Restaurant, which has added a great deal of luster to the Inn's prestige.
The Fearrington House Restaurant (below) is set in a series of small dining rooms, each done in a style of an affluent landowner whose family goes back a long ways. Neither ornate nor colorful, except for gorgeous profusions of flowers, the rooms are tasteful, impeccably set with fine linens and glassware, and very graciously overseen by general manager Theresa Chiettini and maître d' Joris Haarhis. I wasn't trying to be churlish when I asked if the room's somber, low lighting could be turned up just a hair, with the result that the diners in the room all became livelier and more engaged in the evening.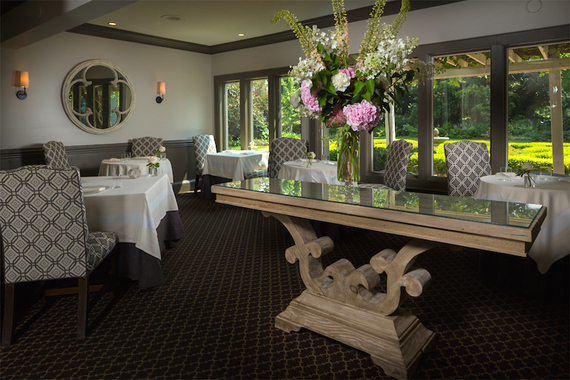 There is a great deal of color on Bedford's plates. He's a big, strapping Brit, but he has a very delicate hand in his cuisine, and he knows well the value of acidic counterpoint to brighten every element of a dish, best appreciated in his $150 tasting menu or $125 vegetarian menu. (Otherwise three courses are $95, four $105.) To begin, Bedford sends out beautifully composed canapés and amuses that might include a tiny potato with hasselback roe, sherry and mustard gels, chive crème, cheddar, marinated pork rind, and pickled okra, or perhaps a salad of white asparagus and flounder in a pastry next to candied lemon jelly, smoked brown butter and arugula.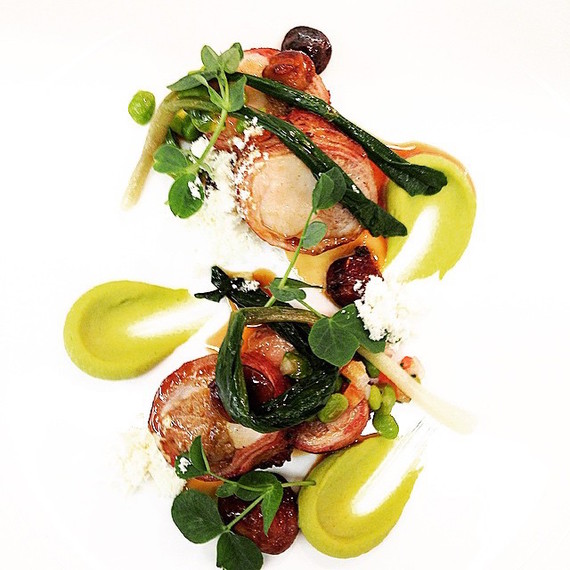 Bedford's is a complex cuisine with many elements on every plate that sometimes hint at Modernism, like the ash that accompanies pressed foie gras and chicken with carrots, pickled ramps, truffle, Muscat and fava beans. However, the less contrived, the better the food is, like a lovely Parmesan custard with marinated asparagus, purple sweet potato dashed with Sherry, spring onions, sweet peas, and mustard seeds that lend aroma to the dish. Hamachi is cured in lemon and takes on wonderful nuance from tea, with rhubarb avocado, fennel and, unnecessarily, nasturtiums.
Among the second courses that impressed me was fat quail wrapped in prosciutto with peas and morel mushrooms, seasoned with more mustard seeds and accompanied by sorrel, a roast chicken cream and tang of lemon. A delicious vegetable dish was truffled polenta--down here called grits--with a "62-degree egg" that softens and oozes over the cornmeal, with wild mushrooms, sherry vinegar for spark, crushed porcini and asparagus. The excellence of Bedford's products is obvious in his loin of lamb with garlic, caramelized fennel, a touch of honey to sweeten it, goat's cheese to provide a creamy note, cauliflower and baby onions.
These were middle courses, for still to come was dry-aged beef bavette with morels and melted onions with radish, ramps and a dash of vermouth; bacon-wrapped rabbit (above) with Mediterranean spices and hummus; and seared halibut with whipped potatoes and smoked avocado, malt vinegar--that welcome acid element--and yellow split peas.
There are pre-desserts like "de-constructed Key lime pie," as well as a pre-cheese item, that night an espuma of Brie with beets and onion. Desserts are as lavish as everything else, including a bittersweet chocolate ganache with Mandarin orange, almond and mint, and a delightfully updated, very moist carrot spice cake with brown sugar, meringue and poppy seed.
To say that Fearrington House Inn and Restaurant is a special place is merely to lump it with many other charming inns in America. And the term "planned community" connotes sterile, cookie-cutter developments like Water Color in South Walton, FL. Fearrington House Inn is a rarer breed of refined resorts that has given it entry into the prestigious, worldwide Relais & Chateaux collection.
Fearrington's location close to the Research Triangle gives guests easy access to the area's attractions, and there is certainly nothing sterile about its custom-built homes or the working farm or the darling Village Center, which all achieve a convenient balance of Southern tradition and evolving contemporaneity. Both in and out of the restaurant, there is very good taste exhibited in every corner, every garden, the silo and barn and bookstore, which keeps Fearrington firmly anchored in one of the most attractive, historic and appealing states in the South or anywhere else in the Union.