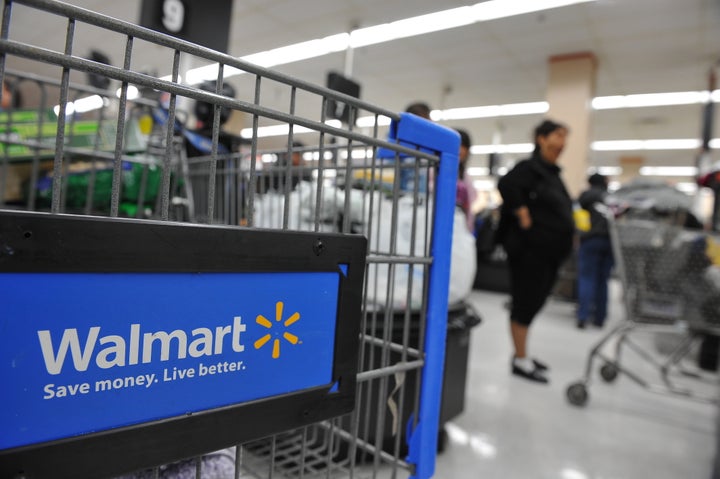 Apparently one Walmart isn't cool with people squatting in its parking lot.
Dozens of workers who have flocked to Williston, North Dakota to benefit from the region's oil boom have been living in tents and trailers for months outside of a local Walmart, but last Monday, the retail chain's management told the squatters to go or be towed, The Bismarck Tribune reports. Lines of RVs accommodated workers shoulder-to-shoulder but after receiving a variety of complaints, including from female customers who said they feared walking through the camp to shop, Walmart officials say they've had enough.
"It's just not appropriate for people to be living in our parking lot," Walmart spokeswoman Kayla Whaling told The Bismarck Tribune.
And it seems that the town's residents agree.
"Walmart is hell. You just don't want to go there," said one member of the Nehring family, a group of sisters who have been featured in a reality TV show Boomtown Girls that's being shopped to networks like TLC and MTV. "You can't find anything because it's all cleared out," another Nehring sister explains.
The oil rush has had other negative impacts as well. Drunken bar fights have become more common as workers try to blow off steam after long hours. Charges of Driving Under the Influence have also grown more typical, while instances of theft more than doubled in 2011 compared to the year before.
Exotic dancing has also become a thriving industry in the town, with some strippers making up to $3,000 per night in tips alone. The popularity of the clubs may be due in part to the low ratio of women to men in the town, which may explain why some are "feeling like a piece of meat" in Walmart's parking lot, as one Nehring sister put it.
CORRECTION: A previous version of this post mistakenly made reference to a North Carolina Walmart. The Walmart in question is located in North Dakota.
Calling all HuffPost superfans!
Sign up for membership to become a founding member and help shape HuffPost's next chapter
BEFORE YOU GO