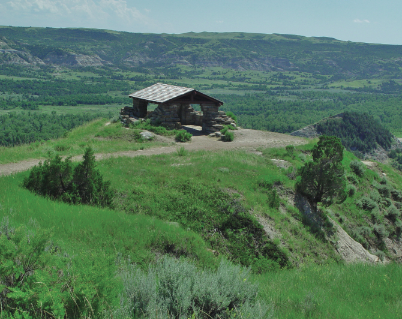 Roosevelt National Park, North Dakota (courtesy North Dakota Tourism)
It is 6 a.m. as I run through downtown Bismarck, North Dakota and pass St. Mary's Church where a sign reads, "Jesus Answers all knee-email." This seems typical for North Dakota where the people call themselves "North Dakota nice," meaning polite, non-confrontational, and shy. I'm here for two days, mainly to speak at a writers' conference, but also hope to cram in as much activity as possible.
North Dakota is having an oil boom almost as big as the 1849 gold rush. What was once a sleepy quiet state has turned into a worker's Mecca with skyrocketing prices, including in some restaurants where a meal can cost as much as in an established NYC eatery. In the last two years North Dakota has built 56 hotels with 4,680 rooms and in the next two years will add another 33 hotels with 3,500 rooms. I expect to see McMansions and fancy cars, but don't, although every mile or so seems to house another mobile home park for all the new get-rich-quick workers. I'm not disappointed there aren't huge housing developments, because what I love about North Dakota are its lush green hills dotted with horses and cows and the sunsets across the unending sky that turn the bushes golden and the rivers silver.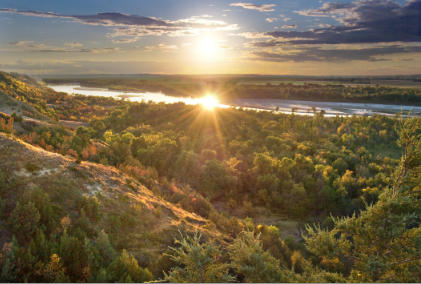 Sunset in North Dakota (Courtesy ND tourism)
North Dakota is an outdoor lover's paradise, and if I had more time, I'd kayak on Lake Sakakawea (the young Indian maiden who guided Lewis and Clark), cycle the Maah Daah Hey Trail in the Badlands and do a horseback ride or two. If I were a golfer, I'd be in heaven because there are more golf courses per capita here than in any other state. With such limited time, I have to make choices. No time to drive the Enchanted Highway to see the world's largest and quirkiest metal art sculptures in the world. I choose Fort Abraham Lincoln State Park, the former cavalry and infantry post from where General Custer and the Seventh Regimen rode on their ill-fated expedition at the Little Big Horn. I stop at On-a-Slant Village to look at the rebuilt Mandan earth lodges from the 1500s. They remind me of Mongolian yurts, only the Mandan homes are made of earth, not felt.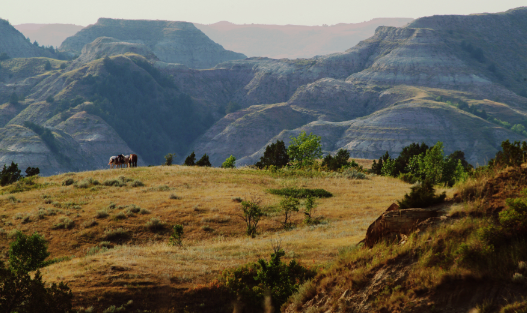 Scenic View of North Dakota (courtesy ND tourism)
Dinner that night is at Bismarck's Pirogue Grill. I start with Chef/proprietor Stuart Tracy's homemade venison sausage and continue with Bison medallions. Chef Stuart's wife and co-proprietor, Cheryl, shows me The Journey Room, a smaller private dining room. She points out a calf's yoke from 1765 that originally belonged to Stuart's grandfather Sam. Beneath the yoke is a framed poem which Grandpa Sam wrote in 1955, "North Dakota." The last stanza reads:
Give me good old North Dakota
Where your neighbor waves and grins,
It's a land of friendly people
It's where The West, begins.
"We were going to call this room after Lewis and Clark's dog," Cheryl admits, "but then decided it would be better not to."
"What was the dog's name?" I ask.
"Seamen." Cheryl lowers her eyes in typical nice North Dakota fashion.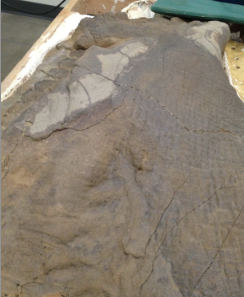 65-million-year-old Hadrosour dinosaur with skin (photo courtesy of Goldsmith)
The next morning I join a hard-hat tour of the North Dakota Heritage Center which will re-open September 1st. We stop before part of the giant tail of a 65 million-year-old dinosaur, which still has its skin. "It's a Hadrosour," says Claudia Berg, the Center's New Initiatives Coordinator, "one of only one of six in world with intact skin. The sixth is under water on the bottom of the ocean." The fossilized skin looks as hard as a rock, but still, I want to reach out and touch it.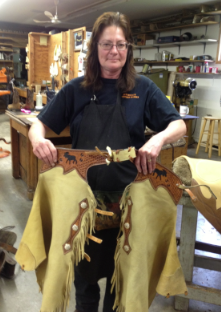 Chip Liebel, North Dakota artist and leather-maker (Photo: Goldsmith)
There is one place where I can touch everything - at Interstate Western Works, a supermarket-sized riding Apparel Store near the city of Mandan crammed with shelf after shelf of cowboy boots, cowboy hats, western shirts, tooled leather belts, hatbands, bridles, saddles, jeans, bootjacks, spurs, ropes, whips, and lassos. When I arrive, feisty owner Chip Liebel, who built the store with her brother 31 years ago, is cutting leather for a pair of custom chinks (short chaps). Known for her exquisite hand-tooled custom saddles, Chip is now too busy repairing saddles to create new ones. "And the money's much better to fix them," she grins. At least 20 saddles are lined up in a long row on the floor, waiting their turn to be repaired. These days, Chip's passion is creating horses, cowboys, and Wild West scenes on hand-tooled leather art, which she airbrushes, and paints with acrylics. She also teaches kids how to tool leather and has started to do mounted shooting from a horse.
"Do you compete?" I ask.
"Not yet," she says. "I had a horse and he was good, but he got to be high-headed, so I had to get rid of him." I wonder if that's her North Dakota nice version of what really happened.
That night, I go with the North Dakota tourism folks to Laughing Sun Brewing, and we sit outside sipping a local brew made on the premises. A group of writers from the conference are sitting outside next door at Fireflour Pizza and they wave us over to join them. No sooner have we sat down with them than the Laughing Sun waiter comes rushing over and says, "You must come back! You can't drink beer here. You have to drink it with us." We get up again. Mark Orwoll, part of our group remarks, "I've been kicked out of bars, but this is the first time I've been kicked back into one."